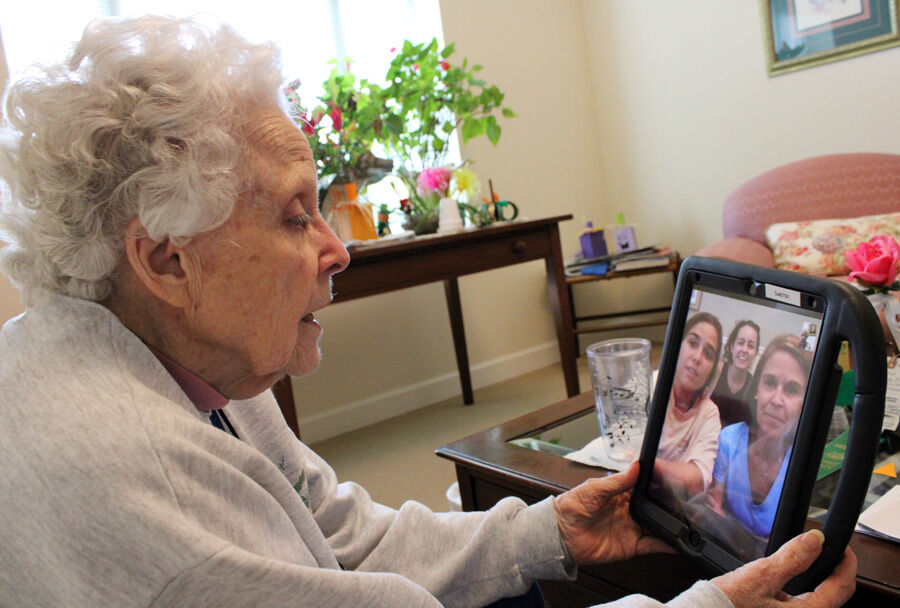 Dogwood Village is emerging from the worst of the pandemic with a badge of honor: not a single resident of the facility has contracted COVID-19. While a few staff members tested positive throughout the last 14 months, all of them have recovered and managed to limit any significant spread of the virus. Dogwood is among the 7% of Virginia long-term care and assisted living facilities that has remained COVID-free.
Additionally, Dogwood was recognized as a 2020 Health Quality Innovator of the Year for its use of specially built plastic barriers to protect residents with dementia or who otherwise couldn't wear a mask. The transparent bubbles gave residents the ability to see and interact with other residents or visitors, while still socially-distancing and protecting them from inhaling virus particles.
Patricia Talley, Dogwood's director of customer and community relations, explained that the facility faced a myriad of obstacles to keep its residents safe and secure during the pandemic.
"The biggest challenge initially was trying to get PPE: masks, gowns, hand sanitizer, the whole nine yards," she said. "We tried to stockpile a little bit when we thought this might become something serious at the outset. But there was no way to know this was going to go on for 16-18 months. There were extra supplies in the beginning, but then we started running out. Thankfully, the state helped with that. We received some donations from the state through the Department of Social Services and FEMA. It really was a disaster."
"The second biggest challenge was making sure our staff were safe," she continued. "When people are out and about, you can't guarantee they didn't pick up COVID. So, we started screening people daily. You have to get your temperature taken, answer questions about travel, answer questions about fever, sore throat, headaches or any symptoms that you might have. If you had any of those symptoms, you would be tested and sent home until we got the results back."
The staff at Dogwood had to experiment with different testing and tracing strategies to ensure that any cases that did appear were immediately monitored. This meant a near-constant cycle of testing and waiting.
"First we started doing face-to-face testing and then switched to the drive-thru method since you didn't really want to be too close to the person doing your test," Talley said. "A lot of our tests were donated, but we had to buy thousands and thousands of tests. There's no way to budget for that."
According to Talley, Dogwood did everything in its power to address the social and emotional deficits created by the pandemic for their residents.
"We continued to do some activities, some dining and outside visits," she said. "We set up little booths for people so they could visit safely. The booths had to be created out of a transparent product, so that you could visit and see your loved one but couldn't touch them or breathe the same air. It was like a PVC apparatus with a transparent dome on top. Our maintenance department built them for us."
Members of Dogwood's staff had to follow strict guidelines if they showed any symptoms of COVID. That meant taking both an antigen (often called a "rapid test") and PCR test (a highly accurate and specific type of test) to check for the virus's presence.
"Among our staff, we did identify people who had symptoms and others who were actually positive for COVID," Talley said. "What would happen is that anybody who was symptomatic would be tested and they would be given an antigen test and then a PCR test to follow-up. We were trying to figure out any way to keep people who had any potential illness from bringing it into the building. That way we could nip it in the bud quickly. In the grand scheme of things there were probably 30 staff members (out of more than 300 employees) in the whole facility that tested positive at one point or another. As soon as we recognized that they had symptoms or were positive, they would be quarantined for 14 days. They couldn't come back into the building until they were cleared."
The surrounding community of Orange and the rest of the county were both dealing with various outbreaks of the virus throughout 2020. Talley said that knowing COVID was spreading right outside Dogwood's doors was a nerve-wracking experience.
"It was all around us," she said. "It was creeping around everywhere."
"Early on we made sure that every person on our staff had a backup," she continued. "If I couldn't be here for two weeks, I had a backup. That's what kept us going. We couldn't shut down. You can't shut down a long-term care facility."
After the pandemic began, Dogwood cleared out a unit in one of its buildings and turned it into a quarantine zone. Any first-time residents who had just been admitted were able to stay there for two weeks and isolate before moving into the regular living space or interacting with other residents.
The biggest toll was the emotional one, with residents unable to return home to see their spouses, children or grandchildren because of the risk it posed.
"All of the residents missed their family members," Talley said. "They weren't able to see their families on major holidays like Easter, Thanksgiving or Christmas, which was so very sad. The worst thing about of all this was that you couldn't give them an end date. We didn't know. We thought it could be weeks, it could be months or even longer. It was horrible to not be able to give people a firm answer."
Finally, the vaccines arrived in the winter, bringing with them hope and a chance to relax and take a deep breath.
"I think we started rolling out vaccines in January and then the second doses were given in February," Talley said. "At this point probably 95% of residents and 75% of our staff have been vaccinated. Even the last two months have been like an awakening. The residents are just so glad to get out and be with their family members and able to do something different."
"We did the best we could to keep them entertained," she added. "We had parties and spent extra time with our residents to make them feel like they had a family of sorts. There were a lot of window visits. That wasn't much, but it was better than nothing.
Today, things at Dogwood are much like they used to be. There is added security and screening for visitors, but residents seem light in their step, almost joyful to be out in the world again.
"The goal is to get people back to normal life as soon as we can," Talley said. "They're getting closer and closer every day. The fact that they can even go out now with family members, go to lunch with friends or celebrate a special occasion is huge. We have a few limitations for visitation: kids under 14 can't come in the building. But other than that, anyone who has been vaccinated can come in or even people that haven't as long as they wear their mask."
With the sense of peace and optimism has come more recognition: Dogwood was named one of America's best nursing homes by Newsweek and data research firm Statista. They were placed in the top 10 facilities in Virginia and were ranked among 400 different facilities or homes across 20 states.
Talley said that Dogwood wouldn't have been so successful in keeping its residents healthy and safe without the support and generosity of others.
"I want to point out that the community has embraced Dogwood," she said. "You wouldn't believe the donations we've gotten. From food to supplies to hand sanitizer. There wasn't a day that passed that we didn't receive donations from some organization, company, individual or family member. It's been amazing."