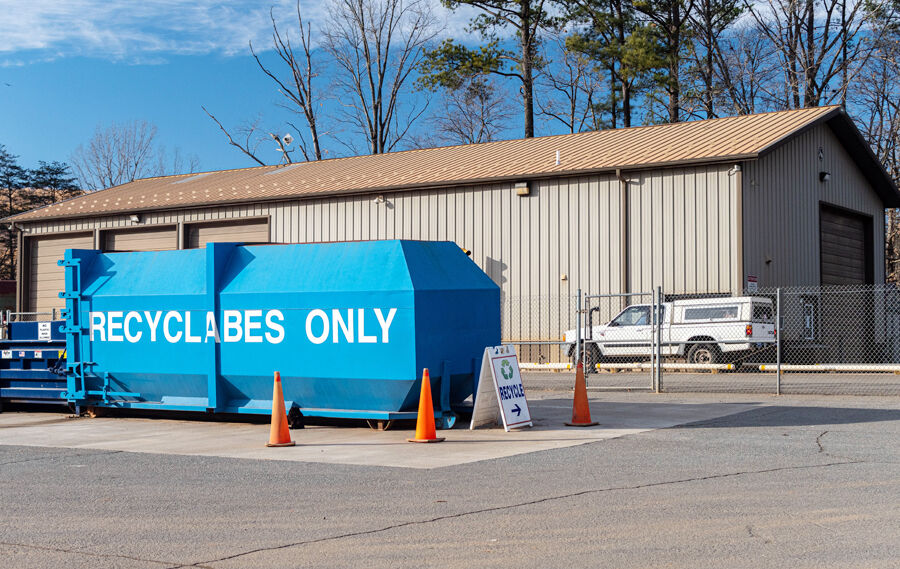 With Gordonsville's Recycling Center opening on Feb. 1, recent months have brought renewed attention to the value of recycling in Orange County. Aaron Caine, director of public works, explained that the county makes almost no money from recycling waste and materials. He stopped short of saying that it's an unnecessary service, in fact he indicated that recycling helps in other non-monetary ways.
"The only money we might make is from recycled metal at the landfill," he said. "But with metal prices as low as they are, it about breaks even after we pay for our hauling expenses. However, in terms of long-range savings in space at our landfill, it's worth it. Every ton of recyclable materials that doesn't go into the landfill, extends the life of the landfill by that much."
The revenue shortfall is a relatively new issue that mainly stems from stricter regulations on what can and can't be recycled.
"We don't gain any revenue from recycled materials now," he said. "And that's basically changed in the last several years with the market in general. Currently, there really is no viable market for recycling. This makes it a commodity that after you pay for the transport and disposal of recycled material, it's just really not enough money for anyone to come out and buy it from us."
The issue was brought up by District 2 Supervisor Jim White at a recent board meeting.
"The recycling market has changed," he said. "The demand for a lot of these materials has changed. We find ourselves in a situation where using our current strategy isn't really solving a problem or contributing to a solution. Rethink it, educate the public. Here from people who are sincere and want to do the right thing but frustrated about the inadequacies of our facilities or where it goes after there. I'd like to get it on our work plan and learn more about it… what actually does happen? Do we need to take a different path?"
Caine and his department are constantly looking for more ways to make recycling profitable and easy for county residents, since it remains an essential and somewhat costly service.
"I budget $133,000 a year for recycling. That's not a small amount of money," he said. "A lot of people in the county are very passionate about recycling. It's something that residents want."
Among the hurdles that Caine and his staff have to contend with is making sure they meet the state's recycling guidelines. Adding more drop-off locations and extending hours at existing centers can help.
"The state says we have to recycle 15% of our solid waste and we come in around 17-18% annually," he said. "So, we've never had an issue with meeting that quota and our recycling program is key to that."
So far this year, the county is averaging about 90 tons a month for single-stream recycling at six locations.
"That's up from 80 tons per month last year, so we have seen an increase," Caine said. "I attribute that mostly to Gordonsville's recycling center coming online. Also, we added two containers out at Barboursville. Overall, I think we are up seven containers between this year and last year. The Lake of the Woods collection site has a can that accepts metal and we also accept those materials at the county landfill. Last year we recycled about 428 tons of metal. This year we are currently at 114 tons."
The Environmental Protection Agency defines single-stream collection as allowing residents to combine all recyclable items (not trash).
Orange County contracts with County Waste, a garbage disposal and recycling company that operates in Virginia and Eastern Pennsylvania.
"Most of our recyclable material goes to Fredericksburg and ends up at their materials handling site," Caine said. "Recycling from Gordonsville and Barboursville actually goes to Charlottesville. Eventually, it all ends up in Chesterfield. They have a big sorting facility in the county. All of the material gets sorted, processed and compacted and then sold as a commodity on the market."
The Gordonsville Recycling Center consists of five recycling bins located in the cut-through behind the Food Lion and China Restaurant at the Gordonsville Plaza shopping center.
Debbie Kendall, Gordonsville's town manager, said that local government and residents have both been quite satisfied with the site.
"We've had minimal problems with it," she said. "The few problems that I'm aware of come from posts on Facebook that were brought to my attention; some folks have put their recyclable in trash bags and dumped everything in the bins. We had an incident that was noted on May 16. Someone put electronics equipment in the recycling bins and of course, that's not appropriate."
If residents are confused about what they are allowed to dispose of at the center, Kendall said the information is freely available online and throughout the town.
"The information on what is and isn't recyclable is on [Gordonsville's] website," she said. "We have it posted here in town hall and it's also on the county's website too. It is open 24 hours a day, seven days a week. It's an unmanned drop-off site."
Expectations on maintaining the center have been spelled out from the beginning.
"I think it's going fairly well, and we've had comments from folks in the community who appreciate that we created the site," Kendall said. "Because until the recycling center opened there wasn't anything like that in town. From our perspective, it's one of the cleaner sites in the area."
"From the outset, [town government] made it clear that residents needed to help us keep it clean and nice and do what they are supposed to do," she continued. "Otherwise, we'll lose the site. I think that message resonated with people in the community. So, they like having it and they're protective of it."
The county's public works department is supportive of Gordonsville's efforts, but has no direct involvement in the recycling center's operation, Caine mentioned.
As for trends in recycling and waste disposal tied to the pandemic, Caine said there wasn't a noticeable difference last year, except for after the winter holidays.
"We definitely did notice that over the holidays, that the amount of cardboard we got in was massive," he said. "I attribute that to a lot of people doing their holiday shopping online. That's kind of the only real change we saw. More people dropped off recycling during COVID because they were home, but that was offset by the fact that the schools were closed."
Currently, Orange County lists six collection and recycling centers on its website: Barboursville, Locust Grove, and Lake of the Woods. This is not including the 24/7 recycling site off of Route 15 near Pro Collision Center, the county landfill or the Gordonsville Recycling Center.