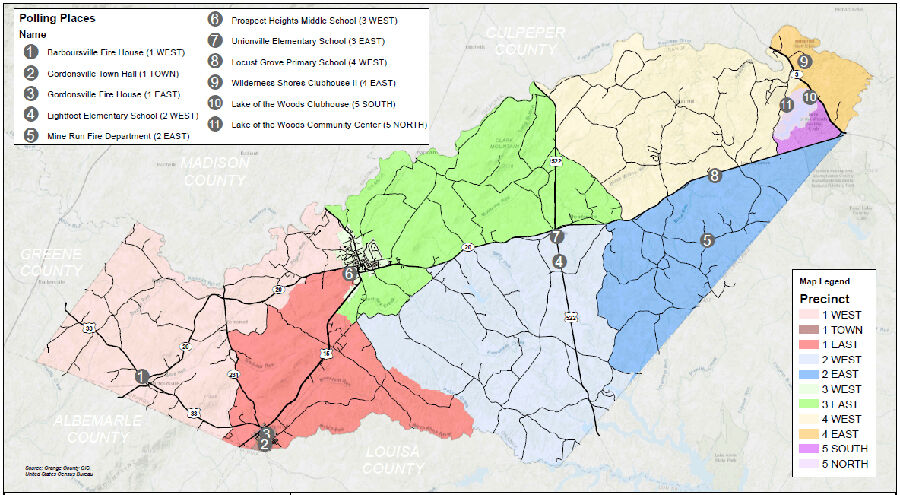 With quick clicks of the mouse, Orange County GIS analyst Jim Whipp deftly relocated county voters from one precinct to another as the Orange County Board of Supervisors attempted to evenly distribute the county's 36,120 citizens during a redistricting discussion last week.
"It's better than the days of maps and scissors," District 2 Supervisor Jim White quipped as Whipp shuttled prospective District 2 constituents from one precinct to another.
Last week's discussion was the second in as many weeks as the county works under a compressed guideline to submit a redistricting plan following the 2020 U.S. Census.
Orange County didn't receive census figures from the state until late August and has been working to achieve the decennial redistricting by a Dec. 31 deadline. Any changes the board makes to county voting districts, precincts or polling places will not affect the Nov. 2, 2021, election, but take effect in 2022.
Following the board's Sept. 14 redistricting work session, Rappahannock Rapidan Regional Commission Executive Director Patrick Mauney offered suggestions to help streamline district boundary lines based on the board's working map. That map, which was developed with a target population of 7,250 for each of the five county districts, used Route 20 as a dividing line for District 2, District 3 and District 4, with District 1 largely the western third of the county and District 5 roughly Lake of the Woods.
In fine-tuning that map, Mauney said his suggestions were meant to ensure that the district boundaries are clearly observable and reduce potential for confusion or ambiguity regarding the boundaries introduced by some census block boundaries.
There is a 5% deviation requirement for district populations to maintain somewhat equal populations throughout the county.
County administrator Ted Voorhees said Mauney has the experience writing up "those metes and bounds descriptions that would be necessary to be part of an adopted ordinance."
Under Mauney's proposed map, the county population distribution breaks down as follows: District 1 7,156; District 2 7,176; District 3 7,250; District 4 7,067; and District 5 7,471.While District 5 is the largest population under this alignment, it also represents the area with the least potential for growth as it's largely comprised of the Lake of the Woods residential development. District 4, which has the lowest population in this configuration, expects to the see the largest short- and long-term growth of the county's five districts.
"I'm a little concerned the regional commission's alignment gives us a spread of population among the five districts that's not as uniformed as I would have hoped," White said. "If you compare the end numbers, it's not an even a distribution as you'd like."
Voorhees said if the board had one district to pick that would have fewer residents than the other, "it should be District 4 to account for future growth because it's going to be lopsided in 10 years."
District 5 Supervisor Lee Frame said his district is "pretty well built-out, and not likely to see the kind of growth that the other districts are excited to see."
Board members discussed some of the proposed changes, including splitting Brick Church Road between District 2 and District 3.
"There are a lot of residences on that road, lots of small lots. It's a cohesive neighborhood that's split down the middle by the road," White said. "It wouldn't have been my first choice, but I don't know that it's catastrophic."
District 1 Supervisor Mark Johnson noted that some neighbors might find themselves in separate districts because roads are one of the main boundaries used to delineate districts.
Generally, board members agreed Mauney's proposed map created more streamlined and definable boundaries and turned their attention to polling places and precincts and whether or not the towns should comprise their own precincts.
In District 1, creating a Town of Gordonsville precinct would be a fairly simple fix, Johnson noted. With District 1 West voting at the Barboursville Firehouse and District 1 East voting at the Gordonsville Firehouse, town citizens could vote at the town hall, or some other designated location, he said.
County attorney Tom Lacheney suggested that eliminated the need for poll workers to pass out separate ballots for town residents as opposed to county voters.
But the solution for Town of Orange residents isn't as clear-cut, as more than half of District 3 residents live in town limits.
"If the town residents vote at Prospect [Heights Middle School], does that mean everyone else votes at Unionville [Elementary School]," District 3 Supervisor Keith Marshall asked. He expressed concern for those living just outside town limits having to pass through town and a nearby polling place on their way to vote in Unionville.
"That western section of the district is a long way from Unionville," he said.
Board members agreed to solicit input from county registrar Donna Harpold and the Orange County Electoral Board regarding District 3 precincts and the Town of Orange.
However, Johnson noted that with early voting options, the county's central absentee precinct at the voter registrar's office in Orange amounts to an additional, de facto polling place for not just those residents outside the Town of Orange, but all county residents.
"Any of these people who want to vote can go in and vote early and vote in the Town of Orange and they won't need to drive to Unionville," Johnson said. "What they told us last time was that there were about 20,000 ballots cast in the last election and about 10,000 were in that central precinct."
The board also discussed existing and future polling places—including challenges with the Mine Run Firehouse in District 2 East, and creating a new District 4 East polling place.
At an earlier meeting, District 4 Supervisor and board chair Jim Crozier suggested establishing a new polling place in the Wilderness Shores area to serve voters in the county's northeast corner.
In the proposed map, District 4 would have polling places at Locust Grove Middle School and in the Wilderness Shores clubhouse.
District 5 polling places would remain at the Lake of the Woods Clubhouse (District 5 South) and the Lake of the Woods Community Center (District 5 North).
District 2 polling places would be Lightfoot Elementary School (District 2 West) and Mine Run (District 2 East).
"We know Mine Run has some issues with access and parking and things like that, but there really aren't any good alternatives especially since we've extended the precinct further to the west," White said.
Voorhees said the county could enter into a grant agreement with the Mine Run Fire Department to improve access at the polling place.
As the board discussed the Mine Run polling place, White asked Whipp about more evenly distributing District 2 voters to alleviate an imbalance of voters in the district's eastern precinct.
Within a matter of minutes, he moved the precinct dividing line from Route 522 east to Tower Road, Tatum Road and Terry's Run Road.
The county will solicit public comment on the proposed redistrict map and plan through an online comment form (www.orangecountyva.gov under the "redistricting" tab), during the public comment period at next Tuesday's regularly scheduled board meeting and at an Oct. 26 public hearing.
Following that hearing, the county will submit a proposal to the Virginia Attorney General's office for approval. Any changes to the voting districts would not affect the Nov. 2, 2021, election but would take effect in 2022.