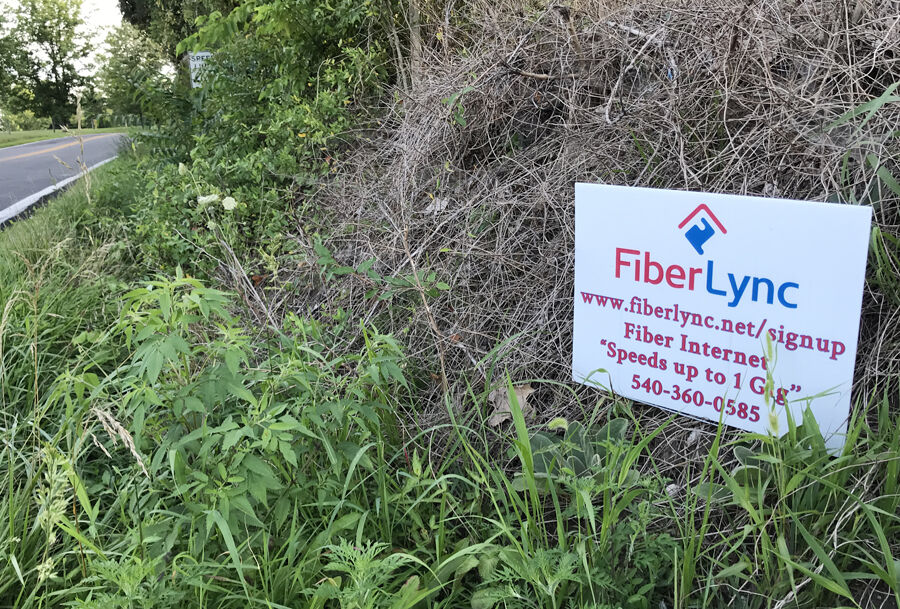 A small, campaign-style yard sign sits outside a home on Route 33 west of Barboursville promoting the high-speed broadband FiberLync service.
Currently, there are more than 860 homes connected among nearly 2,500 eligible for Orange County's broadband service.
In his latest update on the county's expansive broadband initiative, program manager Lewis Foster said more than 128 miles of high-speed cable had been installed across more than 150 public and private roads and driveways throughout the county.
"We're trying to get as many people hooked up as we can," he said.
FiberLync is the county-owned internet service provider created by the Orange County Broadband Authority. The authority, which is comprised of the members of the board of supervisors, was created to deliver affordable broadband service to county residents, businesses and governmental agencies.
The ever-expanding system began with a federal grant to the Orange County Public Schools to construct a fiber network between school facilities. According to broadband authority vice chair, Mark Johnson, by contributing additional local dollars to that project, Orange County was able to construct a fiber "backbone" that reaches from Gordonsville to Locust Grove. Initially, the authority planned a 36-month roll-out to provide coverage to 95% of county residents. However, federal funds from the Coronavirus Aid, Relief and Economic Security Act (CARES Act) escalated that projection to 24-30 months.
Foster said he hopes recently distributed federal American Rescue Plan Act (ARPA) funds will further stimulate construction.
Additionally, the county is applying for a Department of Commerce grant and will take another crack at accessing Virginia Telecommunication Initiative (VATI) grant funds. The county previously applied in 2019 but was not selected.
Foster feels the county's prospects are much stronger this funding cycle, given the county's investment and progress since it last applied.
"The broadband authority has set a goal for universal broadband coverage throughout the county by 2025," Foster said. "To achieve this goal, we will need outside funding sources."
Foster said the Department of Commerce grant will favorably consider applications with in-kind contributions (county-laid fiber) and government or cooperative-owned networks.
Meanwhile, this year's round of VATI grants allow public broadband authorities to apply directly without a private sector partner.
In the meantime, contractors continue to lay fiber and connect homes.
As of July 8, FiberLync had 175 additional connections scheduled for one of its seven service levels. Packages range from $49.99 per month to $249.99 per month. Foster said the average time for installation is about three weeks. He said it would be faster, but contractors have struggled to maintain sufficient staffing to identify existing infrastructure prior to connection. Areas connected literally range from A (Albano Road) to Z (Zoar Road), which coincidentally, represents the county's western and eastern ends.
"Lines are going out in all directions," Johnson noted. "Miles of cable are being laid every day."
So far, more than 41% of eligible households have subscribed to the service.
"That 'take-rate' is a very good number," Johnson said. "That's an important number to look at. When we made our plans, we were looking at a 25-to 30-to 35% take-rate, and we're better than that and it's still early yet."
Both Johnson and Foster said they've heard good feedback from customers regarding the service and are eager to connect more residents.