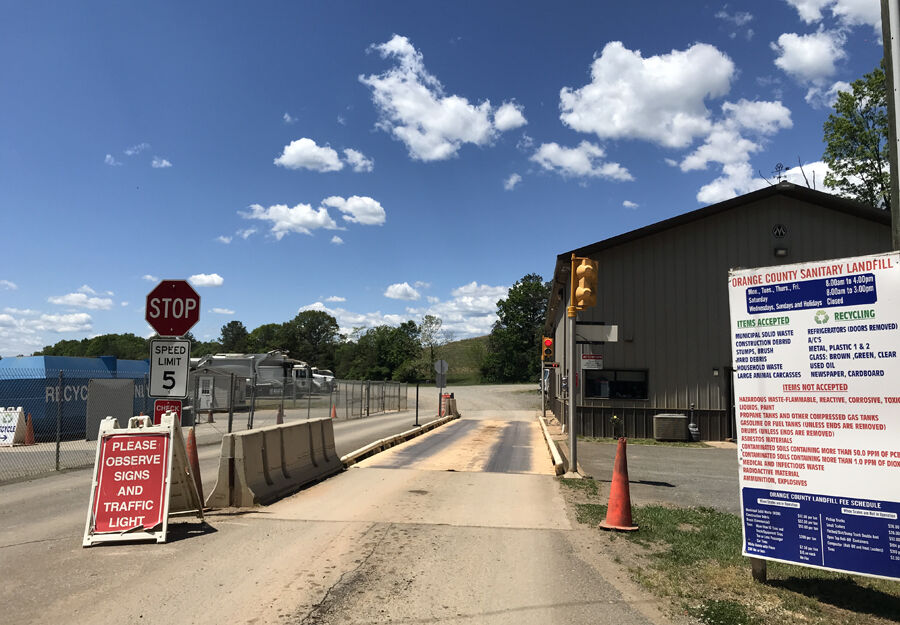 When Orange County adopted its 2020-21 budget a year ago, it included nearly $15 million in financing to tackle four substantial capital projects—renovations and an addition at Gordon-Barbour Elementary School, modifications to the county-owned Blue Bell building to create a technical education center, furthering the county's broadband initiative and opening a new landfill cell.
With progress underway on the first three initiatives, only expanding the landfill remained.
Last month the Orange County Board of Supervisors approved a nearly $2 million contract to open the second (of eight) cells at the Orange County Landfill on Porter Road.
In February, the county solicited bids for construction of a landfill disposal area that would include site grading, construction of a landfill liner and leachate collection lines, gravel access roads, and draining, erosion and sediment control features. The project also includes a tire disposal area with a concrete retaining wall with the expectation that construction would be completed by the end of the 2022, when it needs to be certified and operational.
Four bids were submitted for the project, ranging from Sargent Corporation's $1.972 million budget to $2.884 million from T & K Construction.
The board of supervisors unanimously voted to award the bid to Sargent, an employee-owned company that originally began in Maine in 1937, before growing and expanding to the mid-Atlantic in the mid-1990s. The company builds airports, highways, landfills, renewable energy facilities and various other types of municipal infrastructure.
The cell to be constructed comprises 9.64 acres and is situated between the currently active cell 1 and the landfill scale, building and recycling center near Porter Road. Collectively, there are more than 150 acres at the landfill, which has been operating since 2013. The previous landfill—on adjacent property—closed in 2012.
Assistant Orange County Administrator for Operations, Kurt Hildebrand, said the current landfill initially was expected to serve the county for 38 years, but may end up lasting longer, based on the volume of solid waste deposited.
Approximately 85 tons of trash are deposited daily in the landfill, including refuse from the towns of Orange and Gordonsville. It costs approximately $2.5 million to operate.
Hildebrand said the current cell is filling up but it cannot be filled to capacity because the landfill is constructed as a pyramid. Cell 2 will be an adjacent base block to the pyramid and future cells will complete that base before building vertically. He said cell 1 has exceeded its life expectancy by more than one-and-a-half times because of an unexpectedly good "compaction rate."
"If it doesn't compact well, you'll have a big hill in a short time," Hildebrand explained.
Each day, landfill contractors stabilize the working face of the landfill and cover it once a week with dirt. During the week, it's covered with a 60' x 30' tarp that is rolled out over the open face to keep trash from blowing around and limit birds and insects from accessing the garbage and potentially spreading disease. Additionally, the tarp keeps out rainwater, which, once it enters the landfill ultimately is pumped to a leachate containment pond and later transported to the Town of Orange wastewater treatment plant, Orange County Public Works Director Aaron Caine explained.
Like the existing active cell, the new cell will include a liner that Hildebrand and Caine likened to a bedliner in a truck. The first layer in the new cell should be "fluff," Hildebrand said, to prevent anything from puncturing the liner.
"We'll keep selected waste out of cell 2 until we've got a good layer—a good four or five feet over the footprint," he said.
Few Virginia counties are constructing or expanding landfills. Instead, many operate transfer stations where solid waste is trucked to off-site landfills.
"I don't know that we would have stayed in the landfill business, but we had an existing permit and were able to negotiate with DEQ and modify it into something worthwhile," Hildebrand said. "If that wasn't already there, we probably wouldn't have done it."
Work on the new cell will include construction of a landfill site including earthwork and site work associated with placement of soil fill and leachate piping, installation of liners and drainage material, construction of a tire trailer area, and improvements to existing roads, according to the bid documents.
Hildebrand and Caine said most of the $1.972 million cost is in materials and construction, though the contract requires a consultant be on-site during construction to verify the project conforms to DEQ specifications.