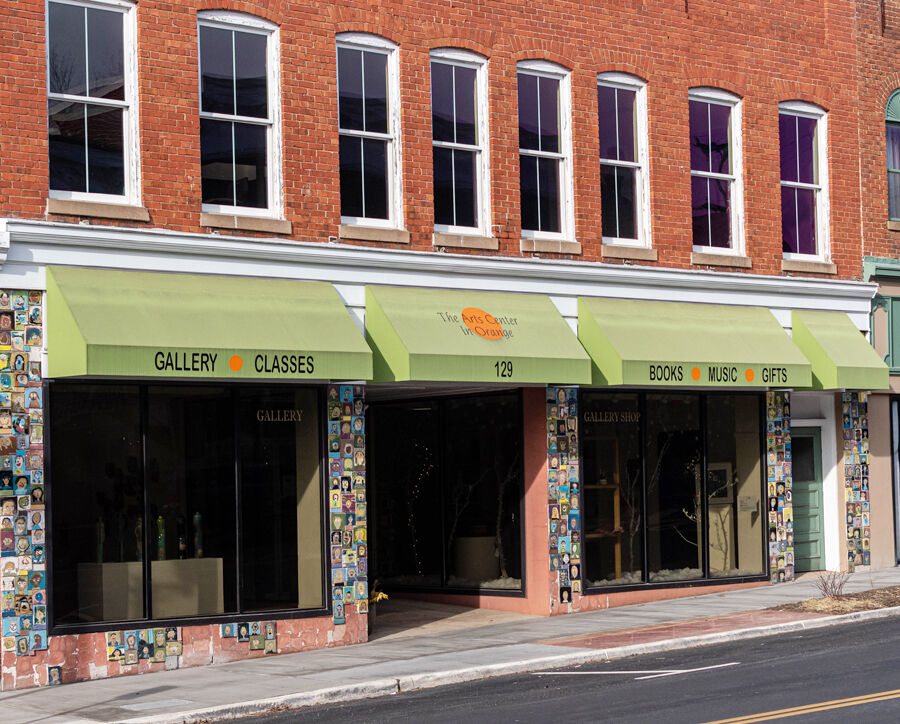 The Arts Center in Orange is moving into the spring and summer seasons with open doors and open minds. Executive director Anna Pillow is working with her board and staff to develop the center's calendar for the next several months. The Young Visionaries exhibit featuring art by Orange County High School students will be on display until May 15. That will be followed in June by a juried photography show called "Natural Beauty". An artistic butterfly and moth exhibit called "Lepidoptera" will debut in August. Classes will begin again in earnest during May. Pillow, however, is particularly excited about the lineup of public programs in store for the community.
Many of these programs are organized around the central concept of defining what is and isn't considered "art" in the truest sense, Pillow explained.
"An overarching theme is that there are a lot of misconceptions about what art is or what art can be," she said. "I often her from people that someone can't really make a living being a painter. Art isn't really an option in their minds. When what I see in our community is actually a wealth of people who have amazingly applied skills, who are using art in a variety of formats. Of course, art is so much more than just a painting. It's a sensibility, a way of living and a way of seeing things. Ultimately, art is very resilient and forward thinking."
To that end, the Arts Center has planned a number of free, public events to help introduce individuals to art and artists in a myriad of ways. Those include local sculptor and instructor Thomas Marsh conducting portfolio reviews for young artists and free family visual art event from Brazilian-American artist Dan Leventhal.
Recently moved from New York to Orange, Leventhal will be teaching workshop participants how to create their own fuxicos or "fabric yo-yos". Fuxicos are an art form originating from Northeastern Brazil. They are typically handmade fabric flowers sewn on to items in the home but can also be incorporated into personal style.
Another major date on the horizon is the Juneteenth celebration on June 19. The holiday, sometimes called Freedom or Jubilee Day, commemorates the emancipation of African-American slaves in the United States.
The center has asked Dr. Dena Jennings and Michael Carter Jr. to help plan the day's events.
Carter suggested that this year's event will blend art and history to powerful effect. "It will be like walking into a Juneteenth art museum," he said.
Pillow is enthusiastic about collaborating with Jennings and Carter, neither of whom are professional artists, but have artistic interests on the side.
"With Juneteenth, we are going to be looking back, we're going to be talking about history, not only in our community, but in our country," she said. "But we're also going to be talking about how that has effects today and letting people speak for themselves and from their own experiences. We're very excited to be working with Michael Carter Jr. His family's background and their farm is going to be a very interesting story. Really looking at storytelling as an art form. There's an art to anything. That's going to be one of the themes."
"I think many people see Dr. Jennings as a doctor, yet she is also a presenter, mediator, human rights activist, she creates instruments, she's a musician," she continued. "Nobody is any one thing."
Just after Juneteenth, on June 22, Beate Casati, owner of Cavallo Gallery in Gordonsville will be conducting a workshop on framing and matting artwork as a part of the outreach program associated with the "Natural Beauty" photography show.
"This will be a photo workshop talking about conserving and framing your art, what glass options you can use to best present your art," Casati said. "All of those different things. It will be an educational workshop where people can ask questions."
Both Casati and Pillow hope to dispel the narrative around framing as being too expensive or too much of a hassle for most artists.
"Beate is going to give a talk about matting and framing and why it matters," Pillow said. "She plans to bring in some examples. Artists may not always be able to afford to have their work professionally framed, however, it does make a huge difference. Anyone will be welcome to attend that workshop."
According to Pillow, the public program in July will be a "clay day" or outdoor public art gathering.
We are developing a community day on July 17, that will be taking place on Short Street," she said. "For that event, we are working with Jessica Cifizzari, who runs Paint It Orange and is an artist as well. She has made some fabulous horse sculptures for us that we are going to ask community members to decorate using underglaze, which is similar to watercolor. It will be very accessible and easy. People will be invited to paint whatever they want. There will be artists there to help. I want participants to walk by the finished work in town and think "I made art. I'm part of this." Hopefully, this can become a recurring event.
The event will go beyond the horse sculpture project and allow people to experiment with clay while staying in their comfort zones.
"At the community day we will also have some other activity tables for ceramics and two stations where people can actually create sculptures with local artists," Pillow said. "Then there's going to be a 'free play' table where one of our instructors will be showing people the basics of working with clay. It's going to be a free and open atmosphere. We are hoping to get people out and seeing each other."
Additionally, Pillow said that the clay day event will be a great way to show off the Art Center's patio space that they've been transforming during the pandemic.
"We have a little patio in the back behind the center that many people don't know about," she said. "We are currently working with the garden club to turn it into a real community space. Two of the sculptures from the community day in July will end up being displayed there. This summer we are working on beautifying the patio and making it useful back there. It will also be just a nice place to relax and take a break."
Another point that Pillow emphasized is that the Arts Center is easing back into functioning as a community meeting space. She wants people to feel able to come in and explore.
"People have been at home for a year," she said. "We want to remind people that we have a gift shop, we have a gallery with a curated exhibition program."
Registration for classes is open on the Arts Center's website and a regular schedule will be starting in the coming days. Most of all, Pillow wants to bring back the joy and buzz of people in the center that existed before COVID.
"The Arts Center is at its best when it's full of people," she said. "Because art is about people."