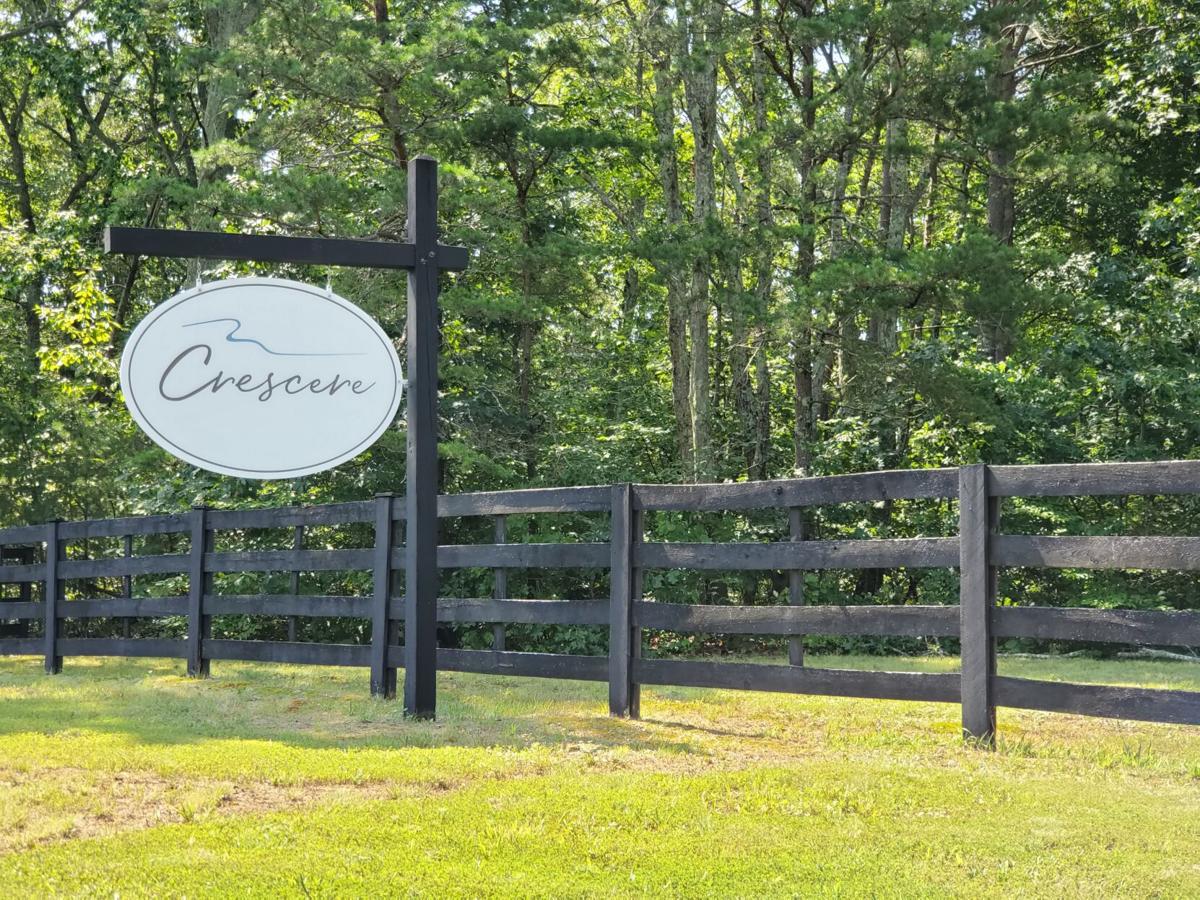 The audience spilled out into the hallway during last week's Madison County Planning Commission workshop meeting. The subject? Crescere.
In mid-May, Orange County resident Barbara Miller submitted an application for a special use permit (SUP) which would allow the creation of a rural resort or event venue on a 762-acre property off Route 231 near Uno, not far from Somerset. The property was formerly known as Ken-Walt Farm and has since been renamed Crescere. It consists of several lots and is owned by Crystallis, LLC.
Miller's project has long been discussed and was the catalyst for the creation of the county's event venue ordinance. Approved in 2019 as a rural resort ordinance with a 100-acre minimum lot size and 50% open space requirement, the ordinance was amended in the spring to an event venue ordinance allowing a 10-acre minimum lot size in both A-1 agricultural zoned areas and C-1 conservation zoned areas. The open space requirement remains.
The special use permit would allow the creation of Miller's rural resort on approximately 750 acres of the A-1 zoned property. A conceptual site plan includes numerous lodging areas, welcome center and restaurant, spa, pavilion, event center and several other buildings and structures. Site buildout, according to the concept, would contain approximately 60,000 square feet of permanent and temporary structures in addition to parking, roadways, hiking and equestrian trails and facilities. The concept maintains and exceeds the 50% open space requirement and the plan is for the concept to be built in phases. If approved, the project will require site plan approval for any areas developed.
A public hearing on the SUP application was postponed earlier this month to Aug. 5 in order to give commissioners and county planner Ligon Webb time to work through proffers volunteered by Miller.
During last week's meeting, Webb said the county's SUP process lends itself to many layers of review and oversight with public hearings prior to the SUP issuance and then at each phase of the site plan. He said the SUP process also allows the county to place restrictions on the application. Webb said at a 10,000-foot look, the project fits in with the comprehensive plan as tourism is something citizens have had interest in. But at the ground level, he said, it's in someone's neighborhood and although tourism is thought of as clean industry, it isn't without its issues. He said he's been working with Miller and his hope is that through negotiations, if the broad concept is acceptable, they can work down to something that will be acceptable to all.
Webb said the main issues are events, traffic and noise. With the latter, he said he would approach it as a clear cut-off time for outdoor, amplified music with some flexibility.
"Maybe it cuts off a little earlier Monday through Thursday," he said. "I like the idea of a limit."
As for traffic, he said VDOT has stated that during the site plan phase of the project, there will likely need to be turn lanes added. Webb said Route 231 is actually underutilized with approximately 1,440 trips per day while Route 230 has several thousand more. Both roads are of a similar width and design.
Like VDOT with the roads, the Virginia Department of Health will handle any issues with septic and wells which will need to be designed by an engineer and approved by the state agency. Erosion and sediment will be approved by the Department of Environmental Quality (DEQ).
Some have questioned why the SUP would be linked with the property instead of the applicant, but Webb said non-transferability is sometimes a no-go with investors. He said the number of major events per year, six, was developed based on the number Graves Mountain Farm and Lodges hosts. He said that business currently can house 230-250 overnight guests, not including its primitive campground. The business has been operating since the Blue Ridge Turnpike was created, first hosting guests in a home on the property whereas Miller's project is new.
"This is something being introduced," he said. "It really needs to be thought out and [developed into] something the board is happy with and Barbara Miller can live with."
Graves Mountain Farm and Lodges owner Jimmy Graves said they try to keep their music cutoff time around 11 p.m., and that with different events, traffic will occur, but he tries to bring people in two different ways to mitigate some of that.
Jane Hammond of the newly formed Madison Matters group, not to be confused with the long ago and now disbanded Madison Matters group, took issue with the number of people allowed overnight at the proposed development. She also said having unlimited minor events and six major events, or more with board approval, is too much.
"Agricultural land is being turned over to non-agricultural pursuits," she said.
Hammond said the project also doesn't require an environmental impact study to determine how the project's wastewater could affect the Rapidan River.
"It's easy to see how this would harm people living in the area," she said.
In a five-page letter to the board, which will be read into the record during next month's public hearing as part of the currently 50 pages of citizen letters on the matter, she suggested proper environmental studies and a scaled back project with limits.
Meanwhile, Robert Joskoviak, Miller's current neighbor at her Orange County farm, said he supports the project. He said in the eight years Miller has lived at the property, she has planted 1,000 trees along the Rapidan River along with meadows and uses organic practices. He said she has the nicest farm in Somerset.
"Her project would create 60 jobs," he said. "It's very easy for some of my neighbors to write letters when they have pensions and other financial means."
Joskoviak pointed out other uses of the property that are already by-right including a winery and 200 homes.
"If you think the option is this or nothing, you think mistakenly," he said.
Chip Queitzsch said the project has been inconsistent and varied throughout the entire process.
William Rother, who lives one property away from Crescere, said he moved to the area about three years ago from Chicago. He said he's concerned about how the proposed development would affect the quality of life in the area and asked that amplified music be stopped at 9 or 10 p.m. He also said he hopes Miller doesn't intend to use Raceground Road as a back entrance for deliveries.
"I love living here and the kindness of people," he said. "This is way too large in scope."
Amy Neale, who operates a neighboring farm with her husband, Doug Hill, said she also opposes the project in its current form. She said while agritourism can be a good thing with the right controls, she sees none of that here. She said with the events, buildings, people and glow of lights, it would seem like a small town in Rochelle. She said she'd like to see everything in the proposal halved if not more.
"I question if the net effect to coffers will be realized and to what cost," she said.
Shelia Arrington also spoke in favor of stricter guidelines for the project and noted that Graves is off the beaten trail, while Crescere wouldn't be.
Jill Shriner, who moved to the area within the past few years from Baltimore, said the project would bring with it crime and drugs.
Robert Stetler said the project could be a way to get increased county revenue without harming residents and acknowledged there's no way to increase revenue without allowing growth. He said citizens trust in the board and if it is going to make the community better, he could support it, but if it would take business away from other small businesses, he couldn't.
David Thompson of Rochelle said his biggest concerns were environmental impacts and the amount of water that will need to be drawn from the ground.
John Chebuske, who lives six miles north of the proposed project, said approving it would be like injecting a cancer cell into the area. Supervisor Kevin McGhee took particular issue with the statement. He said it angered him and hopes Graves, who was in the audience, didn't feel like a cancer.
Jenny Hill Robinson and Rick Kaine questioned the increased need for first responders and who would foot that bill. Webb said EMS officials do not feel the project will overburden them and typically large events such as Taste of the Mountains or the Graves Mountain Fourth of July celebration yield only one call.
Sophie Laport asked for more specificity in the SUP, stating it's currently too broad, but said she supports what Miller is trying to do.
Economic development and tourism director Tracey Gardner said the project checks off all the boxes in terms of tourism for the county. She said Miller's reputation as an environmentalist precedes her and it's the type of growth the county wants. She said as for events, when anyone has a big event in the county, all of the small businesses benefit.
Chris Hawk with the Piedmont Environmental Council (PEC) agreed tourism is a great thing, but said tourism SUPs are a mechanism for illegal uses on a site. He said the PEC can't support the project until it's explicit and succinct and asked the board to deny it in its current form.
Justin Shimp, who serves as the engineer for Crescere, said 60,000 square feet would be the maximum in terms of buildings and said that would be spread over 750 acres which is akin to 800 square feet on a 10-acre lot. He said 200 houses there would be a much more onerous impact.
"That's the kind of thing that can happen if these types of businesses are not allowed to operate," he said.
Shimp said the project does have a groundwater study that states even in a drought, the land could support 2,000 houses. He said the project will include subservice discharge with all water pulled out of the ground going back into it.
Miller said she likes peace and nature and doesn't want to upset the community, but rather benefit the community.
"I'm not talking about 365 [days a year seven days a week] craziness," she said. "I want this to benefit Madison County and everyone who lives here. I want people to be excited about it. I'm not looking to ruin the neighborhood or ruin Madison. I want people to enjoy it."
Planning commissioner Mike Fisher said somebody has to pay for the schools and something has got to give.
"Everywhere you go, try to do something and it's 'don't want it here,'" he said.
Fisher said the only other way is to raise taxes and for those on only a few acres, they pay through the teeth while those on conservation easements don't experience much of a change. He said the project is a better alternative than a housing development.
Like several of the other commission and board members, Fisher also took serious issue with Madison Matters flyers that were stuffed in people's mailboxes, along with signs placed along the roadway on people's private property.
"I love Madison, but stuffing mailboxes is not the Madison way," he said. "Madison Matters, we've been [working on this project] since January of 2019. Where have you been?"
Commissioner Daniel Crigler said he also didn't appreciate the flyers, pointing out that it's a federal offense to stuff something in a mailbox.
"I can assure you the postal service is on top of it," commissioner Pete Elliott said.
Supervisor Charlotte Hoffman agreed, stating it had been reported to the post office.
Supervisor Carty Yowell said a satisfied visitor is the best investment. He said he will be in favor of the project providing the conditions are satisfactory. He pointed out that the property is perfect for such a project since it's far off the road and in a geographic bowl with the geography providing some noise protection. He also said the current proposal only disturbs about 2% of the land, leaving 98% in farmland. He said he'd like to see outdoor amplified music ending at 11 p.m. with guests prohibited from using their own ATVs and UTVs. He also said he'd like to see outdoor lighting fixtures kept under 25 feet, neutral architecture to blend in with the surroundings, a 50-foot riparian buffer on the river and a committment to leave at least 80% of the land undisturbed. He said he'd like there to also be language that would remove any items from the SUP not currently finished or in-progress if the property should sell.
Hoffman said Miller's concept is beautiful and environmentally friendly and everyone who knows her farm compliments her. Hoffman said most of the things included in the concept are already allowed by-right. She said the idea isn't to create a Lock'n or Woodstock-type festival.
"Most of you here tonight who have spoken moved here from somewhere else," she said. "You moved here and have your piece of heaven and don't want anyone else to have their piece of heaven."
Hoffman said she's in favor of the project, providing the proffers are correctly written.
"You find your little piece of heaven where we grew up and you're mighty unwilling to share it," McGhee added. "Barbara Miller is willing to share it, just like the Graveses have."
Supervisor Amber Foster said she and supervisor Clay Jackson met with Neale and Hill regarding their concerns which they then took to Miller. She said Miller agrees with quiet hours and not allowing guests to bring dogs. She said the lodge included in the plans isn't a hotel, but rather a three-sided gathering place.
"We understand everyone's concerns," Foster said. "Come up and talk to us. We're listening."
Jackson said while the supervisors aren't in a position to deny the project, they will place conditions on it.
"This is personal property rights stuff," he said. "No one here would like us to say you can't do this on your property. It's a balancing act to make neighbors work together."
Jackson said the Insurance Institute for Highway Safety facility in Greene was once an option for Madison County.
"I remember hearing people talk about it saying they're going to be crashing cars on Rt. 29," he said. "I drive by it and say that's a neat looking building. That's tax revenue we should have had."
He said there are pros that go with tourism ventures, it isn't all negative.
Webb is negotiating proffers with Miller. Those will be released prior to the Aug. 5 public hearing.