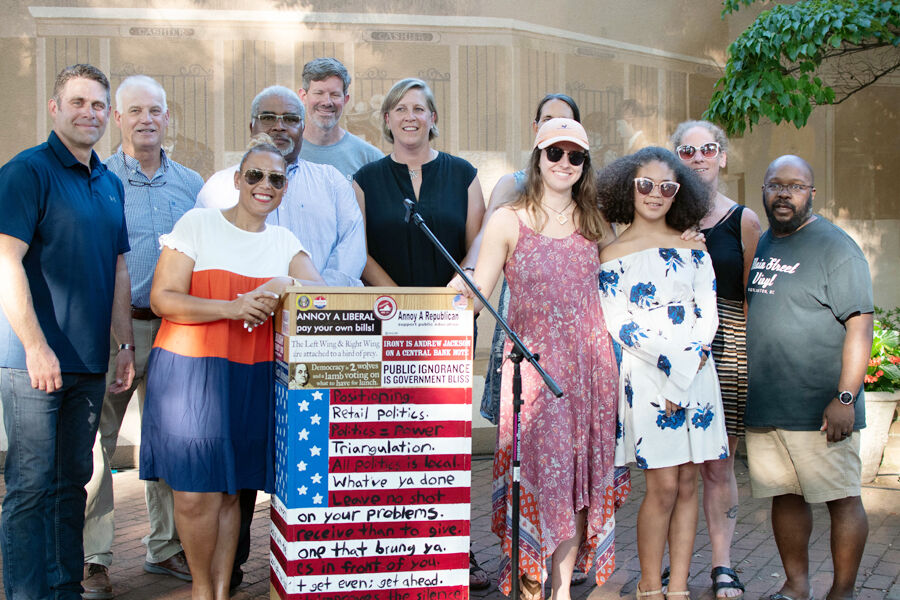 Just Orange, the social justice and civic awareness group that is about to celebrate it's one-year anniversary, hosted a local candidate forum and meet and greet at Taylor Park in Orange last Wednesday. The bipartisan event was titled Community Conversations: The Locals and was an opportunity for citizens to meet the three candidates running for the county's District 3 supervisor seat and the two candidates running for the Virginia House of Delegates in the 30th District (encompassing all of Orange and Madison counties and a section of Culpeper County).
The candidates for supervisor in attendance were: Donald Brooks, current chair of the county planning commission and former captain with the county sheriff's office, Ellen Pitera, an art teacher at Orange Elementary School and co-owner of Rounton Farm with her husband, and Keith Marshall, who serves as the interim supervisor for District 3 and is also a dairy farmer in Unionville.
Incumbent Del. Nick Freitas (R-Culpeper) was at the event along with his Democratic opponent in the November election, Annette Hyde. Both of the candidates for the 30th District spoke to the crowd and spent time talking individually with voters after the forum portion ended. Freitas has been involved in Virginia politics since 2010 when he became the chairman of the Culpeper County Republican Committee and has been a member of the House of Delegates since 2016. He ran unsuccessfully for the U.S. Senate and for the 7th District Congressional seat in 2020. Hyde's background is in community volunteering and activism. She currently serves on the Virginia Career Works – Piedmont Workforce Development Board and has been working as a yoga teacher for 20 years.
The emcees for the evening's proceedings were Jenna Faulconer and Grace Taylor, two of Just Orange's youth ambassadors. Snacks and plenty of water were on hand during the event. Despite the sweltering heat, roughly 60 people stopped by to watch the five candidates pitch their vision for the county.
Each candidate was allotted five minutes to give their stump speech and explain why voters should check their name on the ballot in the fall. All of the candidates touched on familiar issues such as education, economic growth, job training and personal freedom.
Donald Brooks on his experience and sustainable development:
"One of the things that all the candidates are going to tell you is that they want good education, great public safety, low taxes, suitable and sustainable economic status. But what they don't tell you is how they are going to accomplish those goals. Do they have the experience needed? As I said before, I spent more than 25 years in the local sheriff's office and I am a life member of the Orange County Rescue Squad. I also spent more than 10 years on the planning commission; I serve as the chair of it as we speak. That speaks to the volume of what I can do. Because most folks, look at what somebody has done to try and determine what that person wants to do. That's where patterns come from. I invite everybody look at my pattern."
"I love Orange County and I want it to grow, but what we have to do it in a substantial way where the whole county moves forward. not part of the game. While [the district 3 supervisor] only represent one district by vote, they represent the whole county in general."
"None of the candidates have my experience. None of the candidates have done what I've done for Orange County in Orange County and working with Orange County. None of them have done that. They've done a lot of great things, but they don't compare to me. So that's why I excel and that's why I think I should be elected."
Ellen Pitera on education, recovering from COVID-19 and government transparency:
"First, we need to look at what was actually beneficial during COVID. It was a hard year for the kids and teachers. But there were some things in that time period that worked. So, if virtual learning works for some kids, and that's a confidence builder, then that needs to be available for them. There are other things in terms of educational pieces if you really dig down deep into there, that we're not finished looking at. I'm an art teacher, so I see all the kids and I see their strengths and weaknesses in all those different areas. It's really important to me to be able to compare this past year with this current year. That's what a lot of educators are doing is figuring out how can we learn from what we experienced last year and how to apply to the coming year."
"It's too much to ask of teachers to expect them to teach both the in-person and virtual learning students. There need to be some teachers who are designated just for the virtual students, because that will benefit those students, and it's going to be better for the teachers."
"I feel like there's a big gap between the general public and the leadership in Orange County… In the age of social media, there needs to be a more immediate way, like on a daily basis, or every few days, that you're just getting information. Whether you want to follow up with that information or not, that's your own choice. But at least it's out there. So that citizens don't come to a meeting, to speak their mind and feel like the decision has already been made. A big part of my platform is just to communicate."
Keith Marshall on job training and growth in Orange County:
"I think something the county is in need of is vocational technical education. They call it CTE now. So, it's sorely needed. We need the jobs, we need the training, we need to get these kids on a great career path. Not everybody's destined to go to college. College is good, but we need to we need to have these opportunities also."
"There's only two sources of labor here and one is our youth and the other could very well be immigration. Our unemployment rate is extremely low now, which means there's virtually no available labor."
"Wilderness Crossing is part of our comprehensive plan. We're looking to expand the growth at that end of the county, while trying to maintain as much of the rural character as possible. As far as the labor pool and education and creating jobs: that's why we're here. To figure those problems out. What I can offer is I understand labor, I understand businesses, and the challenges and difficulties but also the solutions. That's my forte."
Nick Freitas, on technical education and government's role in society:
"There's a couple of things. For the last six years, I've been really focused on career technical education. I want to see more apprenticeship programs. That's really important going forward, because depending on what sort of occupational track you are going to be on, that's going to help us decide and help you decide what are the best educational opportunities. The other thing is, we need to put a lot more control back in the hands of parents and teachers. Richmond is controlling way too much with respect to education… I want to do a lot more to empower parents and teachers. And I want a much more diverse offering when it comes to the educational courses that we offer. It shouldn't just be here's the plan to get you to college, it should be the here's the plan to empower you to do what you want to do."
"Then we get into political issues like critical race theory. This is in part a huge issue, because the government's controlling the process. If this was parents making decisions with respect to their kid's individual education, if this was teachers being able to have more control over their classrooms, we wouldn't be fighting about this. But because it's being mandated from on high, we are having a fight about it."
"I think there's a lot of things that are obviously important to the community. I'm very serious about this idea that government has a certain role to play and it's supposed to stay within those boundaries… So, we need to once again respect individual rights, freedom of speech, our second amendment rights; all of those are really critical and we need to stay within our proper boundaries and make sure that we're protecting them."
Annette Hyde, on education and
"What I'm really passionate about is our children. Our children are our most precious resource and public education gives them the opportunity to, to fulfill their dreams. Of course, parents have the option to homeschool, or send their children to private school. But public school gives every kid a level playing field. It doesn't matter your zip code, the color of your skin, if you have a disability. I mean, it just puts everyone on an equal footing."
"There are counties in Virginia that aren't able to do what Orange did. There are many counties in southwest and Southside that may not have a local provider that they can partner with to apply for Virginia technology initiative plans. What I would like to see is or what I would sponsor is a bill that if these, these counties don't have a local private partner, I would like for them to be able to form their own regional broadband authorities so they can so they can apply for grants."
Following the forum and meet-and-greet, Taylor and Faulconer talked about their involvement with Just Orange and what it was like to lead a community event.
"Well, I started interacting with Just Orange a couple of months ago, after hearing from one of their senior youth ambassadors, O'Brian Martin," Taylor said. "I heard him speaking about all of the Black Lives Matter stuff that had happened that summer. The next day, everything just flowed out of me. My mom posted a picture of the big speech that I wrote about it. Eventually, Dani [Rivera] saw it and was like, 'Hey, why don't you come join us?' So here I am today."
Rivera is a chief organizer for Just Orange and helped found the group in 2020 along with fellow Orange County residents Sully and Laura Carter.
"I think today went quite well," Faulconer said. "I was very happy with the turnout. It was so nice that we could get every candidate running for the two races to come so we could all be in one place and it was just great seeing a bunch of people talking to each other. Everybody loves Orange. We all want to make it a better place."
To learn more about Just Orange and it's work, join their group on Facebook or follow them on Instagram by searching @justorangeva.