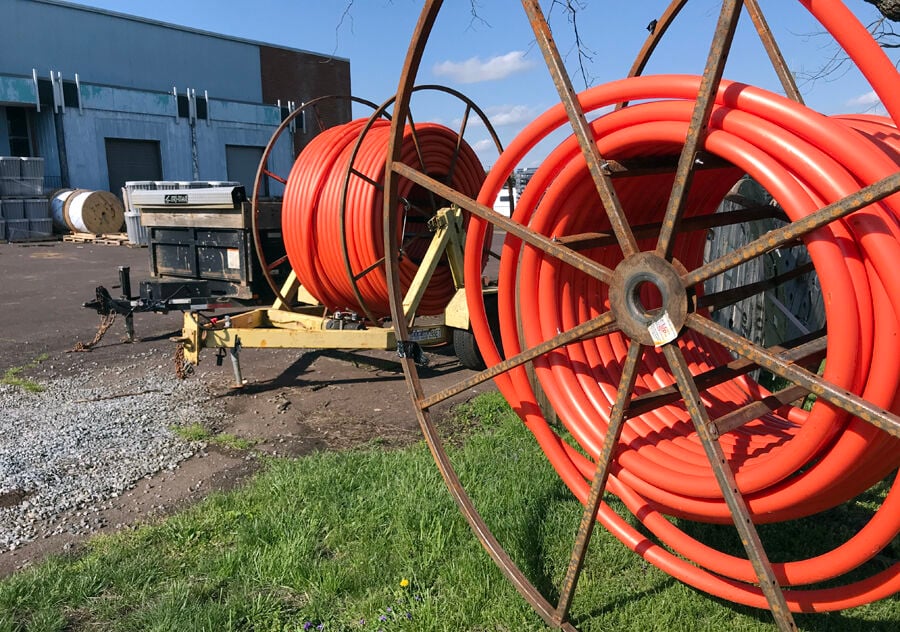 The Orange County Broadband Authority, and it's operational subsidiary, FiberLync, has begun the rollout of its ambitious broadband coverage plan and is already connecting nearly 20 customers per day.
On Monday, April 12, authority members held a virtual public meeting where they voted to adopt internet service rates for homes and businesses as they currently stand. Setting rates was the final administrative step before connecting customers could happen at a large scale.
FiberLync's website lists its rates as follows: Residential packages include FiberLync Bronze (Download speeds of up to 100 megabits per second and upload speeds of 50 mbps at a cost of $49.99 a month), FiberLync Silver (500 mbps/250 mbps at $64.99 per month) and FiberLync Gold (1,000 mbps/500 mbps at $79.99 per month). In the business category the packages include FiberLync Business 100 (100 mbps/100 mbps for $79.99 per month), FiberLync Business 500 (500 mbps/500 mbps for $149.99 per month) and FiberLync Business Gig (1000 mbps/1000 mbps for $249.99 per month).
The broadband authority is comprised of the five county supervisors, with District 2 Supervisor Jim White serving as chairman and District 1 Supervisor Mark Johnson as vice chairman. FiberLync Program Manager Lewis Foster and financial controller Barbara Tilly serve as treasurer and secretary, respectively.
The only item on last Monday's agenda was the adoption of the rate structure.
Before the board voted, Johnson and White both offered a few remarks.
"I think it's important to understand that these rates really are a result of cost and what the market can handle," Johnson said. "These aren't numbers that we plucked out of thin air. They are real world numbers."
"Guiding us through this whole process of rate setting was a specific goal," White said. "That was to make this as broadly affordable to the citizens as we possibly can. To provide an outstanding level of service at prices that are as affordable as we can possibly make them. Building from the bottom up and doing the market analysis and comparison has gotten us to this point."
Foster said that his staff did its homework when it came to creating an analysis of what other internet providers are charging and how they could aim for the best prices while still producing enough money to stay afloat.
"Staff completed a competitive service rate analysis to determine market rates and used projected customer take-rates to ensure the revenues would cover the operational expenses," he said. "FiberLync must ensure that operations are sustainable to cover operating expenses while providing reasonable rates to our subscribers."
With the meeting in the rearview mirror, FiberLync is moving full speed ahead to get homes connected as quickly as possible.
"As of April 7, 2021, FiberLync has more than 1,050 addresses ready to register for internet service," Foster said. "Within the next three months FiberLync should have approximately 2,500 homes ready for service."
Both White and Johnson cautioned that although rates could change in the future it was unlikely to happen anytime soon.
"Our goal also is to maintain these rates for as long as we can," White said. "At some point in the future, as circumstances change, these rates could vary. They could vary in either direction, up or down. These are not introductory rates. These are the rates that we want to run the business by and supply the services to our customers for the foreseeable future."
One fact that the authority and staff all agreed on is that the more neighbors sign up for broadband the more likely it is that you can have the service installed as well. Demand breeds infrastructure. Infrastructure breeds better coverage.
"In terms of which roads will get connected first, staff will make that determination based on several factors: how far along we are in terms of infrastructure in the area and how many people have already signed up for service," Johnson said.
"Only one road can be the first road," he added. "But once it starts happening, it will move pretty quickly."
According to Foster, not only are county residents excited to have access to broadband they are frequently choosing to go with the most expensive option.
"Over 50% of subscribers are selecting the Gold Package," he said. "People are hungry for it."
Crozier believes that the shift toward telecommuting and virtual schooling during the pandemic is fueling a desire for the speediest connection with every feature available.
"The demand is absolutely out there," Crozier said. "One of the reasons people are choosing the higher usage package is that many of them are working from home. So, they use a lot of data by sending large files back and forth. The larger packages give you a faster upload and download speed than the basic package does. Even though that package is usually more than enough for most people."
"What happens is when people are using the large data packages, they're sending large files at a faster rate and can still have kids in the house that do gaming as well as streaming," he continued. "They can do all of it at the same time and not have to go through a buffering process. I think people will find over time that they aren't using quite as much [data] as they initially thought. However, what we've learned when talking with other jurisdictions throughout the state is that their customers would get one package and once they started using it they found that they could do so much online with more data. I think people are just trying to be prepared."
During Monday's meeting Foster reported that FiberLync has been hooking up some homes already and is averaging about 18 to 19 homes a day. He plans to get that number up to 20 per day soon.
Johnson said that FiberLync is moving at a good pace and won't slow down until everyone in the county who wants to be connected is connected.
"We want everybody to have broadband," he said. "We are looking at 100% coverage, basically."
To sign up or find out whether or not coverage is available in a specific area visit www.fiberlync.net.