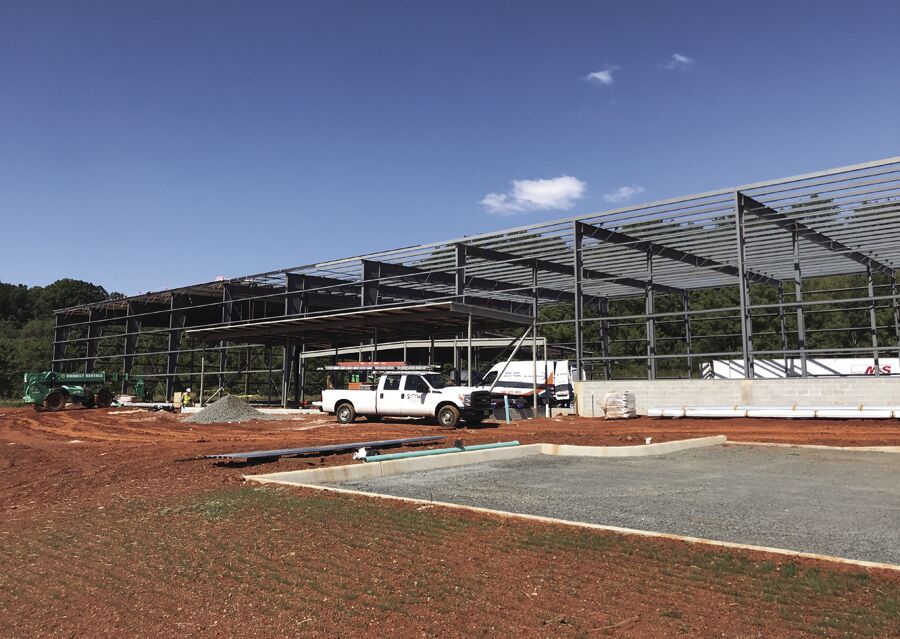 In 2018, the Orange County Economic Development Authority announced Aquaphalt as the latest tenant in the 155-acre Lee Industrial Park on Route 15 between Orange and Gordonsville. 
By January, the cold-patch partnership between Charlottesville-based S.L. Williamson Co. and Austrian-based Vialit is expected to open its new 40,000 square-foot facility on an 8.4-acre tract.
In 2018, the EDA agreed to sell Aquaphalt the parcel for $1 in exchange for a $2.3 million investment by moving its Fluvanna facility to Orange County.
S.L. Williamson President Blair Williamson said the company began construction on the Orange facility in late July or early August and is looking forward to increasing its production at the Orange location.
Aquaphalt is a cold-mix, envivonmentally friendly asphalt repair product used to repair roadways and potholes, driveways, utility cuts, manholes, paths and tennis courts.
Williamson said a serendipitous meeting between herself and a Vialit representative led to the two companies' partnership in 2011.
"We met so randomly," she noted, "but they'd done some work with other partners in the U.S. that hadn't been as successful. We're similar sized, third-generation companies, so this was a good fit."
Vialit, she said, has a strong research and development arm in Austria and developed the vegetable-based binder that makes the product environmentally friendly. The binder is manufactured in Austria and shipped to the United States where it is blended with local granite and other materials, packaged and sold. What makes the product particularly unique, she noted, is that it is water-activated.
"That seems antithetical," Williamson explained, "but it works. It's idiot-proof and high-performing."
She said the product is VDOT-approved for state roadways, used on airport runways, by NASCAR and the Autobohn in Germany.
"Typically, cold-patch is kind of a snake oil industry because it just doesn't work," she said. Customers to home improvement stores may find a larger package of cold-patch repir for $30 and wonder why Aquaphalt is priced at $50 for a three-gallon bucket.
She said their "asphaltic" product (it's technically not asphalt) can be applied in dry or wet conditions and is a permanent solution rather than a temporary fix. She said it requires no special preparation, can be used directly from the container and has a 12-month shelf life.
When it first started production in the United States, Aquaphalt delivered 35,000 buckets. Last year, Williamson said, that figure was 330,000. She suggested 2020 figures would be down somewhat as the economy slowed in the second quarter amid the coronavirus pandemic crisis. As public health restrictions eased, sales picked up as the hardware business "went crazy" with people flocking to home improvement stores to tackle projects around the house.
Williamson said rural municipalities are some of the company's biggest customers.
"They just need solutions," she said. "A lot of them are far from asphalt plants and it takes a lot of moving parts to get a dumptruck full of asphalt for small projects. This makes a lot of sense for little things when maybe you just need a wheelbarrow full of asphalt to fix a problem. It's a permanent patch."
The Orange facility will allow Aquaphalt to add a second production line and improve loading and storage, Williamson said. Once the Orange plant is completed, the company will close out its Fluvanna plant and move operations and (six or seven) jobs to Orange. Williamson anticipated operations in the new facility commencing in January 2021.
"This will be a huge improvement and we're really excited," she said.
"We're glad to include Aquaphalt on the list of impressive companies who have located in the Thomas E. Lee industrial Park," said Orange County Economic Development Project Manager Rose Deal. "Aquaphalt is high-quality product with a lot of growth potential. They are a welcome addition to Orange County and we look forward to seeing their success in the years to come."
Deal said the Aquaphalt relocation is the park's first construction or expansion since Zamma Corporation expanded in 2018.
The Thomas E Lee Industrial Park consists of 155 acres and is presently the site for several national and international employers in the county: MPS Returns Center, Zamma Corporation, Lohmann Corporation, Lohmann Specialty Coatings, and St. Gabriel Organics. Currently, there are five available parcels totaling 71 developable acres which includes one five-acre pad-ready site.
Be the first to know
Get local news delivered to your inbox!