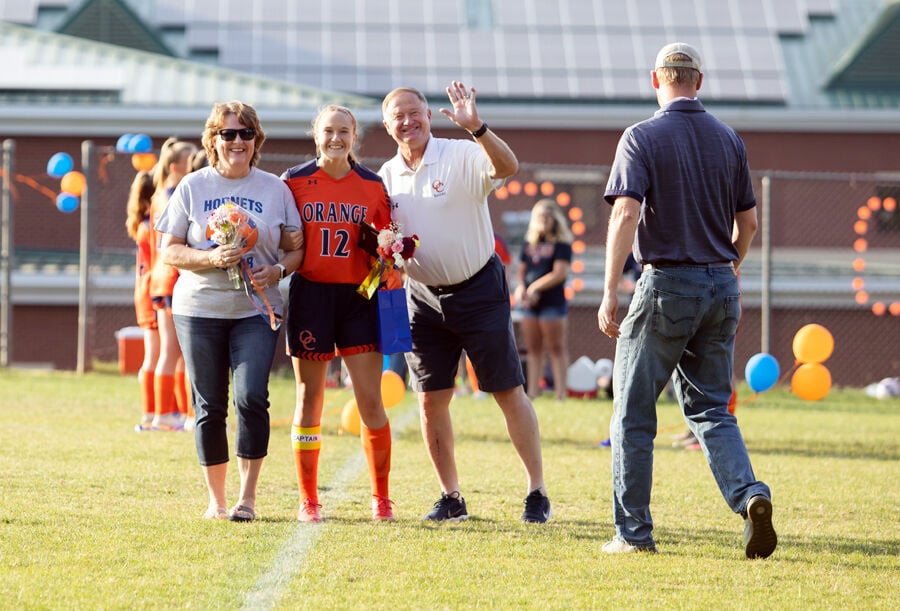 When the Orange County High School varsity girls' soccer team played Fluvanna back on June 3, it marked more than just the end of another season. It was also Dwane Pugh's last match as its coach.
After 22 combined years of coaching high school soccer for OCHS, Pugh knew the time was right to call this season his last.
"All the players I had coached since they were about 5 years old had now come through the varsity level and I had wanted to see them through," he said.
One of those included his own daughter, Jenni, who recently graduated and plans to attend Liberty University this fall.
Secondly, "With the new group coming up I haven't coached about two-thirds of them," he said
Junior varsity head coach Tracy Munger expressed to Pugh her interest in becoming the head coach when he decided he would resign. With her involvement in coaching at both the recreation and junior varsity levels, Pugh said she, or anyone else who fills the position, will bring a "different flavor" of soccer to the program.
Next factor: those murmurings of discontent.
"Over the last couple of years disgruntled parents had made some phone calls complaining because we weren't winning," he said. "When you're losing, everyone is a critic and an arm-chair coach. I wasn't trained by SOCA (Soccer of Charlottesville Association) or have any certifications some may have wanted. My methodology is 'old school.' There are principles that are time-tested. Parents had seen that I had been successful at the rec level. The JV team was winning, and I could have pulled up players and we could have won more games. There was pressure both ways."
But pulling up players from the JV squad would have run counter to his philosophical approach.
"I left my sophomores and freshmen down at the junior varsity level," he said. "Most teams want to gut the JV team; I wanted to build an attitude of success."
For many years, Pugh has been helping both youth and adults adopt the right attitude.
In addition to coaching, he is the pastor of Abundant Life Christian Fellowship Church in Orange where he began in 1994. Currently he is the oldest tenured pastor in the county.
His paths to both vocations—coaching and pastoring—are well worth exploring.
Born on August 21, 1958, in Robbins, NC, he is the youngest of four boys born to the marital union of his parents. His father, John, died when Pugh was just two months old. His mother, Annie Mary (Smith) Pugh, became his single parent. He learned through her what his father had been like. She told stories of his dad's faith, how he became a preacher, and how he had been a strong male role model for his three older brothers, Adrian, Randall and Anthony, all of whom were athletic and played sports year- round.
Pugh followed naturally in their athletic footsteps.
And, though highly educated, he stuck close to his country roots when he said, "Competition was the breast upon which I nursed."
He grew up at a time when "doing what you were supposed to do was expected and not praised but doing wrong meant you got corrected."
He added: "It became a dual-edge sword I decided not to copy because it produced a fear of not being perfect."
Back to his formal education, he acquired it all in his native North Carolina.
For high school, he first attended Eastern Randolph, but he finished elsewhere.
In fact, a pivotal point in his life would direct his education and become the starting point of his love for soccer.
"Someone offered to pay for my way at a Christian school," he said, and that extension of good will enabled his admission into Faith Christian School in Ramseur.
"The school had just two sports, basketball and soccer," said Pugh. "I had never played soccer but decided I would take it up to get in shape for basketball. I fell in love with the game. I focused on the fundamentals. I wasn't a fancy player, but I was solid."
After graduation, he next attended Piedmont Baptist College in Winston-Salem.
The school did not have a soccer program, but thanks to Pugh and one of his fellow enthusiasts and classmates, that was about to change.
"We funded it out of our own pockets," said Pugh. "It wasn't until my junior year that the school decided to give us money. I became both a player and coach. The school had a lot of missionary kids who played soccer. We started out playing pick-up games. After that we played in scrimmages against some high schools. We learned that Wake Forest University needed a team to scrimmage and they chose us. At that time, Wake Forest had three All-Americans on its team and two of those played midfield. I was a center midfielder and I played against them. I stole the ball three times and from one of those I assisted on the go-ahead score. We won the game 6-4. That game launched our success. Wake Forest scrimmaged us every season and we beat them every time."
During Pugh's senior year, the school hired a new athletic director who decided to keep statistics for the soccer team. From him, Pugh learned he was ranked 10th in the nation in assists per game among Christian schools in the country.
Academically, Pugh completed the five-year program and earned a bachelor's in theology. The program included one year of graduate training.
He continued his education, first by earning a master's and then a doctorate both from North Carolina College of Theology in Carolina Beach. His dissertation was titled, "God's Purpose for the Teenage Years."
From then and through the present time, Pugh has steadily worked with youth and has used sports to reach others, and as a way for them to get to know him.
For two years, he coached the 18-year-old United States Boys Team at the Youth World Cup, or Gothia Cup, in Gothenburg, Sweden. Remarkably, "80% of the world's professional players once played there," he said. "We played against World Cup development teams. The event had 176 teams and the first year we won our pool but were knocked out in the elimination round."
Over the course of his coaching history, Pugh said he has coached two players who went on to play professionally including Ryan Sappington, who played in Orange, and Italian native Antonio Floro Flores in the Gothia Cup.
But a devoted family man like Pugh naturally takes special pride in knowing he coached all four of his children.
He and his wife, Donna Weems Pugh, have three sons and one daughter. John is 36 years-old, Joshua is 28, Jacob is 26, and Jenni is 18.
The couple recently celebrated their 40th wedding anniversary.
Like soccer and preaching, meeting the love of his life was divinely orchestrated.
"We met when I was traveling with a puppet ministry at the church where my oldest brother was the youth pastor," recalled Pugh. "She was looking to transfer to a school closer to her sister's pastor who just happened to graduate from Piedmont, so I was looking to talk her into going to Piedmont. Two weeks later we were at her sister's church in Virginia and I saw her again. She said she thought she would transfer. At that point I knew she was coming to Piedmont and I would fall in love and marry her."
And he did: on June 12, 1981.
Three years later, they moved to Virginia.
Now fast forward to 1994: ever faithful in obedience to the Lord, Pugh said: "God called us to start a church. Four couples were looking to start one including Donna's parents, Don and Pat Weems. I had a couple of other opportunities. I never really wanted to start a church, but I found those four couples hungry for the word of God."
Soon, Abundant Life Christian Fellowship Church came into being. Its people decided on the name, which was inspired by the scripture contained in John 10:10. "…I have come that they may have life, and that they have it to more abundantly." (NKJ)
After three months, the church grew to some 20 people. Today, it has 225-240 people who call it their home church.
"We don't have church membership, we just have voting rights," said Pugh. "We try to minister beyond the walls of the church."
Clearly, Pugh's coaching history has always been a part of his ministry.
"The real purpose in sports is to develop character and a mind set for life so that you can excel in the challenges," he said.
With coaching as a major vehicle, plus his part-time job as a school bus driver in Orange in which he remains, he has been given abundant opportunities to reach many of Orange County's youth.
It all started with former Orange County Coach Mike Howes.
"He was the head coach of the boys' varsity team," said Pugh. "He told me that the junior varsity coach was going to retire and asked me if I was interested. I prayed about it and decided to do it. The first year I was a volunteer assistant without pay, I got a feel for the program. I coached it for six years. We were one of the top two teams in the Jefferson District for three years and two times we won it. We built on that."
His philosophy, then and throughout, was this: "Develop people so they may continually get better. Winning and losing take care of themselves if you're doing the right things."
When Howes took a job in North Carolina, a vacancy existed for the position as head coach of the boys' varsity team
"I turned down the job three times," recalled Pugh. "I liked the teaching aspect of being the junior varsity coach. I get them an extra year and I get them raw."
But Marc Cole, who was the athletic director at OCHS at the time, "wasn't taking no for an answer," said Pugh. "He said, 'I want you to be the coach.' I said 'ok, but here's the deal: when my youngest son transitions out of the program and if my daughter is a soccer person, I'd like the opportunity to coach the girls.'"
Pugh went on to coach the boys' varsity team for seven years.
Of those five, the team was either the regular season or district tournament champion.
It all merited an interview by a radio station during which the word "dynasty" was used more than once.
"I remember asking, 'Dynasty? What dynasty?' I didn't consider us as a dynasty, but we were definitely competitive in a district known for its strong soccer teams."
But if "dynasty" wasn't the most apt description, surely "continuity" was.
Over the span of many years, the boys' varsity team had just two coaches, Howes and Pugh.
In contrast, the girls' team had been "like a revolving door," said Cole. "It was one right after the other."
And Cole would have known. He served as the AD from 1988 through 2017.
The girls' program needed stability and Cole looked again in Pugh's direction.
"He told me the opportunity is now," said Pugh. "I knew that in the last three years the girls had not won a game and had only tied one. The junior varsity had won one and tied one. The challenge was to build a program for longevity. But even if we started winning more games it was not a foregone conclusion that we would move up in the Jefferson District."
Over the next eight seasons, the typical scene witnessed a varsity team with roughly 15 players in a sport that fields 11 starting players.
"That was one of the reasons I emphasized conditioning," said Pugh. "The first rule of soccer is to be in better shape and be better the last 15 minutes of the match. For us, it became a war of attrition. We were as good as anyone for the first 20 minutes. We could be 0-0 [at the intermission]" but then fade as the match wore on.
During its inaugural season under Pugh, the team won four games.
In its third, it won its first two games.
"That year we had a fast forward and a good midfielder," said Pugh, "but then we had some key injuries."
On the horizon, however, Pugh could see that the best possible season would take place in 2019.
That year he would have eight seniors on the team.
But it was all for naught.
"It was a season that was not," he lamented.
And most recently in 2021, only 14 players came out for the team.
"Of those, we lost a key defender when she became ineligible. And one of our other key players opted not to play so she could dedicate herself to another sport. Also, one player quit, and two others were field hockey players trying to learn soccer. Eventually I had to pull up junior varsity players. That team had grown under Coach Munger."
It is difficult, at best, to compete under such circumstances in a district as powerful as the Jefferson.
"The year before COVID, two of our district teams, Albemarle and Western Albemarle, won state championships, and Monticello played for one," said Pugh.
And yet, one of Pugh's favorite memories from coaching involves Western Albemarle.
"During my second or third season with the boys, we played Western at home. They were a powerhouse team. A reporter from one of the newspapers was there. In an epic match we beat them. After the game he came up to me and said, 'That was the most impressive high school soccer game he had ever witnessed.'"
Still, some of the most enduring memories will always stem from his unique experience of coaching all four of his kids from the recreation level through high school varsity. Daughter Jenni stands out as the one who, literally, had the closest view, which began at a tender age.
"When she was one and a half years old, she was on my shoulders when I was coaching," said Pugh. "She heard all the discussions. She developed a coach's mentality. As a player, her strength was her ability to read the game in the field and make plays that exploited the defense. She teamed up with Taylor Munger as our forwards. They had great chemistry. [In 2020] they combined for 18 to 20 goals. When they weren't scoring, they were assisting."
As part of his philosophy, Pugh said "the person who sets up the score is better than the person who scores. "When a person is one-on-one, it's easy to knock the goal in."
With Pugh having stepped aside, how much will his absence be felt?
Mike Neeley, the Director of Student Activities at OCHS, knows just how much.
"Having Dwane here was special for various reasons. It's not just his longevity, but he epitomizes the values we try to teach. It's about developing character. Though he was good with the X's and O's and fundamentals, he taught sportsmanship, resiliency and leadership that are life-long skills.
"His loss is absolutely huge. He's an icon here. He has had a variety of roles and his daily presence has been important."
Neeley, who is set to enter his fifth year in his position, was previously an assistant principal at Prospect Heights Middle School and before that worked 14 years as a physical education teacher in the county.
"I coached Dwane's sons on my basketball team," said Neeley. "We would stop and eat after the games and Dwane and I would talk strategy. Those are memories I will always treasure."
Pugh will direct his energy and experience in new ventures.
He hopes to start an Upwards Soccer program next spring as a ministry. The program will have an emphasis on sharing Christ. He and others at Abundant Life are hoping to build a Family Life Center to minister as well. He envisions it having volleyball, basketball, an open gymnasium, and even set up to further adult education.
If all that didn't make him busy enough, consider this: Pastor and Coach Pugh is about to become Author Pugh.
His first book is currently in the publication process.
It will be titled "Pugh Proverbs."
In sum, "These are truths in proverb form that I have learned and applied in life," said Pugh.
Not surprisingly, they contain many references to sports.
"Sports should teach character development, hard work, respect in competition, the principles that used to be in public schools and in our sports programs but have become lip service," he said.
Through sports—whether coaching or playing—Pugh has had opportunities to talk to his players and teammates about the things that are eternal.
"Each year I would tell my players at a cookout before our last game that I coach to earn the right to speak to you about eternal things and what really matters. The most satisfying thing is seeing that players got the bigger picture."
Though he has stepped aside from coaching at the high school level, his current and future duties as a pastor, counselor and school bus driver ensure his continued influence in the community, and upon its youth.
"I like to have my finger on the pulse of what young people are having to deal with. You can't minister to people until you enter their world."
And Pugh, who will turn 63 in August, understands the unique challenges in "their world" today.
Knowing him, he will likely pen a few more "Pugh Proverbs" to guide them along.