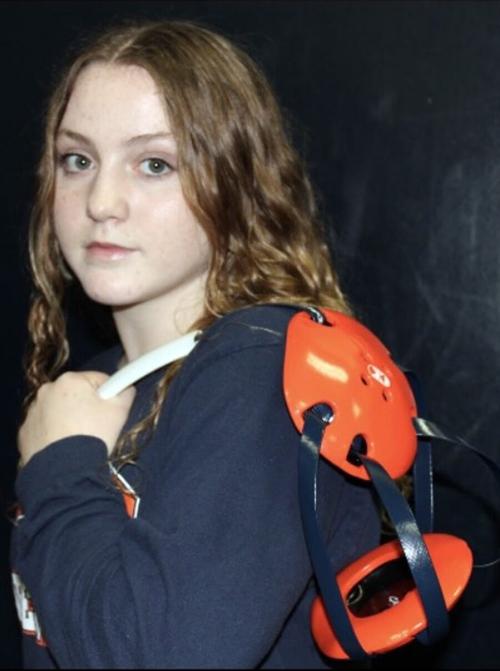 While many of her peers can't wait to get to the beach, even a short time there is a tad too long for Stella Steigler.
That's because the junior wrestler at Orange County High School can't tune out the inner voice that beckons her return to training.
And her commitment has already paid huge dividends, the most recent of which was banked last month in Fargo, N.D., the site of the Marine Corps Junior and 16U Nationals. That's where Steigler competed in both divisions and earned All-American honors in each.
In the Junior division, she competed in the 152-pound weight class and finished fifth, and in the 16U she competed in the 160-pound weight class and came in sixth.
Last year, she earned All-American honors when she placed sixth at 144 pounds in the Cadet Nationals.
(Wrestlers earn All-American honors when they finish in the top eight in their weight class).
As for her most recent outing in Fargo, at least one of her coaches believes she could have finished even higher.
"She could have done better in both," said Tyler Atwell, one of the coaches for the Virginia Nationals team who was at all of her matches. "She hit the 'semi-slide' (lost in the semifinals both times) because she lost some of her edge. I think that happens to wrestlers because at that point they already know they have qualified as an All-American."
In the Junior division, Steigler opened with three straight victories, including a win by decision over Amarisa Manuel in the Round of 16 which advanced Steigler to the quarterfinals where she defeated Aspen Barger by decision.
But in the dreaded semis, she lost to Rose Cassioppi, the younger sister of Iowa University heavyweight wrestler Tony Cassioppi.
No shame in that loss, but it dropped Steigler to another semifinal match, this time in the consolation rounds. All she had to do was defeat Manuel again.
But she didn't; she dropped an 11-4 decision.
Likewise, in the 16U division, she advanced to the semifinals where she lost to Nebi Tsami, and then in the consolation semis to Lizzie Shunn.
In the match for fifth place, she fell to Faith Bartoszek by 5-0 decision.
And Steigler agrees she hit the "semi-slide" but is dedicated to finding success in future semifinal bouts.
To get there, she and Atwell agree she needs to change her mindset and style.
"She reminds me of Andrew Howe, who wrestled at Wisconsin University," said Atwell. "Both of them don't shoot (in for takedowns). They're brawlers, good at head position and hand fighting. We have to work on the angles for her to shoot. She's strong and loves underhooks, and she'll live there."
Atwell said he first met Steigler at a tournament in Gatlinburg, Tenn.
"I saw something in her immediately," recalled Atwell, a 2009 graduate of Madison County High where he was a state wrestling champion that same year.
"I remember talking to her dad (Steve Steigler) about me working with her and he seemed hesitant at first, but after we talked and got to know me, he agreed to it. He and I started traveling to Iowa together and I started some sessions with her, and we developed a friendship."
Steigler's high school coach, Bryan Seal, a 2006 graduate of Orange County High and the school's only two-time state wrestling champion, has been working with her since she joined the youth wrestling program when she was just 4.
Steigler first developed an interest in the sport after seeing her cousin, David Steigler, wrestle.
Since then, she has garnered many honors.
While in middle school, she won the Virginia girls' state championship, two titles at the folkstyle nationals in Oklahoma, and a runner-up finish at the same tournament the other year.
As a freshman, she won the high school girls' state title at 156 pounds, and she was a member of Orange's varsity team.
She knew coming in she would likely be the only female on the team since teams are predominantly male.
"I was the only female," she recalled, "but I got used to practicing with boys. I feel like I have to prove myself all the time."
Four matches into her sophomore season, she suffered an injury to her shoulder when she was slammed to the mat. Between the injury and being quarantined after a family member contracted COVID, her season ended.
"She competes in the middle weights which makes it tougher for girls," said Seal, "but I expect her to come back this season and place at the region and possibly even qualify for the state tournament."
The comeback process includes both in and out-of-state tournaments
This year she has already earned All-American honors a total of six times.
In addition to her double All-American honors in Fargo, where both placements were in freestyle competition, she earned three titles in Iowa, two in folkstyle and the other in freestyle, and she finished fifth at the National High School Coaches Association, which was held this past spring in Virginia Beach. Wrestlers from 28 states compete at the event.
She has plans of competing in several more tournaments before high school season officially begins.
She practices twice a week with "Powerhouse" club wrestling in Fredericksburg and has individual sessions with Atwell who recently established the "Virginia Assassins" club team which he started this past spring. He also has his own business, "Atwell Trained" which he operates in Orange at the site of the old Mike's Glass and Mirror Company near Tractor Supply.
Atwell helps coach the "Hammer Chicks" travel team of which Steigler is a part. The team is comprised of female wrestlers from up and down the east coast.
Back in May, Steigler and her teammates competed in the "Spartan National Duals" in Jacksonville, Fla. and won the Girls Freestyle Duals. Steigler competed in the 145-pound weight class.
She and her fellow "Hammer Chicks" are slated to compete next at the "Ultimate Club Duals" in Lancaster, Penn. next week from Sept. 17-19.
After that, Steigler plans to compete in the "Super 32 Challenge" in October where she hopes to earn All-American honors.
Her other goals include reaching the finals next year in Fargo and eventually wrestling in college at either a Division I or II school.
"I believe she can be a national champion," said Atwell.
Steigler has the support of both Atwell and Seal and has won their respect.
"She is extremely a hard worker," said Atwell. "She's definitely a listener and coachable. She's learning how to cut weight and to push herself when no one is watching."
And when Atwell was watching her bouts, Seal was long distance but thinking about them.
"When I was in Fargo, Coach Seal called me," she said. "He's always supportive. He goes out of his way to make sure I have what I need."
In a sport that demands so much, one might wonder what drives Steigler to put in the time and dedication necessary to succeed.
Her answer was simple. "It didn't take me long to start to enjoy the practices. When I'm not practicing, I miss it."
And she has made wrestling her focus.
"I used to play soccer, go to the beach, camp with my family, and we have three dogs," she said.
But chances are, when she's involved in something other than wrestling, that inner voice just won't be silenced.
"In my mind, I have to wrestle," she said.