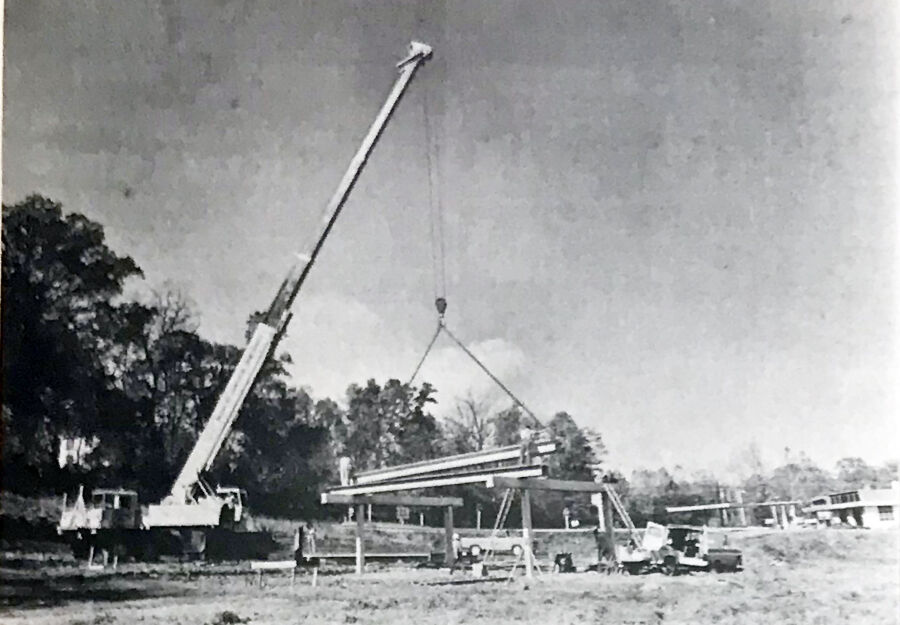 Local election results highlight the front page of the Nov. 4, 1971, Orange County Review. The paper's leading headline announces "All Supervisor Incumbents Returned to County Offices." The Review had been blanketing the front page in recent months with coverage of the supervisor races—particularly following the board's somewhat controversial redistricting plan that took effect in advance of this week's election. Only 2,829 of 4,965 registered voters participating. Richard Sanford (Spotswood District) will begin a fifth term on the board by 50 votes over Lacy Wright. Gordon District Supervisor Monroe Waugh will return to the board for his 25th year of service, after topping challengers Robert Schwartz by 55 votes and Lt. Col. R.D. Buckley by 189 votes. Board chair Lindsay Gordon (Taylor District) and Madison Supervisor Elbert Brown were elected without opposition. The only new face on the board comes from the Barbour District, where Col. E.C. Hooper beat R. Duff Green 367-256 to replace W.M. Yager, who chose not to run. Other local officials elected included: commonwealth's attorney A.P. Berine; treasurer Eugene Bartley; commissioner of revenue Jos. T. Samuels and sheriff Porter Davis—all who ran unopposed. Among the county's constitutional officers, Sheriff Davis was the top vote-getter (2,222).
Cooler temperatures are expected this weekend for the 34th running of the Montpelier Hunt Races. That's good news after record rainfall in October and unheard-of 80-degree days in early November. According to Piedmont Research Station Superintendent George Jones, October set a record for local rainfall with 11.46 inches, the most since data first was recorded in 1942. In addition to the unprecedented rain, Jones reported the first frost had not yet occurred and he could not recall it ever arriving so late before.
Hornets fall to James Monroe
Hopes for a 19th straight winning season were dashed last week when the visiting James Monroe Yellow Jackets ousted Orange 33-7 at Porterfield Park in Orange. The loss dropped the Hornets to 3-5-1 with one game remaining (at Varina). The visiting Jackets amassed more than 450 yards while holding the Hornets to less than 150 in the convincing win.
That was the theme of the annual Stonewall Jackson Area Council Boy Scout fall camporee held recently in Locust Grove. More than 175 scouts and leaders from 14 different troops camped at the Hicks farm where they fished, learned scout skills and practiced leadership. Locust Grove Troop 97 and VFW Post 2217 sponsored the event.
Willy Wonka and the Chocolate Factory, staring Gene Wilder, is airing downtown at the Madison Theatre this weekend in evening and matinee performances. In other advertisements this week, Suburban Cablevision is offering free Thanksgiving turkeys to those customers who "do a favor for a neighbor, friend or relative and introduce him or her to the wonderful world of cable television." Apparently, there is no limit on the number of turkeys any customer is eligible to receive, but turkeys must be received before Thanksgiving. Keeping with the turkey theme, Schafer Chevy-Olds tells customers to "Keep the turkey on your plate. Buy one of our OK used cars."
Big Tee under construction
This week's photo shows a large crane setting pre-stressed concrete beams for the new Big Tee Tastee Freeze at the corner of Caroline Street in Orange. Sedwick Construction is building the shop which will have a floor area of 1,800 square feet. Construction began last week and is expected to be completed in early 1972. This week's paper also notes that a new Tastee Freez is currently under construction in Gordonsville as well.