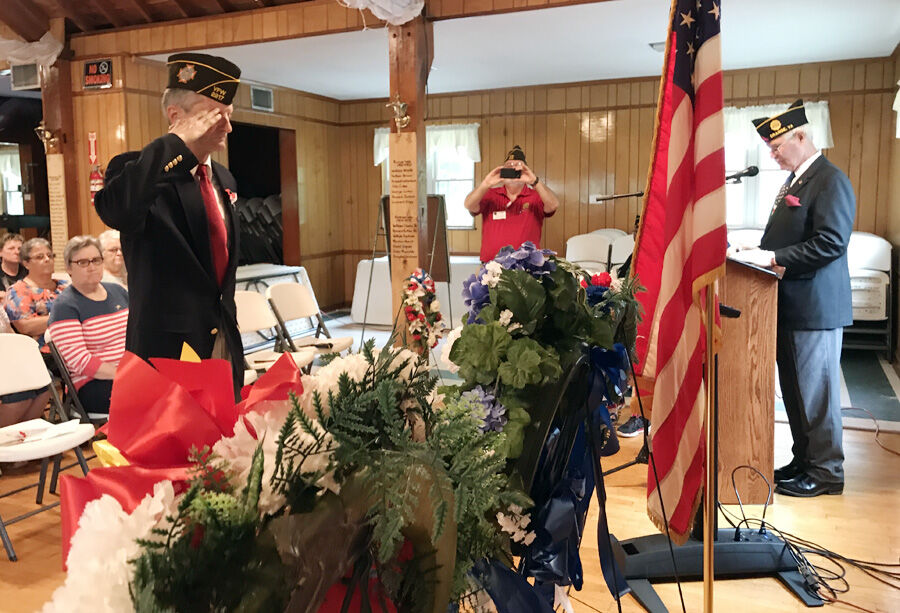 Non-profit organizations and agencies are encouraged to submit coming events and activities to publish in the Review. Email jpoole@orangenews.com or news@orangenews.com by noon Monday for Thursday publication.
Hospice of the Piedmont announces its 13th annual "SWING Golf Classic" and 50/50 drawing, Friday, May 28, at the Fauquier Springs Country Club in Warrenton. Tickets for the drawing are $100 and only 300 will be sold. The winner will receive $15,000. All proceeds from the SWING Golf Classic will support programs such as our Center for Children, Center for Grief and Healing, and We Honor Veterans program, as well as other special services. For more information and purchase, visit www.hopva.org/golf. For sponsorship opportunities, contact Shannon Gearing at shannon.gearing@hopva.org.
Orange American Legion Post 156 will hold a Memorial Day ceremony Monday, May 31, at 11 a.m. at Veterans Park on Newton Street near the legion post in Orange. The names of the fallen will be read and taps will be played.
The Rappahannock Rapidan Community Services Board of Directors will hold its regular board meeting on Tuesday, June 8, at 1 p.m. Visit rrcsb.org for additional information.
The Orange Volunteer Fire Company announced last week its fair will be held June 9 to 12. The fair will begin each night at 6 p.m., with a Saturday matinee from 1 to 5 p.m. Advance ordering for wrist bands is available for matinee times on Wednesday from 6 to 10 p.m. and Saturday from 1 to 5 p.m. at the fire company website at www.orangevfc.com.
Mask use is encouraged and the fair will be following local health department recommendations to help reduce the spread of COVID-19.
BLUE RIDGE CHORALE VIRTUAL CONCERT
Blue Ridge Chorale will hold a virtual spring concert Saturday, June 12. The chorale, is directed by C. Alexander Smith, with Melanie Bolas the assistant director, Brittany Bache accompanist and Kathy Pellegreen assistant accompanist will present their virtual concert at www.brcsings.com. Online Donations are gratefully accepted.
Adult Community Education of Louisa (which serves the Gordonsville area) will hold a double-elimination pickleball tournament Saturday, June 12, at Trevilians Elementary School. The cost is $30 per person and includes food, raffles and prizes. Players are asked to self-rate, according to the USA Pickleball Skill Rating scale. Pay by credit card on the phone or send a check to: ACE P.O. Box 872, Louisa, VA 23093. Register by calling Louisa Parks and Rec at (540) 967-4420.
HOSPICE VIRTUAL CONVERSATION
Hospice of the Piedmont will hold a virtual community conversation with entrepeneur Bob Kahn Tuesday, June 22, at 1 p.m. Kahn, a successful local entrepreneur and commercial real estate broker, was diagnosed with stage 4 pancreatic cancer in December 2020, but did not view his life-limiting diagnosis as a death sentence. Quite the opposite. He turned away from fear and embraced the idea of living each day to the fullest. During this event, Kahn will share steps in treatment after his diagnosis, his hopes for the future, and how he is measuring quality of life each and every day. There will also be a question and answer period segment during which community members may ask questions of a panel that will include Kahn and healthcare professionals from Hospice of the Piedmont and the University of Virginia. This event is free and open to the public. For registration or more information, visit www.hopva.org/community-conversations.
The Orange County Department of Social Services adult education center will host a certified nursing assistant class June 22 to July 23, every Tuesday, Wednesday and Thursday. Classes will be held from 8 a.m. to 4:30 p.m., with five clinical days scheduled from 6 a.m. to 2:30 p.m. All participants must be fully vaccinated and tested once a week on Mondays at Dogwood Village of Orange County. There are no make-up days. For information or to register, contact Bernice Washington at 672-1155 or email her at bernice.washington@dss.virginia.gov.
Four County Players announces it will offer its traditional summer camp and a production intensive camp both in-person this summer. The traditional camp will be spread over two weeks. For COVID safety, Four County Players is reducing the number of campers and staff for each week, and participants are asked to sign up for one session only. Session 1 will be held July 9-13, with session 2 July 12-16. Campers who have signed up for the traditional camp may also sign up for the production intensive (July 26-30), though campers do not have to participate in the traditional camp to attend the intensive camp. Details and registration can be found at www.fourcp.org. For questions, contact Tres Wells at tres@fourcp.org.
HISTORY TO GO: "NOW THIS..."
The Orange County Historical Society announces its latest YouTube program, "Now This...WJMA Radio's Early Years 1949-1984." Updated in 2020 with new graphics, WJMA audio, images and video, "Now This..." is available on the society's YouTube channel at www.orangecovahist.org under the "History to go" tab. The program includes interviews with WJMA founder Welford Sherman and the principle people involved with WJMA in the early years. Coming next month will be "Now This…Extras" which features out-takes that didn't make into the original documentary but were too funny or informative to leave on the editing room floor. The historical society office is located at 130 Caroline Street, Orange, and is open Monday through Friday from 1 to 5 p.m. (except holidays) for genealogy and historical research.
If you are concerned about someone's drinking, there is help in Al-Anon. Meetings are now being held in person every Thursday night at 7p.m. at Orange Presbyterian Church at 162 W. Main St., Orange, and provide education and support for family and friends of alcoholics. All are welcome. For more information, call 672-5696.
GCC MACHINING CERTIFICATION
Machining certification training is available through Germanna Community College Training Center for Workforce and Community Education. All machining courses are taught onsite at the state-of-the-art New Pathways Tech Machinist School on the Carver Center Complex in Rapidan. Enrollment is ongoing. Learn more at https://bit.ly/2RNT2CE or call to register (540) 891-3012.
SUMMER CAMPS AT CULPEPER SPORT AND FITNESS
Culpeper Sport & Fitness welcomes young athletes to build their skills and have fun during sports day camps. Tennis camps for ages 5-12 will be held June 14-17 and July 12-15 and for ages 10-18 on June 28-July 1. Participants will be grouped by age and level of play for drills, footwork, agility and team building. Speed and agility camp supporting improved sports performance for middle and high school athletes will be held from June 14-17. Tumbling camp will be held July 6-8 and focus on skill building, fundamentals, conditioning, flexibility and games. Camps will follow CDC and state health and safety protocols. For additional information, contact culpepersport.com or (540) 825-0000.
Pickleball returns to the Trevilians tennis courts Mondays and Wednesdays, from 6:30 to 8:30 p.m. The program and equipment is provided by Louisa County Parks and Recreation. There is no cost. To register for instruction, contact Annette Hayes, USA Pickleball Association Ambassador at (434) 960-5860.
Orange County 4-H announces the upcoming in-person 4-H Teen Summit May 14-16. The summit will be focused on social justice issues like LGBTQ+ rights, mental health, racial justice, the environment, education, food insecurity and more. This event is planned for teens, by teens and will be held at the W.E. Skelton 4-H Educational Center. A virtual option is available as well if sufficient interest exists. Registration details to follow. Call 672-1361 for more information.
The Virginia Career Works Center, located at 127 Belleview Ave., Orange, is open for job search and resume writing assistance by appointment only. The center is open Tuesday, Wednesday and Thursday from 8:30 a.m. to 4 p.m. Call 661-3419 for an appointment. Questions can be directed to Tanya.Ocasio@FredGoodwill.org.
Due to the COVID-19 pandemic, the Young at Heart Club will not meet until further notice. For more information, contact Barbara Morris at 672-0552.
Are you afraid to speak in public? Then Toastmasters is the place for you. Wilderness Toastmasters meets on Zoom every first and third Tuesdays of the month at 6:30 p.m. Not only is Toastmasters a great learning experience but it's also a place to meet new people and have some fun. Do not let the fear of public speaking hamper your work and social life. Toastmasters is the answer. If interested, please contact them at wildernesstoastmasters@gmail.com.
AGING TOGETHER SUPPORT GROUP
Join in "Listening Together," an Aging Together-sponsored Zoom series for anyone caregiving for a person with a chronic challenge such as dementia. Tell your own stories or just listen as others talk about what they are dealing with. The group meets weekly. Email info@agingtogether.org to join. This is a great way to "escape" and have a little time to yourself, while being immersed with others who understand the struggles of caregiving.