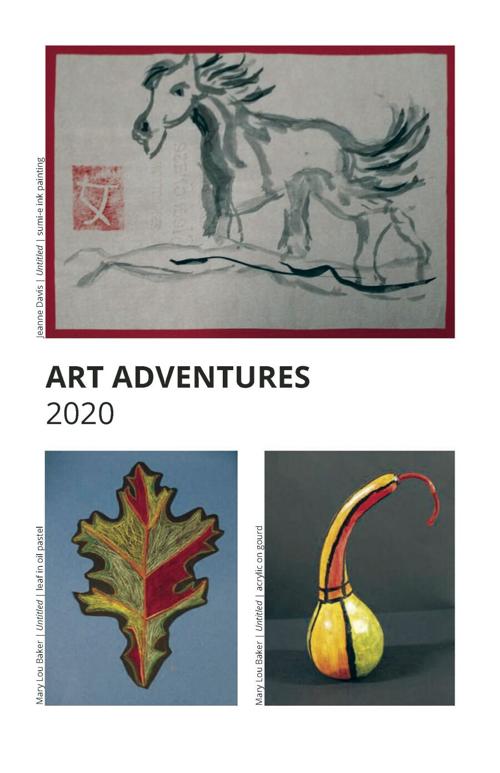 At Dogwood Village, the "show" must go on(line).
The Orange County senior living facility will open National Assisted Living Week with its annual Art Adventures at Dogwood Village Show, beginning Sunday, Sept. 13. This year's virtual gallery show features the artwork created by residents of Dogwood Village of Orange County Senior Living in their Art Adventure classes with Arts Center In Orange instructor, Anna Marie DeMio Dowen.
Because of the COVID-19 public health crisis, Dogwood Village has been closed to visitors for months. However, that didn't stop Dogwood staff and The Arts Center In Orange from staging the annual show for residents and their families. It just changed how they went about it.
This year's exhibit features work accrued from October 2019 through February 2020, according to DeMio Dowen. And unlike traditional shows, Dogwood and Arts Center staff had to figure out a different way to present the residents' work in a creative and representational way.
"Dogwood Activities Director Ashley Gore and I worked very closely together throughout this new process, exchanging photos and write-ups, making adjustments on both ends," DeMio Dowen said.
Dogwood staff did much of the photographing and video of the artwork so the creative work of the residents would be available for display, she added.
This year's exhibit features a range of media, including: sumi-e ink painting, ceramics, painted gourds, paper collage and more.
"Each of the projects hold their own take on fun," DeMio Dowen continued. "These seniors are given the opportunity to take each study and add their own viewpoint and style to it—and they do. It really is an adventure in art!"
"It may look a bit different this year as it will be a virtual gallery show, rather than an in-person viewing, but I look on it as a positive experience," added Arts Center Outreach Director Julie Jackson. "Many more people will be able to view the artwork of these wonderful seniors because it is available online. They put in a great deal of imagination and effort when creating these beautiful pieces. It is really something to be celebrated."
Though the hands-on part of setting up and creating a gallery didn't happen in the senior living lobby this year, DeMio Dowen said in the midst of the residents' living space, as they would go to and fro throughout each day, having fun and sharing stories and interest in the work being displayed, there was something very deeply touching and interpersonal about revealing their artwork via a virtual showcasing situation. "Lighting and set-up was tricky at times, or the pacing of the wording, and such—but something else was borne in the creation of and in the viewing of the culmination of the Art Adventures artists' work. It captured their individuality, their own creative language, wrought through the use of art tools," she said. "On camera something was extracted from each piece—an actual imprint of the personality of each artist seemed to rise up within each slide and lingered afterwards, when the virtual gallery show closed. It's with me still."
Be the first to know
Get local news delivered to your inbox!