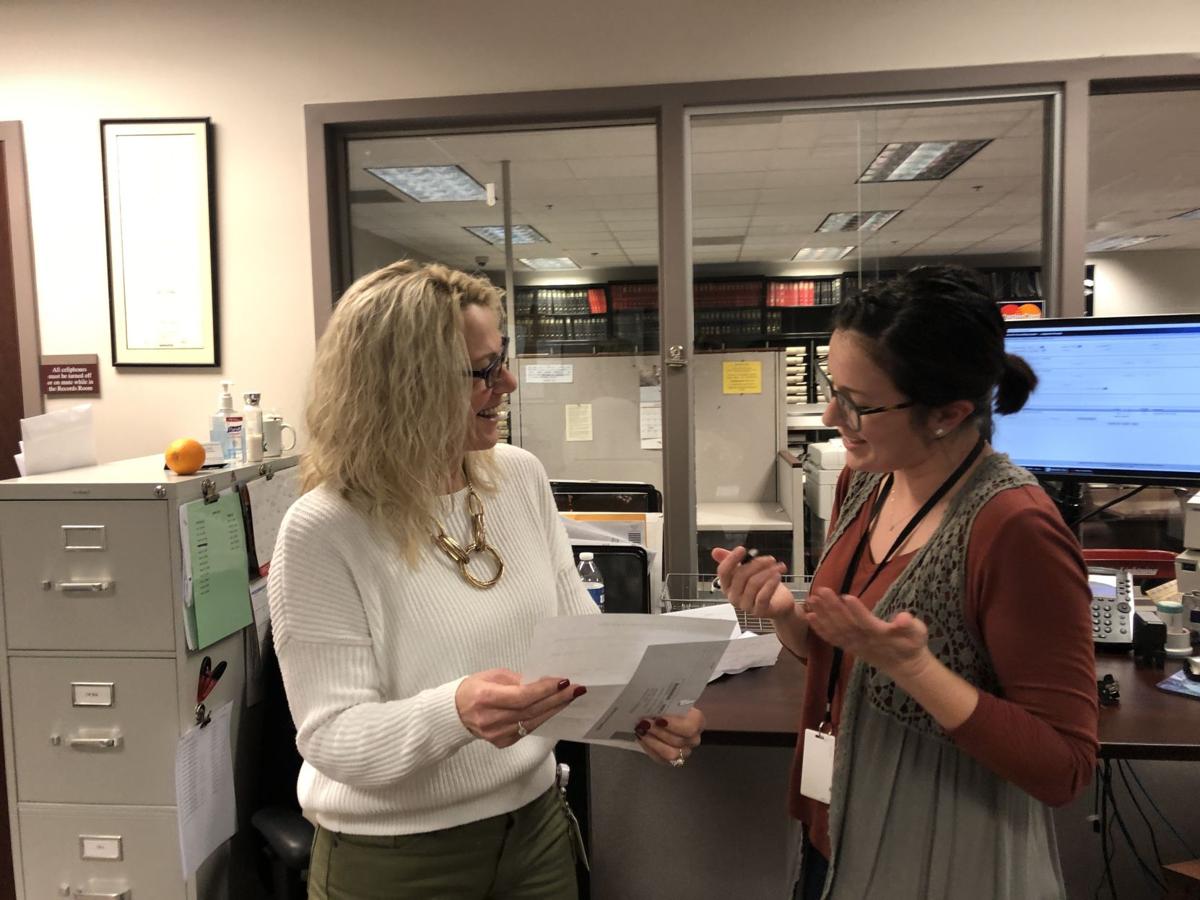 The latest in an occasional series on longtime county employees
Sometimes a single phone call can set the path for a whole career. So it was for Orange County Clerk Teresa T. Carroll when Kim Moubray, a close friend who worked in the Orange County courthouse, called to tell her about a job opening up in the county clerk's office.
After 18 months as an administrative assistant for a local construction company, Carroll was ready for a change. When she was offered the position of deputy clerk in charge of records, the 20-year-old Orange County native accepted and reported for her first day of work on May 1, 1988.
"I needed that advancement. I needed something that I knew I was going to stick with for the rest of my life," Carroll said during an interview in her third-floor office at the courthouse.
In 1998, Carroll became chief deputy clerk for county clerk Linda Timmons. Timmons trained her to work in the courtroom, which at that time was still in the old courthouse facing Main Street. Judge Lloyd Sullenberger presided in the circuit court.
"He was an excellent judge and, working under him, I learned a lot. I was a little intimidated at first because I didn't know what to expect," Carroll said.
She soon discovered the most difficult part of her job was participating in court cases involving harm to children.
"My first court case had to do with a juvenile. And it's upsetting to me. But, you know, after the court case was over with, I was able to speak with the judge and he said, 'This is one part of the job where you have to sit in and listen.' Even though I've been here for a long time, anything dealing with children—it affects me. And it's hard to set that aside, but you have to do that when you're in the courtroom; it has to be a professional setting."
Janet Breeden was a bailiff when Carroll was promoted to chief deputy clerk. Breeden pointed her toward forms she needed to fill out for inmates after their appearances before the judge and generally guided her, Carroll said, "until I got my feet wet."
Now retired, Breeden has happy memories of working with Carroll.
"She was great, always smiling and in a good mood. I never saw her lose her temper," Breeden said. "She would take care of problems right away, if something arose."
When Timmons stepped down for health reasons in 2009, Carroll was unsure whether she wanted the top job. She admits she was concerned she might make a mistake in the important position, but Judge Daniel Bouton and Orange defense attorney Sammy Higginbotham encouraged her to run during the special election to complete Timmons' term.
"They approached me and said, 'You can do this,'" Carroll recalled.
She decided to go for it, and as things turned out, she ran unopposed—a situation that lowered her stress level considerably.
"I was blessed," she said, leaning back in her chair and crossing her fingers.
The job was hers, and she was re-elected for a full eight-year term in 2015 in another uncontested race.
As clerk, Carroll has a myriad of duties, including keeping track of all district court proceedings, overseeing the selection of juries, making sure jury members have everything they need and working closely with the district court judge. She also handles budgets, monthly reports, bookkeeping and staff management.
Sitting in the circuit courtroom next to Judge Dale Durrer, Carroll is a benevolent presence to attorneys trying cases and spectators in the gallery. Her expression placid, she takes note of everything that happens. If there are any technical glitches, such as the microphone system breaking down and preventing the court reporter from recording the proceedings, it's Carroll's job to fix things.
There have been some big trials over the years. The one that stands out most in her mind is Eric Abshire's. In 2012, after a lengthy trial, Abshire was sentenced to life in prison for murdering his wife, a Culpeper kindergarten teacher, in Barboursville.
She said she doesn't watch crime shows on TV, because they don't accurately reflect what really goes on. If someone brings up "Judge Judy," she laughs and says Orange County District Court is nothing like that.
Although she could easily spend all day in her office when she's not in court, she enjoys mingling with visitors in search of records. "Anything pertaining to the public, whatever they need, I go out and assist them, and I help out front from time to time, which I don't mind doing."
She said the six people who report to her are all cross-trained, so there are no gaps in services if someone is out.
Refurbished books and online records
Among her key accomplishments while serving as head clerk are getting the county's map books rebound and making many records, including wills, land transfers, deeds and plats, available online via a subscription service. People who can't get to the courthouse easily can pay $600 for a one-year subscription or $300 for six months. 
As for the map books, Carroll said she used revenue from the subscription service to pay for their refurbishment. Containing maps dating back to the 1800s, the old books were falling apart. Now, with the delicate pages covered in plastic, they are easy to handle and scrutinize.
Carroll's budget allows her to tend to small matters that can make a big difference, such as providing snacks for jurors and ordering meals for them when their deliberations run late. She also authorized the purchase of new TV monitors in the courtroom and the jury room, so that jurors easily can view evidence shown on screen.
Does not plan to seek re-election in 2023
Carroll, 51, grew up in Orange and later moved to the Montford area near James Madison's Montpelier. Her father was a truck driver for many years and then worked for Orange Steel and Roofing and American Press. Her mother was a homemaker who had worked for State Farm in Charlottesville.
She is the middle child of three. Her older brother, Gerald Tusing, works for Preddy Funeral Home and her younger sister, Susan Rickard, is a homemaker.
Carroll's face breaks into a wide grin when she explains how she met her husband, Michael Carroll, a contractor.
"Growing up, we lived right next door to each other!" she said with a laugh.
Her parents and his were good friends as well as neighbors in Orange.
"So when we moved out to Montpelier, my mom and dad built a house, and his parents build right next door to my parents," she said.
The couple began dating when Teresa was about 19. They have two sons, Brandon, 23, and Christopher, 19.
For anyone with designs on the job of county clerk, Carroll doesn't mind saying she probably won't run again in the next election, in 2023. She wants to have more family time and a chance to pursue her interest in cooking.
For the time being, however, she is happy to continue doing a job she clearly does well.  When the general district, circuit and juvenile courts were split into three separate units a couple of years ago, Sheila Lewis moved up from deputy clerk to clerk of general district court.
Like Breeden, Lewis thinks highly of Carroll.
"She's very polite, very professional, willing to help you whenever you need it," she said, adding that Carroll also is dependable and knowledgeable.
"She has an answer when you have a question," Lewis said. 
Be the first to know
Get local news delivered to your inbox!