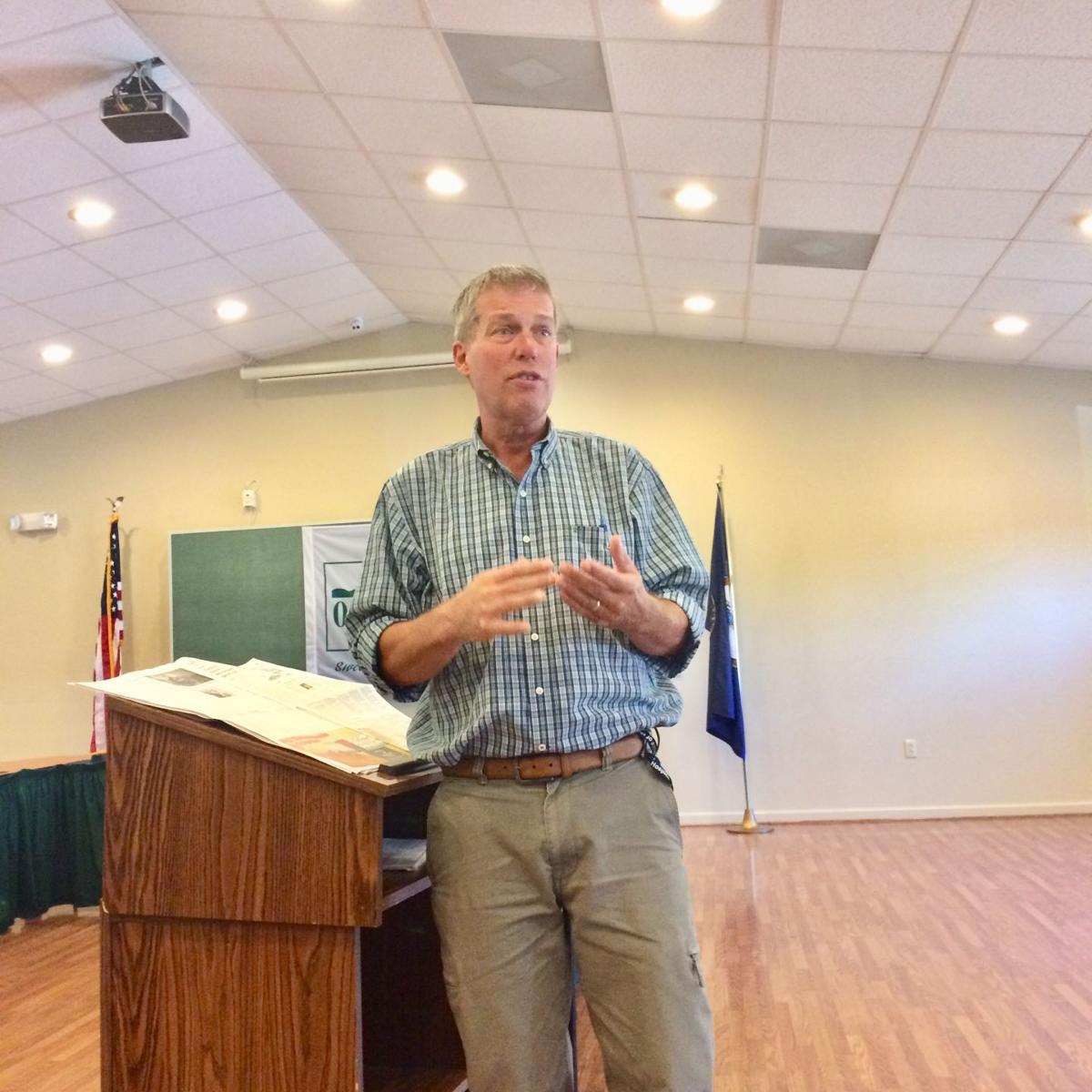 The Virginia Department of Behavioral Health & Developmental Services annually fields about 300,000 calls about persons in need of mental health services. Some of the inquiries come from the individuals themselves; others come from worried bystanders. As a result of those calls, approximately 90,000 people are evaluated every year in an emergency room, at a community services board office or in a mobile crisis unit.
Holly Mortlock, policy director for the Virginia Department of Behavioral Health and Developmental Services shared these dramatic statistics during a recent meeting of Healthy Connections Orange, a coalition of professionals from community organizations serving Orange County. During the group's October gathering, held at the Town of Orange's community meeting room, the focus was on mental and behavioral health, and the occasion featured a panel of representatives from state and regional organizations.
In addition to Mortlock, representatives included Kaitlyn Nickson, a prevention support coordinator for Rappahannock-Rapidan Community Services (RRCS). Nickson said that for the past two years RRCS has focused on the opioid crisis and what she called a "suicide epidemic" claiming lives across the state and nation. She spoke with enthusiasm of a free class her office offers called Adult Mental Health First Aid. The daylong class teaches participants how to assist someone in a mental health crisis.
Teresa Bouthillier, marketing manager for Childhelp, a residential psychiatric facility in Lignum, also spoke. The Alice C. Tyler Village of Childhelp, located on a 270-acre horse farm, is for children ages 5 through 14 from across Virginia. The residents, who have emotional and behavioral issues, live in cottages and typically stay for six to nine months, Bouthillier said. Their therapy involves music, art and working with horses. She noted that the facility accepts private insurance and Medicaid and currently has no waiting list.
Brooke Chumley, community outreach coordinator for SAFE (Services to Abused Families, Inc.), discussed the services the Culpeper-based program offers to women and men victimized by abusive partners. She said SAFE has recently acquired a second shelter that offers temporary housing for 15 to 20 people. The other residence can accommodate up to 16 people.
Chumley emphasized that all of SAFE's services are free. She said SAFE offers "empower hours" for women of all ages and that a new "empower hour" will be starting up in Orange County.
Representing Hospice of the Piedmont, Craig Wilt discussed the grief counseling that the hospice offers to area residents. The "grief groups" are available free of charge, Wilt noted.
Commenting on a session he led for young children, he said, "I was shocked at how well they were able to articulate what was going on.
He added, "Grief is powerful. Our capacity to heal is even more powerful."
Wilt remarked that in his experience, when grieving people are able to "reach out to help someone else who's hurting—that's when healing happens."
He also noted that in the face of loss, initial feelings of "numbness, denial and disbelief" are not necessarily a bad thing, since not everyone is ready to deal with a death right away.
The three most important things a friend or family member can do for someone mourning a death are "listen, listen and listen," Wilt said.
In response to a question about how to motivate someone to go to a grief support group, he said it's useful to point out that attending is not a sign of weakness.
"It takes a lot of courage and strength" to get support while dealing with a profound loss, he said. He also suggested expressing your own desire to attend a grief meeting and asking the person you're concerned about to accompany you.
Kim Hernandez, a resource specialist for Virginia Veteran and Family Support, part of the Virginia Department of Veterans Services, said her office connects veterans with mental health resources and helps their families as well. She stressed that she and her colleagues will look for "vet-specific programs" that will help their clients in need. Family counseling is available.
She said all veterans, whether they received an honorable discharge or not, are eligible for help from Virginia Veteran and Family Support.
Finally, Sandy Berkeley, a recruitment specialist for Virginia One Church, One Child, spoke about the non-profit adoption program that receives support from the Virginia Department of Social Services.
For more information about Healthy Connections Orange, contact organizer Mary Foley, executive director of the Piedmont Regional Dental Clinic, at 661-0008 or mary.foley@vaprdc.org.
Be the first to know
Get local news delivered to your inbox!