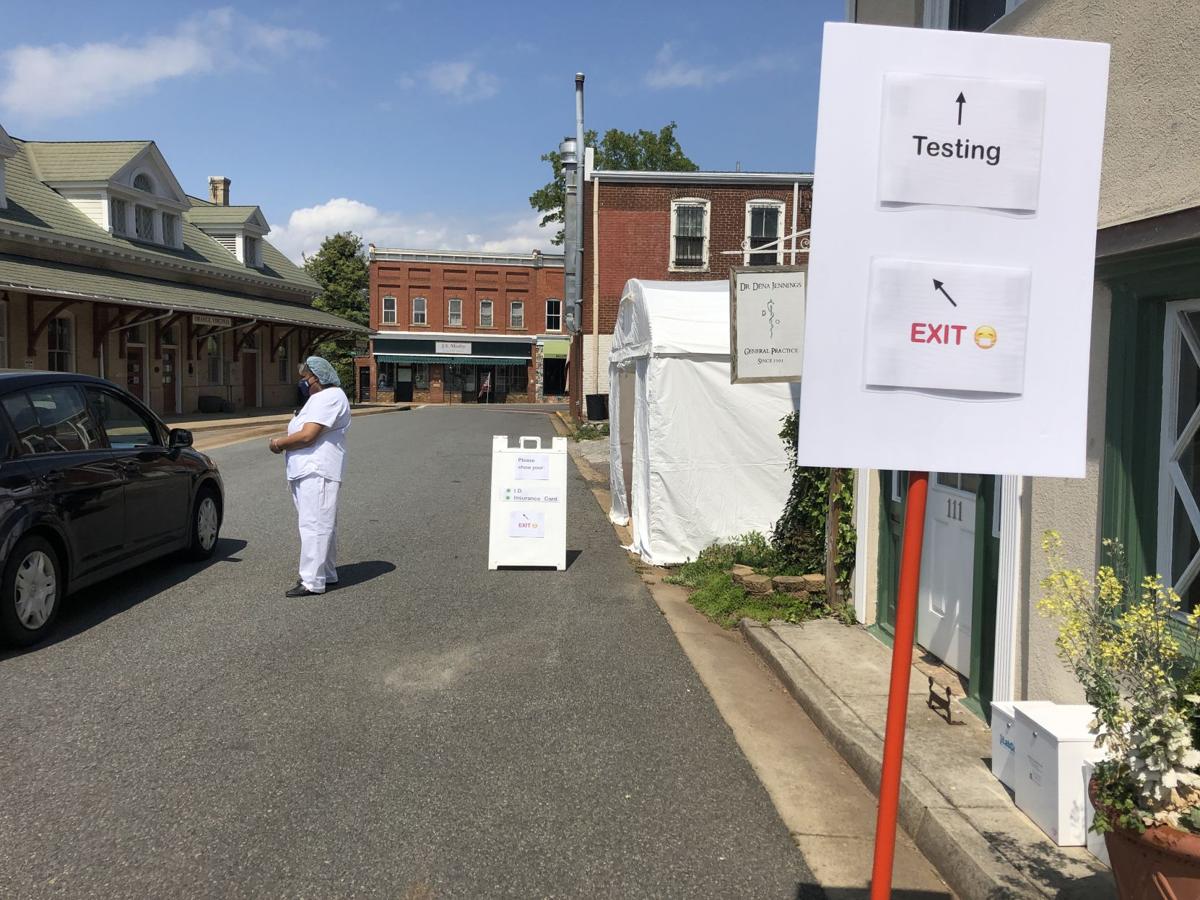 Dr. Dena Jennings has opened a drive-up COVID-19 screening and testing site for Orange County adults at her office at 111 Short St. in Orange.
On Monday, the first day she offered the service, five people stopped by. Dressed in personal protective equipment, including a medical mask, she determined that three of them didn't qualify for the test after initial screening based on Centers for Disease Control and Prevention guidelines. She tested the other two for the deadly new coronavirus. A commercial lab, Labcorp, will provide the results in seven to 10 days, she said.
While patients must pay for the lab work, Jennings is not charging for the screenings or the tests. She is drawing on donations to her nonprofit organization, Imani Works, see her through a program that will last 12 weeks or as long as she has the necessary supplies. She said she's leaving open the possibility she could run the site longer than originally planned.
The site currently is open from 9 to 11:30 a.m., Monday through Wednesday. If you think you have symptoms of COVID-19 (typically a fever, cough and shortness of breath) and want to be screened for the virus, you don't need to call her in advance; you can simply drive up.
Jennings is seeking to help people who "fall through the cracks" of the medical system and may be uninsured or under-insured, but she said she won't turn away any local resident.
The test will only be administered to those who meet CDC criteria for testing, and she is limiting screening to 30 people each day on a first come, first served, basis. Everyone who stops by, regardless of whether they are local residents, will receive an informational brochure on the virus, she said.
She said she received permission from local authorities, including the Orange Police and town manager Greg Woods, to open the testing site.
She first got the idea for it during the March 16 briefing that Rappahannock-Rapidan Health District authorities held for county officials and department heads. She approached Dr. Wade Kartchner, RRHD health director with her proposal.
"He said, 'If you can do it, go for it,'" she recalled during an interview outside her office Monday afternoon during her lunch break.
She is working closely with the Orange County Free Clinic, which is referring patients to her in need of testing for the virus.
If someone shows up at her testing site "acutely ill" from the virus, Jennings said she can offer "everything short of an I.V. until EMS can come get them" and take them to a hospital. She added that patients in need of ventilators so they can breathe must be hospitalized in an intensive care unit.
In the face of the horrifying virus that had killed nearly 15,000 people in the U.S. as of April 9, including 109 in Virginia, Jennings is a calm, benevolent presence—and a font of valuable knowledge.
She said that when she went to medical school in the 1990s, coronaviruses (including the common cold) were not viewed as a major threat.
"While we weren't looking, it morphed; it changed itself. So we've been surprised," she said of the new coronavirus, which causes COVID-19.
In comparison to other coronaviruses, she said the new one "lasts on surfaces longer and lasts in the air longer. If you do come in contact with it, it's harder to fight it."
COVID-19 follows in the lethal footsteps of other widespread coronaviruses, including SARS in 2003, H1N1 in 2009 and MERS in 2012.
"Coronaviruses are becoming more and more deadly. It's the nature of a virus. That's why they're so contagious."
We essentially have to outsmart the virus, she explained.
"If we don't learn to recognize the virus, then the virus can get in. It's so easy for a virus to change."
She compared the human immune system to a door. If that door has, say, four locks, a virus in search of a host will try all those locks and "change its key" in pursuit of entry. Maybe "three locks don't work" the first time around. The virus will keep morphing until "all of a sudden, all four locks work, and now the virus can get in. Once it gets in, it makes you make more of the virus."
That's called being contagious.
"It can't reproduce on its own," Jennings said. "It needs you. It's pretty tricky."
Interestingly, Jennings started screening everyone who came through her door for the virus beginning March 3. That has included the mail carrier and delivery people as well as her regular patients. Of the 50 people she screened, she recorded the names of those who had fevers and gave them protective masks to wear. She tested two people for COVID-19 and results were negative for both.
Jennings said she checks the CDC and World Health Organization websites every day for up-to-date information and guidelines. Based on the latest information, she is urging everyone to wear a mask or some kind of covering over the nose and mouth.
Because current research now shows that asymptomatic people are spreading the virus, she said we all must do our part to help others, not just ourselves: "Act like you have the virus," she instructed, and keep your germs to yourself.