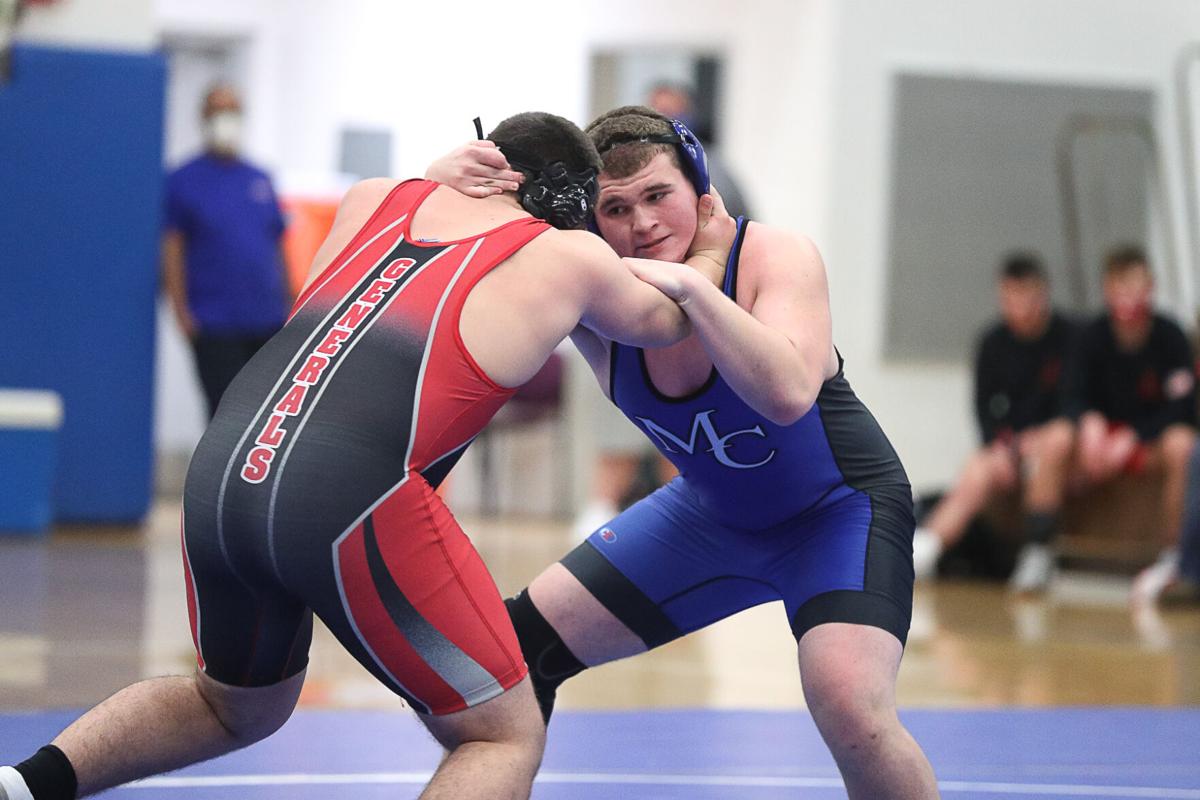 At last Saturday's 2A Region B Tournament at Strasburg High, three of Madison's wrestlers qualified for the biggest event of the season: the state tournament in Salem set for Feb. 19.
The three are Evan Pack (106 pounds) and Joshua James Lamb (120), both freshmen, and Daquan Ravenel (126), a sophomore.
As a team, Madison finished in fifth place with 61 team points. Host Strasburg claimed first place with 180 points, Clarke County finished second with 162 points, and Buffalo Gap came in third with 132 points. Just ahead of Madison was Stuarts Draft in fourth place with 126 points.
After Madison, came Stonewall Jackson (46 points), East Rockingham (20) and Page County (14).
Madison had a total of 11 wrestlers in the tournament that had eight-man brackets, which meant the opening round was also the quarterfinal round. Mountaineer head Coach Brandon Utz made it the team's goal to finish fifth in the region and qualify six individuals to the state tournament.
While the first goal was obtained, the second likely would have been reached as well were it not for this year's format which mandated that only the top two wrestlers in each weight class advance, rather than four as in years past.
Further, this season's regional tournament included a unique concept: it had to pronounce true second-place finishers, and there were several weight classes which required this procedure including the 120-pound division.
For this reason, and a couple of other intangibles, Lamb's path to the summit had more obstacles to overcome than his two runner-up teammates. After a bye in the quarters, Lamb faced Buffalo Gap's Caleb Yoder in the semifinals. This marked the second bout between the two this season. In their first, back on Jan. 21, Lamb and Yoder battled to a tie after regulation and went into sudden victory where Yoder scored a takedown and fall.
But not this time; Lamb engineered a win by decision, 6-2, in regulation to advance to the finals where he met Clarke County's Wyatt Stemberger of Clarke County for the first time this season.
Stemberger powered his way to a win by second-period fall. Ordinarily, Lamb would have been declared the runner-up but with the new concept in place he had to wrestle one more match for that honor. For the third time this season, Lamb faced off against Strasburg's Seth Clinedinst against whom Lamb was 2-0, the first win by major decision and the second by fall. But there was much more on the line in this third bout. The winner would advance to the state tournament while the loser would have to call it a season.
Though 2-0 against Clinedinst, Lamb appeared anxious for this bout and paced along the side of the gymnasium. And yet, when the action began, Lamb seized early control and maintained it throughout en route to his win by decision, 5-0.
"He wrestled a good, safe, and mature match," said Utz. "A win like this will really help him now and in the future."
Ravenel had a bye in the quarterfinals and then faced Clarke County's Stephen Steyaert in the semis. Tied at the end of the first period, Ravenel and Steyaert battled on even terms in the second until Ravenel executed a reversal and turned the Eagle to his back for the win by fall.
Ravenal then faced off against Strasburg's Anakin Burks, a senior, in the finals. One of four brothers on this year's Ram roster, Burks blitzed his way to a lightning fast win by fall over Ravenel to claim the championship and leave Ravenel as the runner-up.
Pack had the easiest go of it to reach the finals. He had byes in both the quarters and semis and then faced fellow freshman and one of the Burks brothers, Heath, in the finals. Pack was game and put forth the required effort, but Burks's experience—and family tradition— led him to a win by fall at the 2:21 mark.
The other two Burks brothers won as well. Jaylon (138) not only won the championship, but he was also named the Region's "Wrestler of the Year." After his victory in the finals by major decision, 8-0, over Stonewall's Jesse Lemon, he watched the fourth of the Burks brothers take to the mat. Freshman David Burks (145) had little difficulty besting Buffalo Gap's Bryce Hildebrand. Burks registered a win by fall at 1:22.
Back to Madison, while Pack, Lamb and Ravenel will prepare for the state tournament, their teammates saw their season end in Strasburg. Hunter Dallas (132) went 0-1 and finished third among as many wrestlers in his weight class. Jacob Sikora (138), Dillen Wilson (145). Chris Dallas (152), Kris Dobyns (170) and Matthew Sacra (195) all went 0-2. Zac Pollina (220) and Jaden Scruggs (285) both won matches before bowing out. Pollina pinned Hunter Rinker of Stonewall in the consolation quarterfinals, and Scruggs flattened Page County's William Ramos with a win by fall in 0:36.
The freshman Sacra, svelte and strong, was simply undersized at 195 pounds, but he was determined to go the distance against his opponents. After a first-round bye, Sacra met Page County's Hagan Bradley for the second time this season. In their first bout Sacra subdued Bradley by fall in just 59 seconds, but an improved Panther wrestler faced Sacra in this bout.
The two went the distance and Bradley claimed a win by regular decision, 16-9. In the consolation semifinals, Sacra squared off against Scott Shiflett of Buffalo Gap. Tied 3-3 at the end of two periods, Shifflett had the slight edge in the third outscoring Sacra 2-1 to win by decision, 6-4.
For Pack, Lamb and Ravenel, they will hone their skills in advance of the biggest event in their young wrestling careers: the 2A state tournament at the Salem Civic Center.