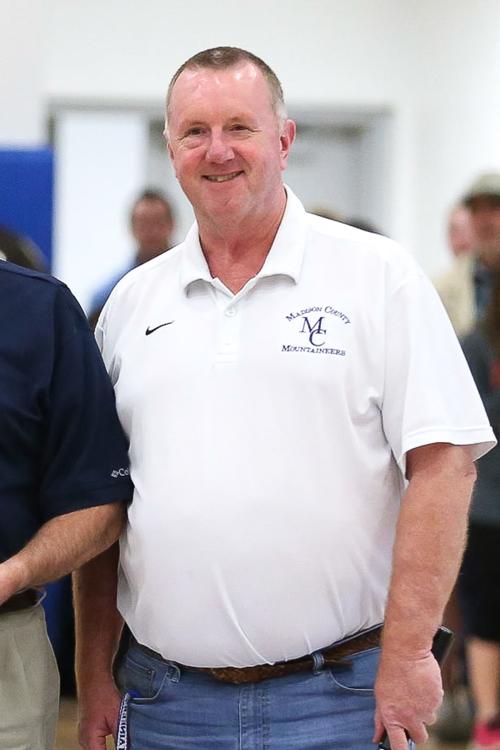 For nearly two decades, Phil Warren's springs have consisted of coordinating officials, juggling schedules and watching athletes excel at Madison County High School.
But with Virginia schools closed for the remainder of the academic year due to the COVID-19 pandemic, this has been no ordinary spring.
"It's been relatively quiet this past month," Warren said. "Just doing that social distancing thing, working on next year's schedule from home mostly."
This spring was supposed to be a special one for Warren, who announced in February that he will retire at the end of the school year after nearly two decades in charge of the Mountaineers' program.
While the Virginia High School League hasn't officially ruled out cancelling the spring season altogether, Warren admits this wasn't the way he predicted his final months on the job would be.
"We have had things that shut down sports for a few days, like snow, floods, hurricanes, the D.C. Sniper," Warren said, "but nothing with the magnitude of this pandemic."
Warren has been a fixture at Madison County High School as a coach, administrator and athletic director for more than 30 years. He coached boys basketball for 22 years and served as a football coach for 15 years before moving into administration.
In the mid-90s, former athletic director and football coach Eddie Dean told Warren his intentions of retiring and asked if he had any desire to take over the football program.
"I said no, but that I did want to be the next AD," Warren said. "So, for the next five years, he showed me all the ins and outs of being an AD and gradually put me in charge of things like ticket takers, schedules, eligibility lists, etc. so that by the time I took over, it wasn't so overwhelming for me. That really helped me a lot and made the transition a lot smoother for me."
Warren was named athletic director in 2001 and has been a big cog in the growth of high school sports at Madison County. During his tenure, the Mountaineers have added varsity boys and girls swimming as well as junior varsity boys and girls soccer.
Middle school sports have also expanded with the addition of boys and girls basketball, volleyball and cross country. The Madison County School Board has approved the start of middle school baseball, softball and boys and girls soccer starting next season.
"I have been very fortunate to work with a lot of coaches, administrators, superintendents and school members that share the same love for this school system and community as I do," Warren said. "It really is a great place to work and I am eternally grateful that I have been able to spend the last 35 years here."
Mike Sacra, a long-time wrestling coach at Madison County and interim assistant principal, praised Warren for his years of service.
"Phil has been a teacher, mentor, friend and colleague," said Sacra, who is retiring after 28 years leading the Mountaineers' wrestling program. "I was in his first physical education class here at Madison County High School. When I came back from college, he took me under his wing and has helped me along the way."
Assistant football coach Travis Knight said Warren has made his first coaching experience enjoyable.
"He's made my coaching experience here enjoyable," he said. "I've always felt that I could be open and honest with him. I always felt like he, not only was willing, but wanted to help me as a coach and our program whenever he could. At the same time, he showed trust in us as a staff to do what was best. MCHS and I will miss him."
As a former coach himself, Warren made sure his staff knew he had their backs.
"I have always let my coaches know that I support them 100 percent, as long as they are meeting the expectations of our school system," Warren said. "Not in terms of wins and losses, but in how they compete. I want them all to strive to be the best coach and role model possible for our kids."
Warren said serving as athletic director goes well beyond watching games.
"The biggest misnomer is that ADs just watch bunch of games all the time, how hard can that be?" he said. "The fact is, most of the time we rarely get to watch much of our home games. Between taking care of ticket takers, concession workers, keeping an eye on the crowd, checking bathrooms, there isn't a lot of time to watch the actual games."
Another responsibility of an athletic director is responding to concerns from parents and athletes. Several years ago, Warren said a girls basketball parent came into his office after his daughter had played sparingly in a blowout loss. Warren anticipated a complaint regarding playing time, but it turned into a moment that left him speechless.
"I'm not saying my daughter is better than anyone else on the team, but she can shoot airballs just as well as the rest of the team," the dad told Warren. "It's the only time in my 20 years as an AD that I had no answer for a parent. All I could say was, 'Yeah, you're right.'"
There were plenty of memorable moments during Warren's career as coach and athletic director. He was an assistant coach on the Mountaineers' 1999 football VHSL Group A state championship team. Madison County won a boys soccer title in his first year as athletic director and followed that up with state championships in boys basketball in 2010 and softball in 2017.
In addition, Clare Moretz's four individual state titles in track and Kara Morgan McHaney winning the school's first state championship in swimming are lasting memories.
"I don't think people realize how difficult it is to win a state title," Warren said. "It is also really fun to watch athletes whose parents I either coached or watched play come through our program. That is definitely a sign of age when you are working with the kids of athletes you used to coach."
Warren said the support for Madison County athletics from the community has been overwhelming. He said they helped sell out Eastern Mennonite University for a regional boys basketball championship game in 2010. The fans came in droves to watch the baseball and softball teams play at Radford too. Last fall, the school sent two busloads of students to Poquoson, a 2 1/2 -hour drive and filled their gym up on a school night for a state semifinal volleyball game.
"It's hard to pick out what I am most proud of, but if I had to pick one, I would say the community support that we get is amazing," Warren said. "Our community support is really something to see if you aren't used to it. I can't tell you the number of ADs that have commented on the number of people that come to our games."
The decision to step down was not an easy one for Warren, but something that's been on his mind for a number of years.
"I just felt like it was time to retire," Warren said. "Thirty-five years in the same school is a long time, plus working four to five nights a week until 10 or 11 o'clock is getting harder to do at my age. I'm not as young as I used to be."
Warren said he doesn't really have any detailed plans for retirement, other than spending more time with his grandchildren, who live in nearby Orange County.
"Besides that, I hope to get in a little more time on the golf course," he said. "That's really about it until I get bored, then I guess I will find something to do with my time."
After more than 30 years of coaching and teaching, Warren said there's no place he'd rather have been.
"I love Madison County," Warren said. "I love the area. I love the people. I live the school. I feel very blessed here. I have had numerous opportunities to leave and make more money, but at the end of the day, I never strongly considered leaving Madison. I have never been a big fan of change, so why leave when you are comfortable and really enjoying your job."