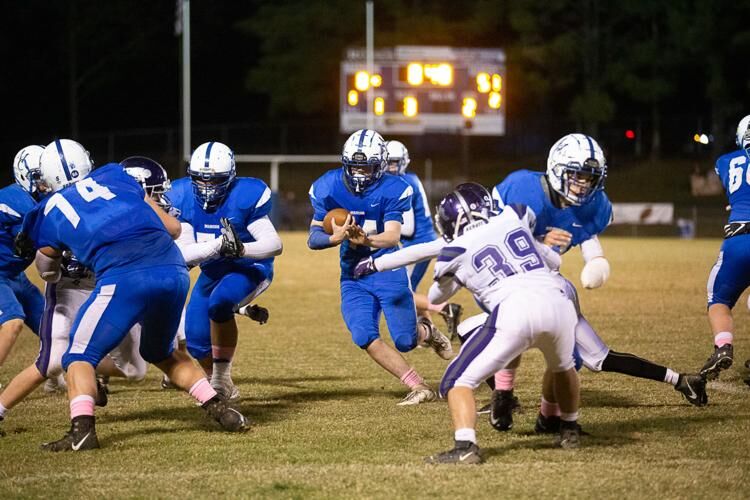 The Virginia High School League took steps toward a potential return to high school sports by reinstating out-of-season practice starting Monday, June 15.
The announcement was made in alignment with Gov. Ralph Northam's "Virginia Return to School Plan" that came earlier in the week. The ruling would suspend the annual VHSL's annual summer dead period for athletic teams, scheduled for June 29-July 4. This only applies to the 2020 school year.
According to Northam's plan, all school divisions must submit health plans to the Virginia Department of Education to ensure they are in compliance with the Virginia Department of Heath and Centers for Disease Control and Prevention mitigation strategies.
Once those plans are approved by the Virginia Department of Education, and schools can implement those plans safely, schools can start practice activity. Additionally, all athletes must have an updated physical on file by July 1 to participate in activities, as physicals from the previous school year expire on that date.
"The VHSL Executive Committee believes that getting students back into some level of education-based activities will be supportive of their physical and mental health and well-being," said VHSL Executive Director Dr. John W. "Billy" Haun in a written statement. "Allowing students and coaches the opportunity to begin out-of-season extracurricular activities and athletics will allow school communities the ability to begin moving in a positive direction."
Haun noted that students athletes across the Commonwealth have been out of action for more than three months. He said that conditioning and acclimation to programs are critical for coaches and athletes as they prepare for the upcoming fall season.
Albemarle High field hockey coach Brittany McElheny is thrilled with this new development.
"This is an exciting step to getting back out there," she said. "I am looking forward to finding out more once Albemarle County finalizes their plans."
The Patriots coach said that this week is typically the first week of out-of-season conditioning for the fall due to the fact that several players are involved in other sports throughout the spring. These sessions not only help with refining skills, but also build team bonding heading into the fall.
"I always tell my girls worry about controlling what you can control," she said. "So, whenever we resume, we will work hard and go from there."
The return to offseason practices is essential for new Madison County football coach Lawrence Helmick, as he looks to put his stamp on the team.
"It is very exciting because it gets us one step closer to being on the field," Helmick said. "It is definitely a step in the right direction and is very important for us moving forward. It's very important. It's important to get guys introduced and familiar with a new system, but also equally important getting to know the players and staff and build positive relationships between the two."
Helmick, who took over the Mountaineers program in May, understands the importance of caution through this unique time.
"All things considered it is very important that we come up with a plan that abides by the CDC's guidelines for the safety of our athletes," Helmick said.
Albemarle cross country coach Adrian Lorenzoni echoes those concerns.
"I'm really worried it's too soon, so I'm anxiously waiting to see the counties rollout plan," he said. "Running is unique where I'm confident my athletes can get runs in on their own, especially in July and even early August if need be. They're a motivated bunch."
The Patriots coach said his main focus this season, especially at the beginning, is to ensure his athletes are being smart and keeping everyone healthy.
"It's a very long time until November, if there is a state meet, so there really is no urgency with training for a good while," he said. "Everything is always low key in the summer anyways."
The VHSL Sports Medicine Advisory Committee continues to work its way through compiling a list of guidelines for reopening sports and activities this fall.
Haun said the committee is finalizing its plans to align with Gov. Northam's "Return to School Plan".
The VHSL Executive Committee meets on June 25 and is expected to unveil more details regarding the status of fall sports and activities following that meeting.
"Any decisions moving forward will be made in compliance with the Governor's orders and will continue to be made with the best interest of our student-athletes," Haun said. "Safety will always be our number one priority.