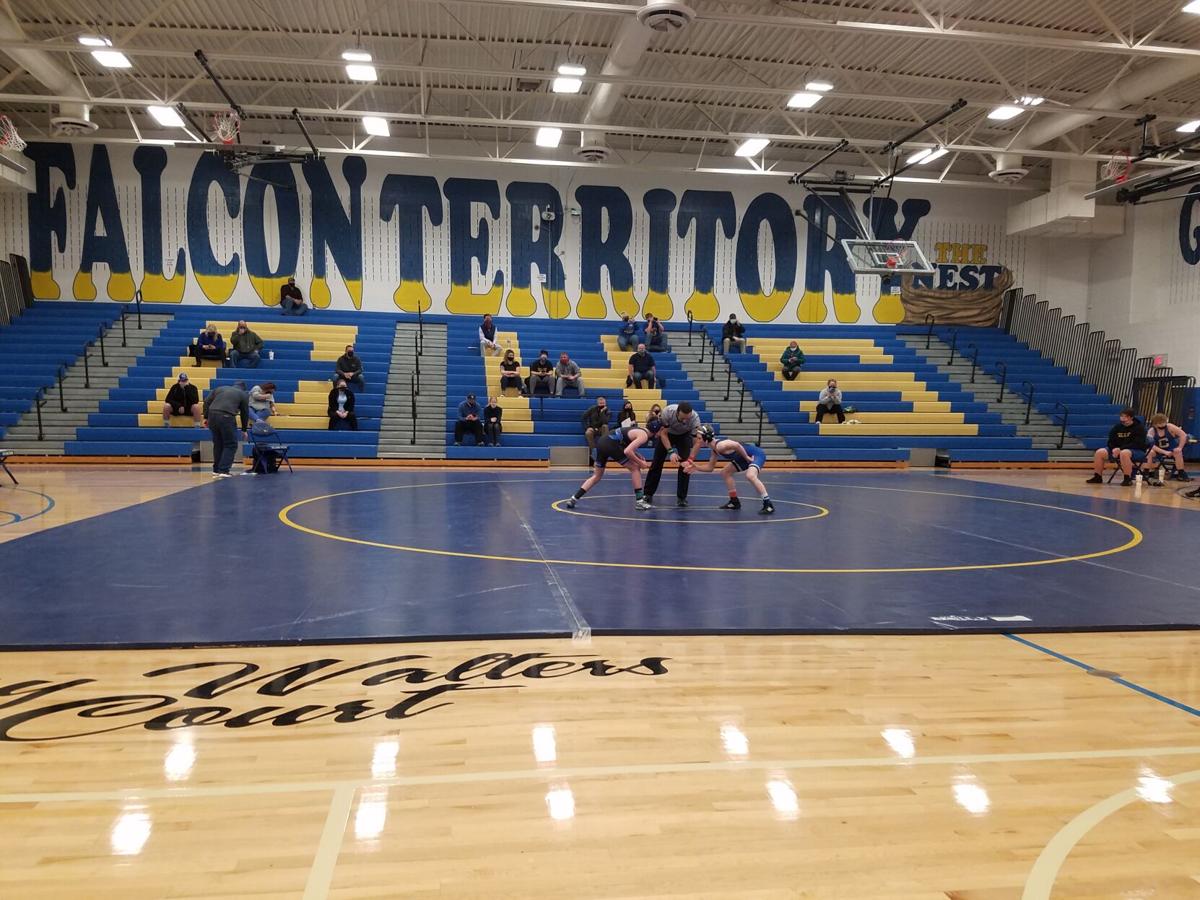 For Madison's young trio of wrestlers, the Class 2 state wrestling tournament naturally represented the biggest challenge of this abbreviated season.
Held Monday at the Salem Civic Center, Evan Pack led the team with a fifth-place finish in the 106-pound weight class, thanks to his 2-2 performance.
His teammates, Joshua James Lamb (120 pounds) and DaQuan Ravenel (126), both went 0-2 and did not place.
Team-wise, Poquoson claimed its fourth straight team championship and 13th in team history when it tallied 167.5 team points, over 40 points ahead of runner-up Lebanon.
Individually, wrestlers competed in eight-man brackets which meant the first round was also the quarterfinals.
Pack led off for the Mountaineers in the quarterfinals when he faced off against Timmy Bennett of James River. After a scoreless first period, Bennett scored a takedown and a set of back points before turning an arm bar into a reverse half and pinning Pack at the 2:38 mark.
Dropped to the consolation rounds, Pack prolonged his stay when he won by fall over Owen Almany of John Battle. In the first period of their bout, Pack staved off Almany's attempts for a takedown and Almany had choice to start the second. He chose the neutral position hoping to get the go-ahead takedown. Almany appeared to be in on a single leg until Pack caught him out of position and tossed Almany to his back and won by fall at the 1:50 mark.
Pack then advanced to the consolation semifinals where he battled Brenden Phillips of Richlands. Phillips scored a takedown in the first period and had choice to start the second. He deferred, and Pack chose the bottom position. Pack consistently sat out hoping for an escape or a reversal, but Phillips maintained riding position and eventually caught Pack out of position and won by fall in 2:20.
Pack then wrestled Patrick County's Nathaniel Gusler with fifth place on the line.
Pack powered his way to a 12-3 lead before finally turning Gusler to both shoulders and the win at 2:50.
Lamb opened the quarterfinal round with a bout against Mason Hylton of Glenvar. After a scoreless first period Hylton scored a reversal and then used a cradle to pin Lamb in 2:15.
In the consolation quarterfinals, Lamb faced Evan Roberts of John Battle. Roberts scored a takedown in the first period and led 2-0 to start the second. Lamb had choice and chose bottom to start the second, which witnessed no change in position.
When the third period began, Roberts still led 2-0 and he chose bottom. Though Lamb had refused to be turned to his shoulders through the first two periods, Roberts worked an arm bar and finally turned Lamb to his shoulders. The end came at the 4:20 mark of the five-minute bout.
Ravenel opened the competition with a clash against Chase Cuddy of James River. Cuddy cruised to victory when he scored a quick takedown and then worked a cradle to get the win by fall in just 31 seconds.
In the consolation quarterfinals, Ravenel met King William's Rudy Downey who quickly tossed Ravenel to the mat and to his shoulders for the pin in 22 seconds.
Despite those reported results, the experience at the state tournament was, in a way, a winning situation for all three Mountaineers. How so? Pack and Lamb are both just freshman and Ravenel is a sophomore, which means all three have future opportunities in their young high school careers. Plus, Pack was undersized all season in the lowest weight class of them all, Lamb steadily made improvement, and Ravenel always wrestled aggressively, even in defeat.
On the season, Pack and Lamb both finished with 10-6 records and Ravenel, who came later to the team this season, finished at 6-4.
Note: the Virginia High School League has six classifications. These are the six winners this season in wrestling:
Class 4: Liberty-Bealeton.