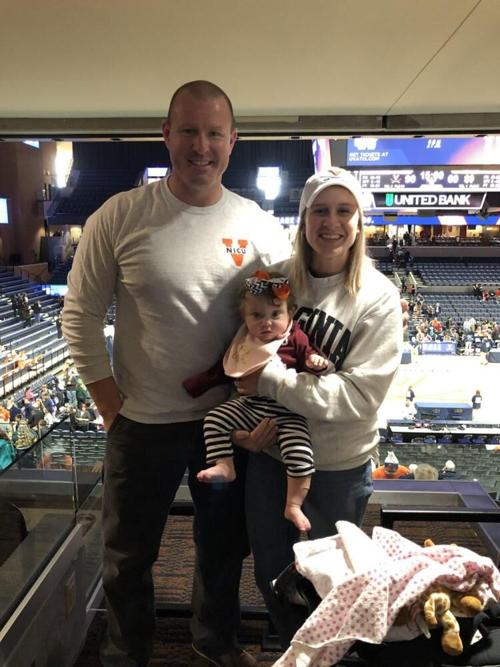 Family and sports have been a part of Keith Slezak's core values throughout his life.
The 36-year-old plans to instill those passions into his new job as the activities director at Madison County High School.
Slezak will take over the position from Phil Warren, who is retiring after spending the past two decades in charge of the Mountaineers' program.
"Family is a huge part of my life and I know that Madison prides itself on family values," Slezak said. "I also know that Madison is a close-knit community that prides themselves on hard work, dedication and loyalty."
Slezak credits his success to the blue-collar work ethic instilled in him as a child. A former fullback and defensive end for Windber Area High School in Pennsylvania, he went on to play college football and run track at Mansfield University.
Slezak's coaching career began during his senior year at Mansfield. After serving as a defensive line coach at Allegheny College, he moved to Culpeper in July of 2008 and has served as an assistant high school football coach at Eastern View and Culpeper County for the past 11 years.
In addition to his coaching responsibilities, Slezak has taught health and physical education at Culpeper County Middle School for the past 12 years. His wife, Chelsea, is a special education teacher and they have a daughter and another baby on the way in September
"I learned that to be successful, you must be willing to put in the extra time and not be afraid to reach out to others when you are unsure or have questions you don't know the answer to," Slezak said. "Working hard and seeing the positive outcomes become contagious to those around you. Sports can bring both the community and the school district closer together when successful. Finally, and most importantly, education is first and sports are second. Our students are student-athletes, the student comes first."
Living in nearby Culpeper for more than a decade, Slezak is very familiar with the Madison County program and the importance of athletics to the school and community.
"I'm impressed with the maturity of the student-athletes in Madison County," Slezak said. "The way these students handle themselves while representing Madison in the surrounding communities, they are all extremely hard working."
Slezak has done his due diligence to get acclimated to the culture of Madison County athletics. He admits that time management and organizational skills are imperative to the position.
In addition, working with stakeholders, following policy guidelines and rules as well as accountability of student-athletes and coaches are vital.
"I want my student-athletes to see a person that has their best interests at heart," he said. "I want them to understand that the classroom is more important than their competition. I am working for them and will do whatever it takes to help see them succeed."
Slezak has a similar mindset for his coaching staff as well.
"I want my coaches to know that I am extremely hard working, energetic and a fair individual that will always take the time to sit down with coaches and hold discussions about anything," Slezak said. "I will do whatever it takes to help my coaches become the best coach they can be. I will see things through and help struggling sports so that they can become successful yet gain. All sports come second to the classroom."
Slezak said Warren has been a great resource for him as he transitions into his new position. The two have met numerous times, discussing everything from future schedules and master eligibility lists to physicals and ticket sales.
"He's taken the time out of his day to meet with me and discuss for hours his responsibilities and daily routines," he said. "Mr. Warren has an open-door policy and will always be just a phone call away."
Slezak won't officially take over the job until July 1, but has already prioritized goals for the program. That includes adding more sports to the middle school program, as well as updating the weight room for student-athletes.
"My vision is to build an efficient sports department that focuses on the needs and development of the student-athletes, while maintaining safety and best practices to achieve a common goal," he said.
Be the first to know
Get local news delivered to your inbox!