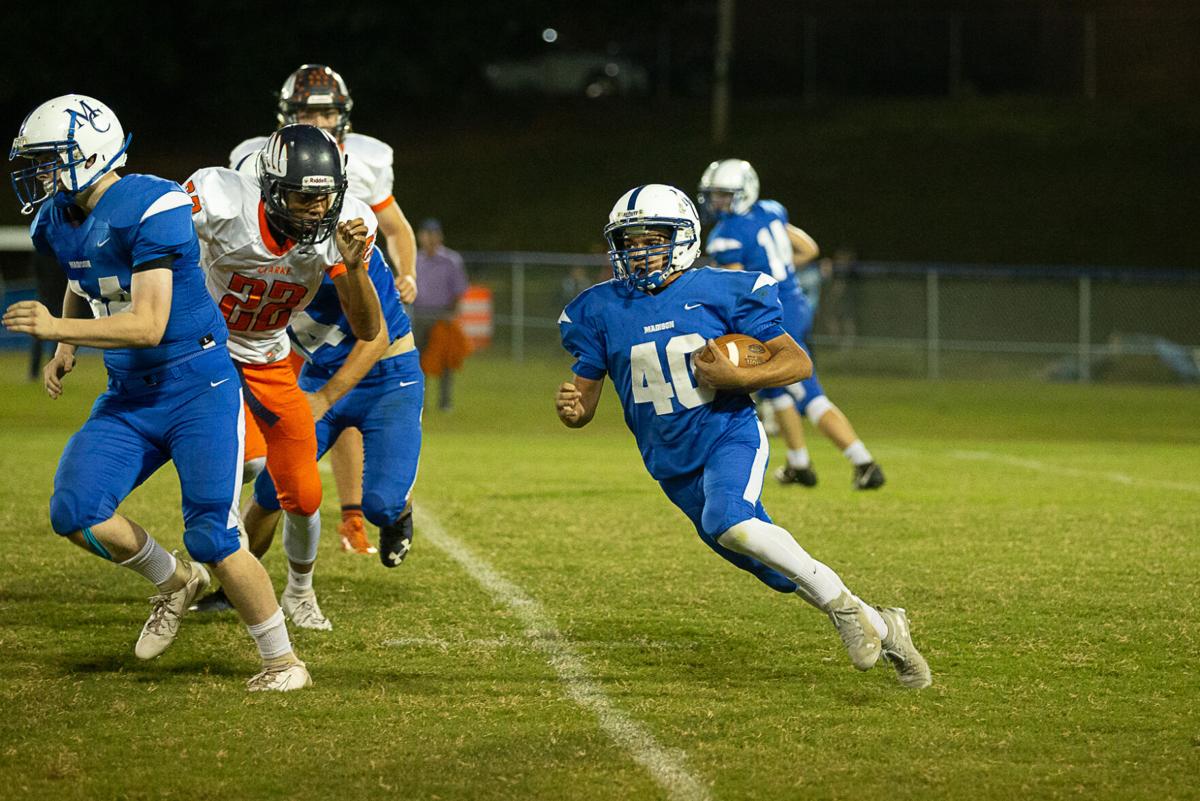 With the Virginia High School League Executive Committee set to meet to discuss the status of fall sports, local athletes and coaches have been given a road map for offseason workouts and conditioning. VHSL Executive Director Dr. John "Billy" Haun unveiled the organization's recommendations on Friday.
The nine-page document gives a detailed description of protocols for each sport. The guidelines are for school divisions to use as an outline for designing its own return-to-activity plans in accordance with the state and county restrictions as they look to return to activity amid the COVID-19 pandemic.
"These VHSL guidelines are recommended for use as school divisions develop their own specific requirements for the Phase II COVID-19 Mitigation Health Plans for public schools," Haun said in a written statement. "[The Virginia Sports Medicine Advisory Committee] worked closely with [the Virginia Department of Health] to ensure that these recommended guidelines will offer guidance to local school divisions and superintendents reopening plans. Our SMAC committee of leading health experts has put together an invaluable tool to assist our school divisions in developing those plans."
Since Gov. Ralph Northam issued an executive stay at home order on March 23, many local athletes have not had an opportunity to take part in out-of-season practice and conditioning.
Due to that lack of conditioning, the VHSL plan cautions coaches to not have athletes rush back to training too quickly and advises that the intensity and duration of training sessions be moderated early on.
Due to the possibility of future COVID-19 outbreaks, the VHSL says schools must be prepared for periodic school closures and the possibility of isolating teams for two or more weeks while in season. The VHSL has worked with athletic directors and administrators to develop recommended polices for practice and competition during temporary school closures as well as the cancellation of regular season games and postseason events.
The three-phase plan is based on disease prevalence and community transmission and it is possible that schools may move up or down each phase. The movement, in either direction, will be dependent upon disease prevalence, community transmission and guidance from local and state public health officials. According to the VHSL's criteria, counties must meet "gating" criteria to establish Phase One and that further criteria, determined by the Governor's Office, VDH or VDOE, must be met before moving to the next phase.
Currently, member schools are operating under VHSL Phase I, which specifies that no athletics or activities are permitted. In VHSL Phase II, individual skill development and workouts will be allowed, but individuals must maintain physical distancing. There will be no contact with others or sharing of equipment.
The sports are broken down into three categories based on infection risk activities and preferred guidelines are recommended based on each sport.
Low infection risk activities include cross country, track and field, swimming, golf, tennis and E-sports. Runners should maintain at least 10 feet of distance between individuals with no groupings. Athletes are not allowed to share equipment, and padded equipment, such as high jump mats, should be cleaned after each use by an athlete.
In swimming, relays must maintain physical distancing. On the links, golfers should keep 10 feet of distance between each other. For tennis, each player may use their own can of balls to serve and use a racket to pass other balls. Players will be allowed to participate in individual drills, including wall volleys and serves, but they must wipe down rackets, tennis balls and equipment after use.
Volleyball, field hockey, soccer, baseball softball and basketball are considered moderate infection risk activities and have their own stipulations.
For volleyball, in conditioning and individual ball-handling drills, each player must have their own ball and should not use a volleyball that others touch or hit in any matter.
In field hockey, during conditioning and individual drills, players must use their own ball and not use one touched by others in any manner. Goalie equipment should be cleaned after each use and not shared. The guidelines are the same for soccer, but headers, throw-ins and contact are prohibited.
For softball and baseball, individuals should not share gloves or bats or throw a ball that will be tossed among the team. Single players can hit in batting cages or throw batting practice with nettings as backstops. Prior to another athlete using the same balls, they should be collected and cleaned, individually.
In basketball, a player may shoot with a ball, but a team cannot pass a ball amongst multiple players. No physical contact is allowed.
In higher risk sports such as football, lacrosse, wrestling and competition cheerleading, the safety measures are even more heightened.
For football, a player should not participate in drills with a football handed off or passed to another teammate. Contact with other players is not allowed, and no tackling dummies or sleds are allowed. Protective equipment also is prohibited.
In lacrosse, players can train and work out with their own ball but should not use a ball touched by another player. Protective equipment is prohibited.
In cheerleading, group stunts are not allowed. Chants, jumps, dance and tumbling are permissible, as long as physical distancing protocols are followed.
The VHSL Phase III details will be determined at a later date.
In terms of facilities, adequate cleaning schedules should be created and implemented, including disinfection every two hours of shared equipment.
Indoor practices and activities may occur if at long as 10 feet of space can be maintained at all times by players and coaches. The total number of attendees should be limited to the lesser of 30% of occupancy, or no more than 50 people. No spectators will be allowed during practice.
The same rules should be considered for outdoor practices and activities. The only exception is the number of attendees should not exceed the lesser of 50% of capacity or 50 people.
Team workouts should be conducted in pods of between five and 10 students and coaches. The VHSL encourages the same group to work out together weekly to limit overall exposure. Smaller pods can be utilized for weight training.
Students and staff should plan for daily health screenings prior to events and the responses should be recorded and stored. Any person with positive symptoms is not allowed to participate and will be encouraged to self-isolate and contact a medical professional.
Return to participate guidelines will be developed at the local high school division. State guidelines for face coverings will be enforced. Coaches, officials and other contest personnel are required to wear face coverings at all times.
Be the first to know
Get local news delivered to your inbox!