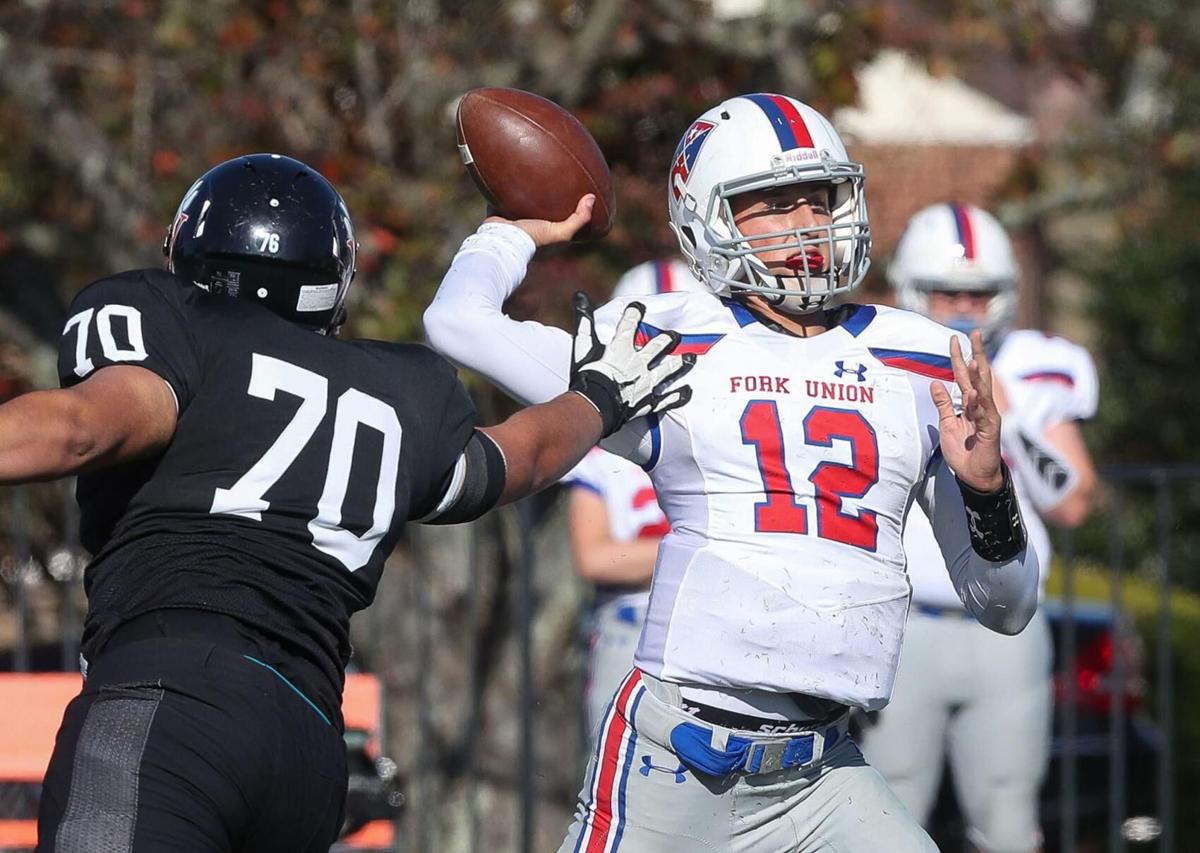 Yes Virginia, there could be high school football this fall.
With the public school football season postponed until the spring due to the COVID-19 pandemic, several private schools in Central Virginia are exploring opportunities to play reduced football schedules this fall against other boarding schools, The Daily Progress has learned.
Administrators at Fork Union, Woodberry Forest and Blue Ridge have had discussions with other private schools in the commonwealth that still have hopes of playing football this season.
"Right now, we are reaching out to all private schools and boarding schools that have expressed playing football in the fall," Fork Union football coach Mark Shuman said. "We are working with a couple of schools to set up a five- to six-game schedule."
Fork Union started football practice without any equipment last Thursday as part of a two-week adjustment period. Players and coaches are wearing masks and maintaining 10 feet of distances while going through drills.
"During a pandemic, we have to make sure we follow all protocols to make it even safer for them," Shuman said. "We are trying to have an acclimation period, like the NBA bubble, before putting all of our guys into equipment and practicing versus each other."
Shuman said boarding schools such as Fork Union are in ideal situations to make playing during a pandemic work.
"Fork Union being a boarding school helps us big time since about 95 percent of our team are boarding students, or students of faculty members that live on campus," Shuman said. "It's kind of like creating our own bubble for everyone to make sure we are healthy and doing things the right way."
The ideal time frame for a potential 2020 fall private school football season would start in late September and finish the first week of November.
"It is not only important to our coaches, about getting back on the field, but most importantly our players," Shuman said. "As coaches, we go into every season with high expectations. We are fortunate to have new pieces in place to help us go forward with having a strong team. I think the sky is the limit with our team this year and the attitude our players bring every day to practice is awesome to see."
Shuman believes the guidelines are in place to make a fall football season feasible.
"I am very excited for the opportunity to be back on the field," Shuman said. "Our coaches had been looking forward to getting back out there with our guys since March and to finally be out there making sure our guys improve every day, we are grateful for the opportunity."
Woodberry Forest athletic director Matt Blundin said his program has explored the possibility of fall football but has not made a commitment to playing a season.
"We have talked to other boarding schools about the idea of playing a modified schedule, but at this time have not committed," Blundin said. "There are many safety considerations that all schools would have to be practicing in common, including regular testing protocols, in order for a boarding school league to even be considered. We know available testing in quantity and type are changing quickly. Our focus has been and will continue to be on opening school safely and maintaining that safety for our boys and community."
At Blue Ridge, the first wave of students, mostly juniors and seniors, returned to campus this week in preparation for the 2020-21 school year. Student were all required to have proof of a negative COVID-19 test before coming back to school and were tested again by Blue Ridge staff as they checked in.
Students will live by themselves and be quarantined for two weeks and utilize social distancing forms of orientation until Aug. 27.
After that, those students resume a more regular schedule that includes classes and afternoon activities.
The second wave of students, mostly freshmen and sophomores, will move in Sept. 3 and will follow the basic schedule utilized by the first group. The second wave will not start afternoon activities until Sept. 18.
Blue Ridge athletic director Bryan Puckett said the current plan is to run a "light, slow return" internally, until Sept. 18. He said once they combine the two groups, they will take a week or two before they consider any interscholastic competition.
"We have been open to the idea of playing some other boarding schools in the sports we are offering this fall — football, soccer, cross country, golf and tennis — each with a different likelihood of happening," he said. "However, we are not going to make any decisions until we see how the next four weeks go internally and we learn more about keeping our guys safe."
St. Anne's-Belfield will not be pursuing a fall football schedule, athletic director Dewayne Robinson said, but hopes to compete in other lower-risk sports.
"STAB will not be playing a football schedule this fall," Robinson said. "We are currently only committed to interscholastic competition in girls tennis, cross country and golf. We are continuing considerations for competitions in moderate risk sports, which are field hockey, volleyball and soccer, but have not committed to competing in those sports at this time."
Be the first to know
Get local news delivered to your inbox!