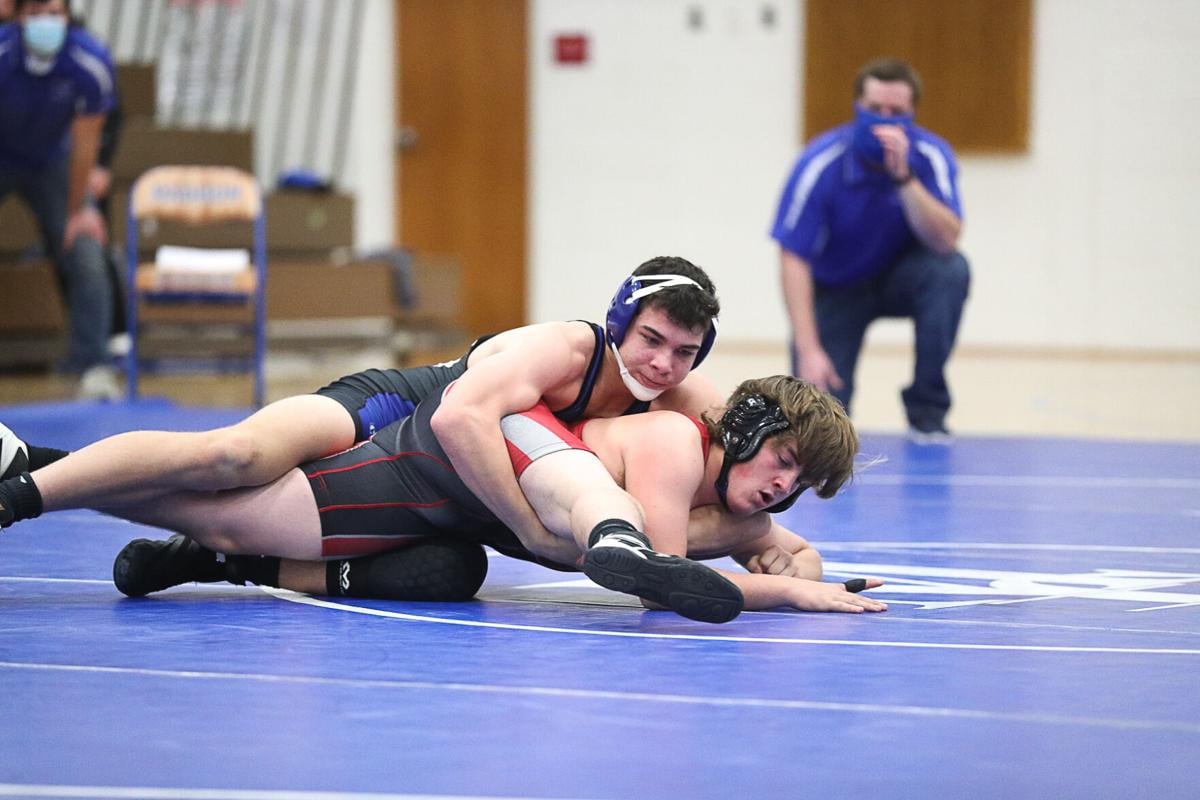 For the first time in the program's history, Madison's wrestling team visited Maggie Walker Governor's School in Richmond.
It did so last Saturday for the scheduled tri-match which included Amelia County.
When it was over, Madison finished 1-1 after a win over Amelia and a loss to Maggie Walker.
Madison head Coach Brandon Utz felt that the competition would serve as a confidence booster to his young team.
Individually, Madison's Jacob Sikora may have received the biggest boost of them all. It came after his win in overtime when he scored a takedown in sudden victory to defeat Bilal Ahmad of Maggie Walker, 6-4. It was apparent that Sikora had the edge in stamina. Asked about his level of conditioning, Sikora said, "Yes, I've really been working on that."
But Sikora wasn't the only Mountaineer to feel the euphoria that comes following a tough win. Freshman Evan Pack experienced the sensation as well.
Though Pack claimed two forfeits, he had the opportunity to compete in an exhibition match against Amelia's Gavin O'Brien. Pack dominated the action with four takedowns and four sets of back points before turning O'Brien to both shoulders for the fall at the 4:01 mark.
As a team, Madison shored up a previously empty weight class when Hunter Dallas became the team's first entry at 132 pounds this season.
Though Dallas went 0-2 on the day, he battled Amelia's Caleb O'Brien on even terms until the Raider reversed him in the third period and took Dallas to his back.
In addition to having a representative at 132 pounds, a week ago the Mountaineers welcomed Jaden Scruggs to its lineup at heavyweight and, on Saturday, Scruggs went 2-0 which included a win by fall over Shane Wilson of Amelia (0:53).
Madison's Daquan Ravenel, who debuted this season on Jan. 16, came to Saturday's competition with a 4-0 record and, after claiming a forfeit in the match against Amelia, looked poised to keep his winning ways going when he faced off against Maggie Walker's Daniel Enderle.
Predictably aggressive, Ravenel seized early control with a takedown and led 2-1 at the start of the second period.
Ravenel had choice and deferred to the third period. Enderle then had choice to start the second and opted for neutral. In somewhat shocking fashion, Enderle scored a quick takedown and took Ravenel to his shoulders in the process and secured the win by fall.
Three bouts later, Sikora squared off against Ahmad who scored their bout's first points with a takedown, but Sikora soon engineered an escape to make it 2-1 which is how the first period ended. After a scoreless second, Sikora was awarded a penalty point and scored a reversal in the third to take the lead 4-2.
He then worked from the top position and attempted to turn Ahmad to his back. In the final second of regulation, Ahmad scored a reversal to tie the bout and send it into overtime.
In the sudden victory segment, Sikora took advantage of his conditioning and scored a takedown to get the win.
This Saturday the post season begins and Madison travels to Strasburg which will host 2A's Region B Tournament. The top two wrestlers in each weight class will qualify for the season finale and state tournament in Salem.
Round 1: Madison County (MC) Amelia County (AC) 18.
106: Evan Pack (MC) by forfeit.
120: DaQuan Ravenel (MC) by forfeit.
132: Caleb O'Brien (AC) by fall over Hunter Dallas, 3:59.
138: Aden Terrel (AC) by fall over Jacob Sikora, 1:39.
145: Isaac Gilman (AC) by fall over Chris Dallas, 2:45.
170: Kris Dobyns (MC) by forfeit.
182: Matthew Sacra (MC) by forfeit.
220: Zac Pollina (MC) by forfeit.
285: Jaden Scruggs (MC) by fall over Shane Wilson, 0:53.
Round 2: Maggie Walker (MW) 40, Madison County (MC) 21.
113: Ned Gable (MW) by forfeit.
120: Daniel Anderle (MW) by fall over DaQuan Ravenel, 1:11.
126: Zach Wooden (MW) by forfeit.
132: Tony Caramucci (MW) by major decision over Hunter Dallas, 9-0.
138: Jacob Sikora (MC) by decision over Bilal Ahmad, 6-4 SV
145: Varun Mandgi (MW) by fall over Chris Dalla, 1:38.
170: Kris Dobyns (MC) by forfeit.
182: RJ May (MW) by fall over Matthew Sacra, 0:39.
220: Gabe Williams (MW) by fall over Zac Pollina, 1:20.
285: Jaden Scruggs (MC) by forfeit.
106: Evan Pack (MC) by forfeit.