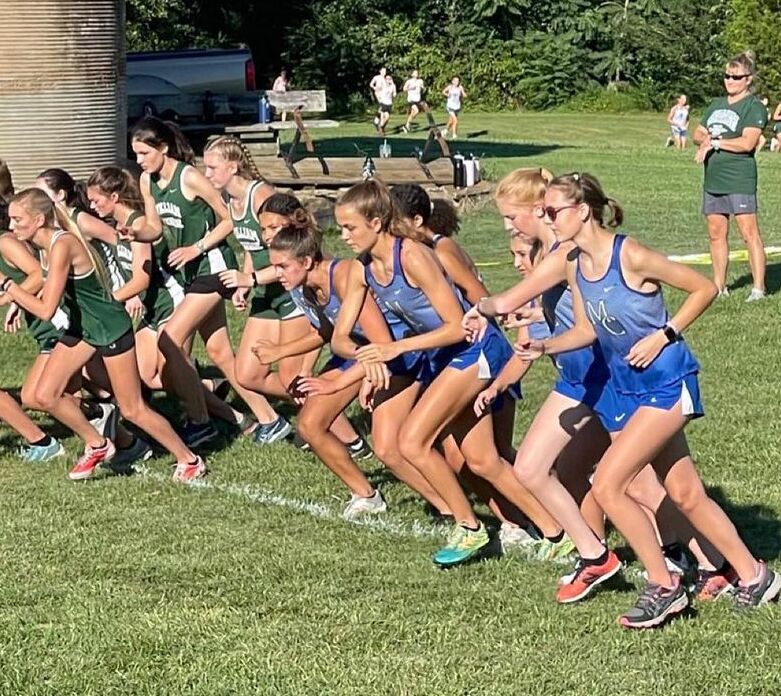 After two separate postponements due to excessive heat and then heavy rains, the weather finally broke and allowed Madison to compete in it's first home meet of the season against Fluvanna and William Monroe. Madison's home 5k course at Hoover Ridge is an excellent cross country course with varying terrain, hills and long straight finish and continues to provide some great high school and local races.
The boys teams competed first and the William Monroe Dragons put together a really strong team performance securing the top four spots. C. Bruton for William Monroe was the individual winner with a very solid early season time of 18:15. Madison's Troy Miller was the first finisher for the Mountaineers finishing seventh with a time of 19:36. He was followed by fellow sophomores Aiden Griffin (ninth, 20:30) and Scout Foskett (10th, 20:35). Completing Madison's top scoring five on the day were seniors Erwin Carter (22:13) and Nate Herrman (23:06). William Monroe won with the low score of 22, followed by Fluvanna with 43 and Madison with 62.
The girls race started five minutes later with the same three schools competing. The Lady Mountaineers were led by senior and reigning Bull Rull District and Region 2B champ Kate McLearen who won the girls race with a solid early season time of 20:20. Fluvanna's S. Farley finished second in 22:19, followed closely in third by Madison's Abby Patterson running a 22:43. The Lady Dragons of William Monroe however raced very well and secured the team victory with the low team score of 37. They were led by Sidney Orange (fourth, 22:52) and Ellie Pensel (fifth, 23:31). Fluvanna finished second with a score of 40 and Madison third with a score of 51. Also competing and scoring for Madison were Leah Henshaw (10th, 26:32), Malia Ruffner and Lacey Carpenter.