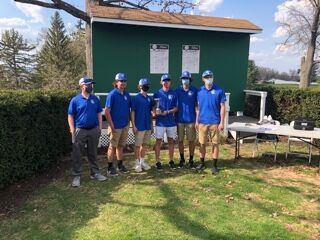 Jackson Taylor struggled Tuesday on his opening 9 holes of the Bull Run District Golf Tournament at Spotswood Country Club. He finished the halfway point at 8 over par on the back nine holes.
Madison's top golfer told Coach Brian Rehm, "he was going to turn it around on the front nine". Boy did he ever, Taylor, a junior, started with a birdie on the par-5 1st hole and finished the round with a birdie on the par-3 9th to shoot a blistering 1-under par 34 on the front nine at Spotswood.
"I really struggled on the first nine" Taylor admitted "but as the day went along,I kept getting better and gained more confidence", and it turned out to be a great day as his final score of 79 earned him medalist honors as well as the Bull Run District Player of the Year award.
Freshman Cai Clark and junior Dean Breeden shot 85 and 86 over the par-72, 6161 yard layout in Harrisonburg. Senior Aaron Henshaw carded a 94 to round out the team score of 344.
That was 33 shots better than runner-up East Rockingham as Madison captured it's first District Title since 2010 and only the third in school history. "It is great being able to hang a banner in our gym" added Taylor.
Both Teams will represent the Bull Run at the Regional Tournament on Monday, April 10 back here at Spotswood CC. This year only one team will represent the Region in the State Tournament due to COVID rules. Normally 2 teams' advance to the States.
Stonewall Jackson (386) finished third among the 7 teams vying for the District Championship on Tuesday. Clarke County (397) captured fourth place followed by Strasburg (411), Luray (418) and Rappahannock.
Clarke and Breeden along with Taylor earned First Team All-District honors for their stellar play. Aaron Henshaw added Second Team All-District recognition to the Mountaineers haul of awards.
In addition to the top 2 teams advancing to the Regionals, the top 6 individuals not from those 2 teams earn the right to advance. Those individuals include Stonewall's Emily Racer (87) and Andrew Wymer (95), Clarke's Keith (89) and Thomas (98) Dalton, Strasburg's Kendal Sine (92) and Page County's Ryan Comer with a 98.