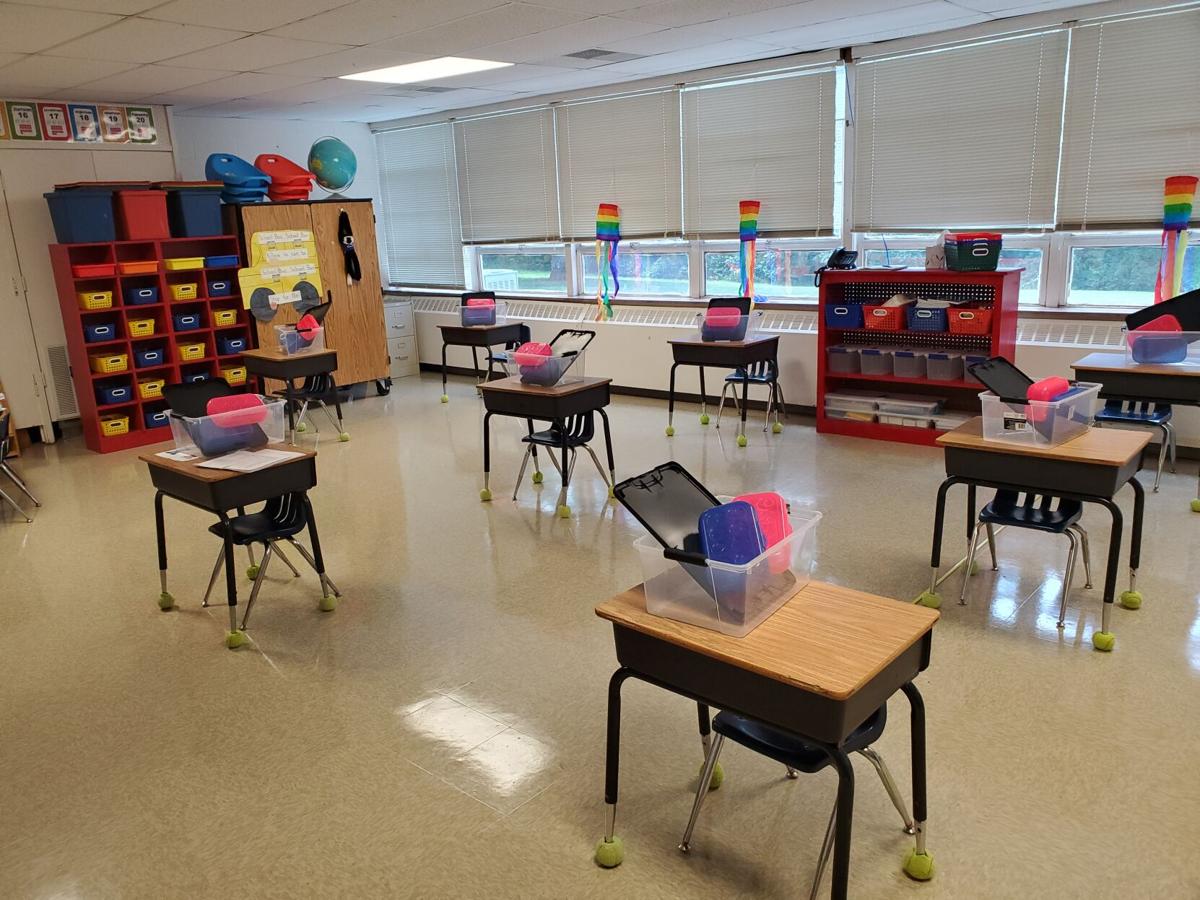 When classes begin next week, it'll be the start of an unprecedented school year, with some students in the classroom and others completing all of their work from home. Regardless of where students will be, Madison County Public Schools staff members are working to make sure things go as smoothly as possible.
Tuesday will mark the first time students have been in the classroom since March when schools were abruptly closed due to the COVID-19 pandemic. The closure forced Madison students online, will all students completing a special four-week fourth quarter. Now, schools are set to reopen, but things will be very different.
This school year, parents have the choice to enroll their child in a blending learning model which combines virtual learning with in-person learning or a 100% virtual learning option. Under the blended model, students in pre-kindergarten through third grades will attend school four days per week with Wednesday being an at-home learning day. Fourth-seventh grades will attend school two days per week and be assigned to either Monday and Tuesday or Thursday and Friday with the remaining three days being at-home learning days. Students in eighth through 12th grades will attend school one day per week, as chosen by the principals, with the remaining four days being at-home learning days.
Kindergarten classes will be housed in the school board office; pre-kindergarten, first and second grades at Wetsel Middle School; third through fifth grades at Waverly Yowell Elementary School; sixth through eighth grades on the first floor of Madison County High School and ninth through 12th grades on the second floor of the high school.
According to assistant superintendent Cathy Jones, 65% of Madison Primary School students have chosen the blended model, with 35% opting for virtual learning. She said 55% percent of Waverly students have chosen blended with 45% choosing virtual. Of Wetsel students, 51% have chosen blended with 49% choosing virtual and 60% of high schoolers have chosen blended with 40% virtual.
Work has been ongoing to prepare for both sets of students.
Director of administration Tina Weaver said classrooms have been relocated as needed with furniture and technology being moved between rooms and buildings. She said classes have also been split with some rooms holding eight to 10 students and others 12-14 depending on the size of the space. She said the ultimate goal is to have desks separated by at least six feet, if not more. But it's not just classrooms that have moved. Administrative offices have also been moved, with people basically going wherever there was available space. Plus, some facilities, especially those at the middle school, have had to be retrofitted for use by younger students.
She said each building has been deep cleaned and lines have been made to keep students six feet apart, with spots on the floor to stand on, similar to what has been done in commercial businesses throughout the state. Desk shields, essentially a three-sided see through shield, have been made available, but are not being utilized in most classrooms. Playgrounds will remain closed, but schools will be utilizing open space for recess and recreation and water fountains are turned off in favor of a water dispenser for school provided water bottles. Bus transportation has been planned, with students assigned seats, one student per seat, with siblings allowed to sit together.
"There has been a lot of moving parts, but we're ready," Weaver said, crediting staff members with their ability to adapt. "Our staff has been flexible and willing to change."
Students will be required to wear masks on the bus and in hallways and common areas. They will not have to wear them when seated at their desks. The school division is providing each student with a water bottle that can be refilled at filling stations at each school and masks will be available for those who need them. Hand sanitizer will be available for use.
As for technology, device pickups were held last month with younger students being assigned iPads and older students Chromebooks. The school system has also purchased hotspots to increase internet connectivity as well as bus with internet service. It's currently unknown exactly where the bus will be, but school administrators have been traveling around the county looking for ideal locations that will serve those in need of internet service. All students will be using the Canvas online content management system. It's basically a designated place for students to store everything they need for a course with teachers also providing items in the same place. A quick login reference has been posted to school division's website at www2.madisonschools.k12.va.us.
One of the main things changing has been food service. According to supervisor of food services Patty Seale, her staff is ready to serve students. The staff maintained a drive through meal service for children from the time school was closed in March through last week. Now, they're ready to serve students in and out of the classroom. While in school, students will come to the cafeteria and pick up meals, taking them back to their classrooms to eat. This includes breakfast. Meals are also available for those learning virtual and the days during the week students are not in the classroom. These meals can be ordered with pickup on Wednesdays. Unlike the previous program, these meals are not free and will be charged the usual $1.10 for breakfast and $2.55 for elementary lunch and $2.65 for secondary lunch. Those who apply and qualify for free and reduced meals will have their rate reduced accordingly. Seale encouraged everyone to apply for free and reduced lunch. Earlier this year, EBT cards were sent to those enrolled in the program.
"You never know when they'll do that again," she said.
Information was included in student packets regarding free and reduced meals. Families can also apply at www.lunchapplication.com.
Each individual school has also worked to make sure students will receive the instruction needed, but also enjoy some normalcy in their education.
Madison Primary School Principal Mike Coiner said this school year will be one full of challenges with students relocated due to the school's ongoing renovation and operations altered in order to best protect everyone's health and well-being. He said having students housed in two separate locations, with kindergartners at the school board office and other grades at the middle school, will require a concerted effort to keep everyone connected.
"As a start, we want to utilize Zoom for the delivery of morning announcements, allowing our students at both locations to see their principal and assistant principal, hear the same message and start their day together," he said. "Another school-wide event that is important to us is our Friday 'Bucket Filler' assembly. This is a recurring event in which we promote and recognize positive character traits and we want to utilize Zoom as a platform for that as well."
Coiner said the addition of Dr. Kathleen Gentry to the administrative team will also allow the school's administrators to spend meaningful time in both buildings.
Classrooms will also look a little different with teachers directing two subgroups of students housed in two, adjacent classrooms. Coiner said each teacher will be paired with an instructional assistant with each spending equal time in both rooms.
"This allows us to limit the number of students in each room to 12 and to ensure a minimum distance of six feet between student work stations," he said.
Students will also each their own personal storage container in which to keep their purchased supplies, as well as personal sets of instructional materials and resources provided by the teacher. Students will not be sharing materials this year.
Students will still enjoy recess, and will actually have a second recess added to their schedule. Coiner said students won't share balls or toys, but instead will participate in structured games and activities that allow for physical movement while maintaining physical distance. Weather permitting, recess will be outside on blacktops and grassy areas and will be scheduled so as to mitigate mixing between classrooms.
Something to keep in mind with the new setup is that space is limited which means a more regulated approach to arrival and departures. Those picking up students should arrive to the school board office after 3:10 p.m. and those at Wetsel after 3 p.m. Visitors will also not be allowed in buildings this year and will need to check students in and out during the day at the door. Because of the change, parents won't be able to walk their children to their classrooms upon arrival and are encouraged to take their "first day of school" pictures prior to arriving on location.
Over at the elementary school, students won't be in a different building, but they will have some changes. Principal Joe Kubricki said students will not switch rooms like they have in previous years and instead, teachers will go to the students. He said desks have been spread out six feet apart to allow students to take their masks off. Desks do not have desk shields. Similar to the younger students, elementary students will have recess twice a day, in the morning and in the afternoon, as well as specials like art, music, PE, library and school counseling twice a day. Students will be 10 feet apart at recess or in PE and will be kept six feet apart in common areas. Only one student will enter the bathroom at a time.
Kubricki said this school year will definitely be different, but everyone is navigating the changes together.
"Our motto this year is 'We are all in this together'," Kubricki said. "We ask that parents keep the lines of communication open. This will be imperative this year. We will get through this together."
Middle school students will get to see what it's like to be in high school as they take over the first floor of the building. Principal Donald Dodson said students have been assigned rooms and teachers will rotate in at scheduled times to guide instruction. He said unlike previous years, social studies and science classes will be yearlong instead of semester based and all students will have four core classes, two electives, PE and social emotional learning.
Dodson said shields have not been placed in the classrooms, but desks have been arranged to ensure social distancing measures are observed. Brain break 10 minute activities have been built into the day to provide students with opportunities to socialize and explore hobbies or interests. Students won't use lockers, but will be allowed to bring backpacks to class which is a change from previous years.
Communication and innovation are two of the major themes for the school year, which Dodson said is true for all stakeholders. Like Kubricki, he said open communication lines, up to date phone numbers and reliable email addresses will be invaluable.
"It is imperative that students are checking in daily by logging into our Canvas learning system, interacting through phone or email with their teacher or advisor, or keeping a learning log," Dodson said. "We have asked our teachers to think outside the box and provide lessons that incorporate 21st century skills like collaboration and leadership."
For virtual learning, Dodson said students should be encouraged to participate in activities and learning opportunities through video lessons. He said if possible, parents should establish guidelines for their virtual or distance learning such as a specific area to complete assignments or work on Canvas modules. Areas should have appropriate backgrounds and school rules regarding clothing and internet usage should be observed. He said virtual teachers will review expectations with students pertaining to assignments and video meetings.
Dodson said he's grateful to the high school staff for sharing their space, as well as to the maintenance and custodial staff who worked long hours to move everything. He said being in a different building won't affect the school's identity.
"We believe our school's identity is made up by teachers and students and is not encompassed in a brick and mortar building," Dodson said. "We will celebrate our students and continue our traditions to ensure our students are prepared for their true high school experience."
Madison County High School
Students enrolled in ninth through 12th grades will have a bit of a unique situation this year. Despite whichever model was chosen, all students will essentially be learning virtually. However, a variety of supports have been created.
According to principal Betty-Jo Wynham, each student will have a typical class schedule of four classes per semester. However, those classes will all be handled virtually. Students who have chosen the blended model and will attend one day per week, won't be switching between classes throughout the day, but rather be assigned an advisory group. Groups will consist of 10 students in one room and the advisor will coordinate support from the student's core teachers. Students will be grouped by grades, with 12th grade students attending Monday, 11th grade Tuesday, 10th grade Thursday and ninth grade Friday. Wednesday is a cleaning day. For virtual learning students, they will also be signed an advisor who will serve as a liaison between each student and their core teachers to ensure they're receiving the support they need.
Students will also have a peer connection, with a familiar face in their advisory group. Teachers will have the option of pulling students from their advisory group for extra help. In addition, students can also sign up to attend one of three virtual learning hub support sessions—morning (8-11:30 a.m.), afternoon (12:30-3:30 p.m.) or evening (5-8 p.m.). Morning and afternoon sessions will be held Monday, Tuesday, Thursday and Friday with evening sessions Monday, Tuesday and Thursday. The hub, which will be held in the cafeteria with teachers reinforcing and supporting learning, will be open to 20 students per session. Students will be able to register for the following week's hub times on Fridays.
Wynham said the hub offers students a college workspace feel with solid internet service to complete assignments.
"The beauty is, teachers could say Monday they'll be in the virtual learning hub if students need help," she said.
To keep the school community feel, students will also have Zoom school-wide morning meetings with administration and counselors from 8:10-9:10 a.m. The meetings will include virtual college visits and social-emotional learning. Students will also have two brain breaks per day. Advisors will meet with students one on one 9:30-11 a.m. and will do the same again 2-3 p.m. for a check out each day to ensure students are getting what they need.
Wynham said as in other schools, students will eat meals in the classroom, won't use lockers and will wear masks when not seated at their desks. Physical education teachers are creating innovative approaches including stretching, yoga, choreographed dances and individual skill focuses. Clubs will still be held, with virtual meetings, and a new integrative leadership program has been created.
"We really put a lot of planning [into the return to school]," Wynham said. "We want to keep everyone safe while building on the momentum we created last year.
"I'm excited," she added. "We truly appreciate the community support."
Excited to start the year
Despite the challenges associated with COVID-19, teachers and are also excited to welcome students back to school.
Fourth grade teacher Kayla Davis will be teaching students enrolled in the blended option. She said she'll have two groups—group A Monday and Tuesday and Group B Thursday and Friday. She will teach both groups language arts and Virginia studies in person, with Wednesdays available to provide extra support by answering questions or meeting with students virtually.
On days students are in school, they will have small class sizes to allow for specialized instruction to meet individual needs as well as to meet social distancing requirements. All students will participate Wednesdays virtually to allow for deep cleaning of the school building, something that will occur at all county school facilities. For the "at home" learning days, students will have assignments to complete via Canvas.
"As teachers we are creating fun, interactive activities for our students to remain engaged with their learning, but also allow for social distancing," Davis said. "Videos were created for students to view the new expectations throughout the building and will be practiced during the beginning weeks of school to ensure everyone is safe."
She said videos are also being created to teach new concepts and read books aloud for students.
"Using new technology is helping us to increase the variety of learning opportunities and we will be using project based learning a great deal this year," Davis added.
Eighth grade science teacher Kimberly Adams has also enjoyed planning for the upcoming year.
"Planning for this school year has been exciting," she said. "We have explored new tools and strategies to prepare for the students to return. At the end of the day, we want students to have positive experience learning. The key is to always put the student first."
Special education teacher BB Slaven agreed.
"The start of the school year has had its challenges, but working together with my co-workers has made each workday productive and intensified my excitement to meet my students," she said.
Most importantly, teachers are ready to get back in the classroom.
"I am looking forward to getting back in the classroom and doing what I love to do, teach!," Davis said.
Be the first to know
Get local news delivered to your inbox!