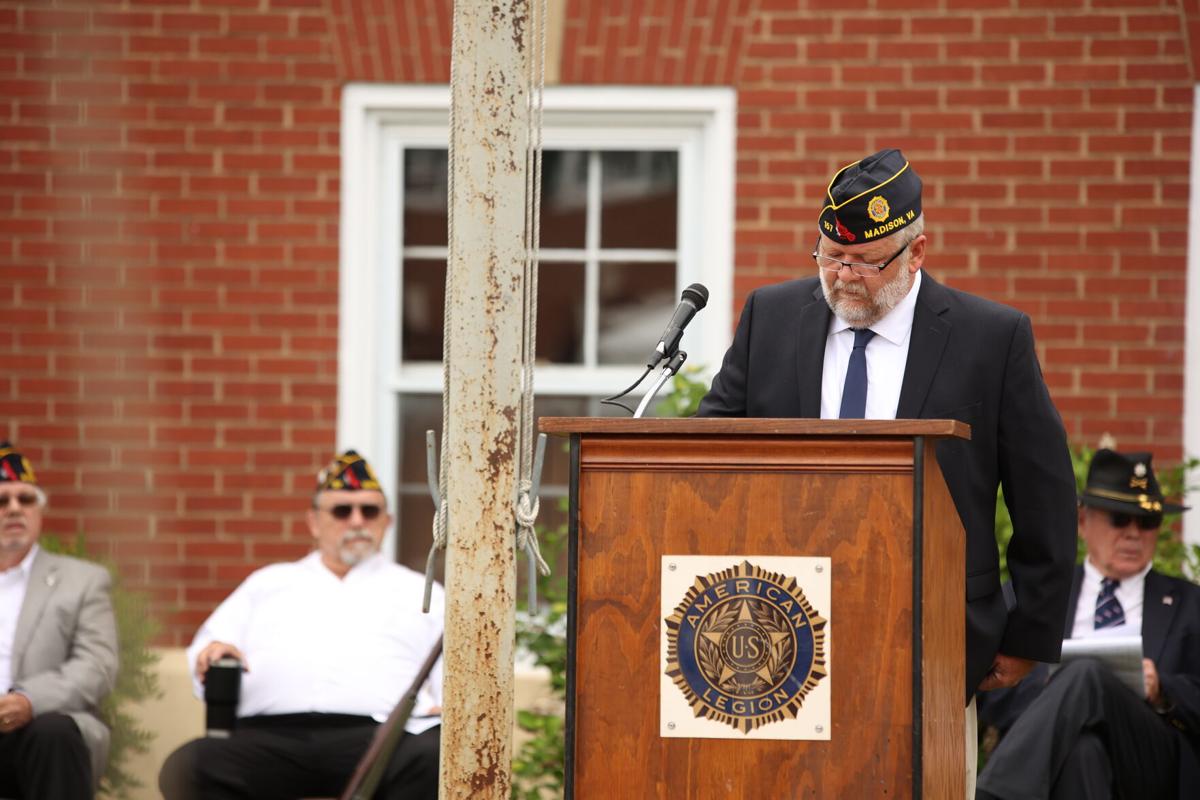 In a sign that perhaps the strains of the pandemic are behind us, the Madison American Legion Post 157 returned to the War Memorial Building grounds for its annual Memorial Day Ceremony Monday.
The ceremony, which drew a crowd of attendees, is held annually to honor those who gave the ultimate sacrifice for our freedom. Fifty Madison County residents are among those, with their names memorialized in the monument located on the square.
Post commander Mike Fisher called attention to the monument in his opening statement.
"We're here today to honor and respect all Americans who have died for this great country in all of its wars, but especially the 50 names to my left which are all Madison County citizens. It means so much to me and everyone in Madison County that we respect these people today."
Fisher then read the beginning lines of poet Theodore O'Hara's "Bivouac of the Dead."
"The muffled drum's sad roll has beat
The soldier's last tattoo;
No more on life's parade shall meet
That brave and fallen few.
On Fame's eternal camping-ground
Their silent tents are spread,
And Glory guards, with solemn round,
The bivouac of the dead."
"Again, 50 names who sacrificed for their country," Fisher added. "May we never forget that freedom isn't free."
Monday's guest speaker was David Lewis, US Army Veteran. Lewis moved with his family to Madison as a teen in 1976. He attended Madison County High School before enlisting in the Army as a combat engineer private in 1980. He later became a helicopter pilot and completed his last active duty assignment in 1988. After that time he moved back to Madison, began working as a surveyor and in 2000 became a Licensed Land Surveyor and started Lewis Surveying. He is married to Ronda Lillard, has three children and 10 grandchildren.
Lewis said some holidays are getting forgotten about lately. Armed Forces are for those who are serving; Veterans Day are for those who have served and Memorial Day is for those who have given all in their service. He told the story of 19-year-old Private John Towle whose unit was attacked in Holland in 1944. He rushed approximately 125 yards through enemy fire to a spot where he could engage an enemy with his rocket launcher. He was mortally wounded, but saved the lives of many of his fellow soldiers and was instrumental in breaking up the enemy attach. He received the Medal of Honor posthumously.
Lewis also told the story of 25-year-old Ellen Ainsworth, a second lieutenant with the U.S. Army Nurse Corps. When the hospital where was working was struck by Germans in 1944, she and three other nurses evacuated 42 patients to safety. She died days later from being struck in the chest by shrapnel during the attack.
"There are countless others who paid this price," Lewis said. "Patriots have made this sacrifice from Afghanistan to Valley Forge. They gave all. John 15:13 says a greater love has no one than this: to lay down one's life for one's friends. They laid down their life for their brothers and sisters in arms, their family, their country and for us. They didn't do this for a president, a king or queen; they didn't do this because [someone] made them. They died for a country where we believe all men are created equal. A place where you should be judged by your actions and the content of your character where you can be whatever you want. We see the graves and flags and monuments to these men and women, but there are far more. We don't see the families who are touched by this loss.
"We don't see all the sacrifices that are made, but we can honor and remember their sacrifice," he added. "We can ensure the following generations know of the lives these people lived and realize the price that was paid."