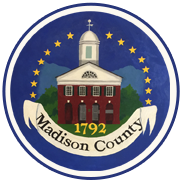 Mini-storage units will soon be coming to Thrift Road.
Earlier this month, the Madison County Board of Supervisors approved a rezoning application by Madison Land Holdings, LLC owner Powell O'Bannon to rezone a six acre portion of his 39.1 acre parcel from R1 limited residential to M1 limited industrial. O'Bannon submitted a proffer letter limiting the M1 zoned area exclusively to a "storage facility." The parcel is located on Fishback Road, adjacent to the water treatment plant.
O'Bannon, who owns numerous other mini-storage facilities throughout the region, said he plans to do a phased approach eventually with seven mini-storage structures, two of which would measure 65' x 200' and five measuring 65' x 150'. There would also be an office with a restroom.
Neighboring property owner Shirley Nealy and Madison Presbyterian Church representative John Quinley asked for specifics in terms of aesthetics and the entry and exit to the facility. Those questions will be answered once O'Bannon submits a site plan for review and approval.
The rezoning was recommended by the planning commission, 8-0 and approved by the supervisors 5-0. Planning commissioner Mike Mosko was absent.
During the meeting, planning commissioners also recommended, and supervisors approved, removing the provision in the county's zoning ordinance that requires a well to be drilled before the issuance of a building permit and removing the article dealing with political signs.