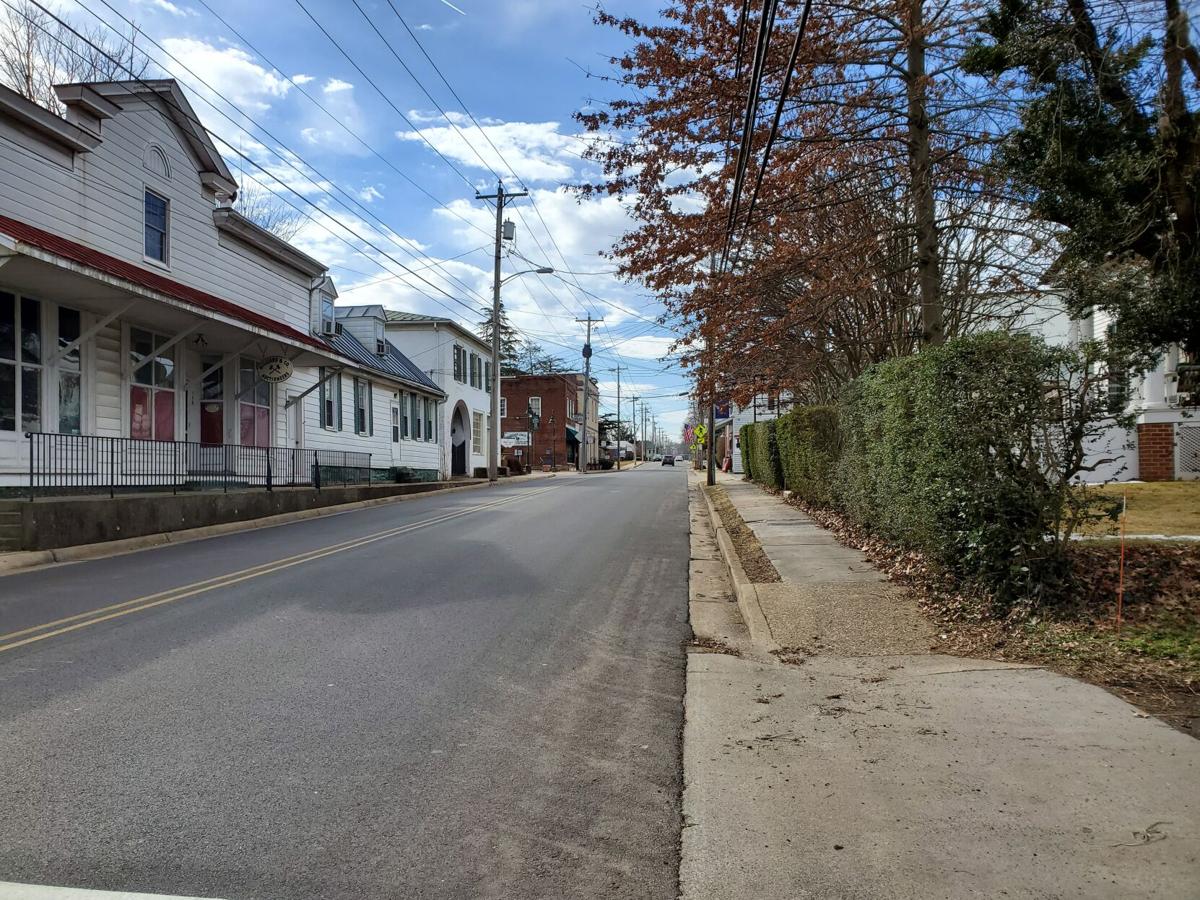 The regular meeting of the Madison Town Council became animated after Madison Free Clinic's Executive Director Brenda Clements appealed to the council to create an ordinance to resolve a parking issue with neighboring business, BulletProof. Clements told members of the council that staff and patients of the free clinic have encountered problems crossing the street because parked cars in front of the gun shop impair visibility.
Clements asserts that clinic patients and staff have had problems safely crossing the street since the clinic moved to the building at 125 N. Main St. last summer. The clinic's parking and entrance is via an alleyway that runs behind the building. After inquiring about who bears responsibility for parking enforcement she appealed to both VDOT and law enforcement. After a site visit, VDOT put a "No Parking" sign for the western side of the street between the clinic and the crosswalk. Despite the sign, BulletProof owner Josh Phillips and his customers continue to park there which according to Clements creates a hazard for drivers and pedestrians leaving the clinic. When she appealed to law enforcement, the Virginia State Police told her it wasn't their jurisdiction and the Madison County Sheriff's Office refused to enforce parking regulations without an ordinance. Clements appeared at the board of supervisors' meeting late last month to inquire about a parking ordinance, but supervisors said the issue is a town one. Supervisor Carty Yowell said he has come close to being clipped coming out of the alleyway.
"This is a safety issue," said Clements during the town council meeting. "We've had way too many near misses here because you can't see oncoming traffic."
Other town residents argued that Clements' dispute with BulletProof is purely politically motivated and not a safety concern.
"This wouldn't be an issue if we were a flower shop or bakery," said Phillips.
Several others stepped forward to assert that Clements had political motivations.
Juan Rodriguez, a tenant in the BulletProof building complained that Clements was behind a campaign of harassment of the store and its customers.
Matthew Hoosier called Clements' actions to address the enforcement of parking regulations a "clear vendetta" and accused her of verbally attacking him.
"You can't take people's rights away, you can't let political agendas infringe on our rights," said Hoosier.
Other town residents used the public time to express their discomfort with the vulgar political signage on the BulletProof store front.
Cindy Taylor expressed frustration and concern about both the political flag that hangs on the side of the building and the store's prominent anti-mask sign.
"Everyone has a right to express their political opinion," said Taylor. "This is our historic main street where we welcome visitors and tourists and there are hostile and antagonistic signs. I'm a big first amendment proponent but just be nice, be friendly."
Town resident Jennifer Campbell also expressed concern about the inflammatory nature of the anti-Biden flag displayed above the store.
"I support freedom of speech but you have to acknowledge it has consequences," said Campbell. "This blatantly obvious display is an insult to the community and costs our town."
Campbell also suggested moving the crosswalk might resolve the danger and provide a viable alternative.
Phillips responded to their concerns by explaining that he didn't hang the flag that it belonged to Rodriguez and contended that he parked in front of the store to protect it from attack in this polarized political climate.
Vice mayor Nancy Knighting addressed Rodriguez about the possibility of removing the flag and he responded he would consider taking it down.
Both Clements and her husband Andy once again affirmed that they had no political axe to grind.
"I want all businesses in the town to succeed," said Andy Clements. "Nobody was more excited when [BulletProof] opened. This is simply a safety issue."
Town attorney Maynard Sipe stated there was no need for an additional ordinance to enforce parking as the state code already provides guidance.
Both mayor Willie Lamar and board of supervisors chairman Clay Jackson expressed a desire to resolve the problem and for all parties to work toward a resolution.
"We want businesses to thrive here, but we also have to have concern for public safety," said Lamar. "Parking along Main St. has always been problematic because the road is narrow. Moving the crosswalk may provide a solution."
"We need to work together as a community because community is the best part of this county," Jackson said.