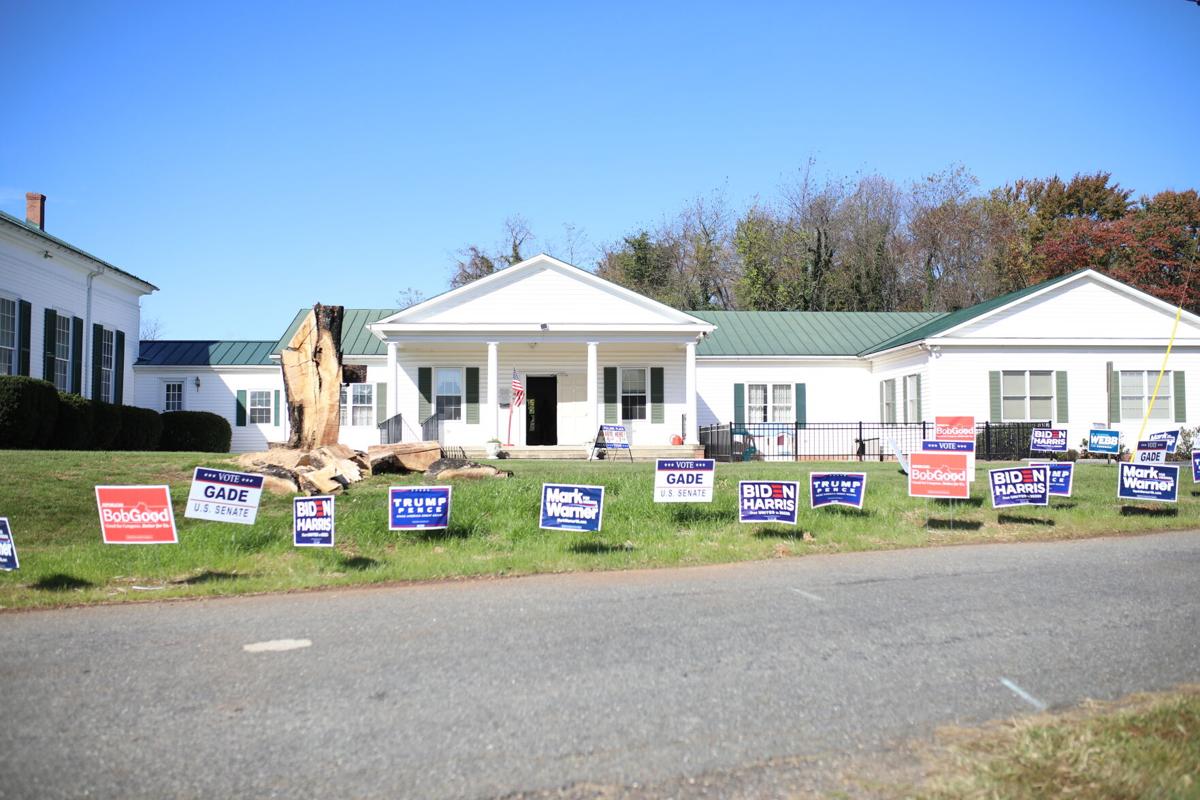 Madison County voters cast ballots Tuesday choosing a president, senator, Fifth District House of Representatives member and answering "yes" or "no" to two constitutional amendments.
As in years past, county voters went red, selecting Republican incumbent Donald Trump as president and Mike Pence as vice president; Republican Daniel Gade as U.S. Senator and Republican Bob Good to represent the Fifth District. County voters also supported both constitutional amendments, bubbling in the "yes" selection over "no."
President Trump received 5,300 votes in Madison County or 65.2%. Democratic opponent and former vice president Joe Biden received 2,698 votes, 33.19% and Libertarian received 106 votes, 1.3%. There were 25 write-in votes, .31%.
Republican Daniel Gade received 5,156 votes in Madison County, or 63.75%, exceeding the 2,925 votes cast for incumbent Democrat Mark Warner, 36.16%. There were seven write-in votes, .09%.
Republican Bob Good received 5,062 votes, 62.8% , in Madison County compared to Democrat Cameron Webb, 2,959 votes, 36.71%. There were 40 write-in votes.
On the first constitutional amendment, 4,853 votes, 63.94%, voted in favor of establishing a redistricting commission comprised of eight General Assembly members and eight citizens who will be responsible for drawing the congressional and state legislative districts.
On the second, 6,975 voters, 87.88%, voted in favor of allowing a state and local tax exemption on vehicles owned and used primarily by or for a veteran of the U.S. armed forces or the Virginia National Guard who has a 100 % service-related permanent and total disability.
Meanwhile, at the state level, according to department of elections data, Virginia went blue for the presidency, choosing to elect former vice president Biden with 2,383,697 votes, 53.94%. Trump was the choice for 1,952,099 voters, 44.18%, and 64,067, 1.45%, Virginia voters chose Jorgensen. Nearly 19,000 voters opted to write-in a candidate, .43%.
With 2,436,490 votes, 55.83%, Warner held onto his Senate seat. Gade received 1,923,147 votes, 44.07% and 4,171 voters wrote in a candidate.
In the Fifth District House of Representatives race, Virginia voters chose Good with 210,986 votes, 52.44%, over Webb who received 190,313 votes, 47.3%. Write-in votes totaled 1,014, .25%.
Votes on the constitutional amendments fell in line with those of Madison residents, with approximately 2.7 million voting "yes" on the first and approximately 3.7 million voting "yes" on the second. State results will be certified next week.
Nationally, the presidential election was still undecided as of Monday. Both candidates have declared victory at various times since Election Day and the most recent update had Biden as the projected winner. Members of the Electoral College will officially vote Dec. 14.