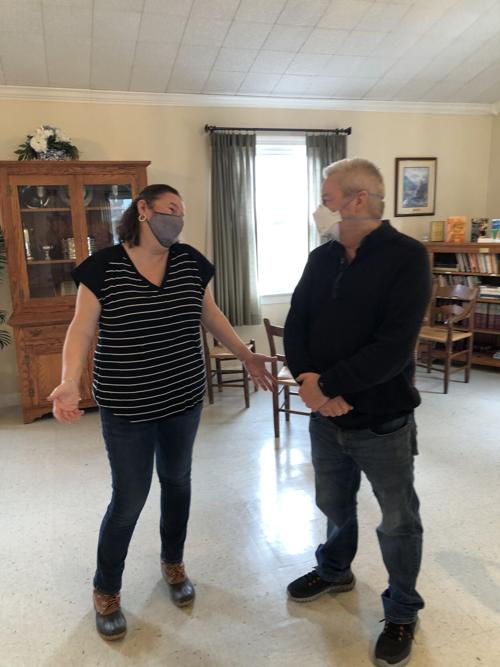 After serving as the interim director of the Madison Free Clinic since early March, Jana Jackson has been hired as the new executive director. Jackson fills the position that Brenda Clements held from 2016 until her retirement on March 6.
Jackson has been a lifelong Madison resident; she grew up in Madison County and is now raising her own family in Madison as well. She brings a variety of experience to the job and throughout her career she has worked as an EMT, been involved with other area non-profits including being a member of the MESA board and was serving as the administrative assistant for the Madison Free Clinic until Clements stepped down.
Jackson began working for the free clinic last year and had been gradually taking on more responsibilities, including organizing this past winter's health fairs. She is looking forward to this new chapter and welcomes the opportunity to help the community.
"This is my community," said Jackson. "I grew up in Madison and have raised my family here. I really believe that you should do what you can to help others in your community. It's important to be compassionate about the people and the community as a whole. I'm looking forward to meeting and helping more of my Madison County neighbors."
Jackson is looking to help the Madison Free Clinic grow; in the number served, in services offered and eventually to a larger space. She is hoping to reach those goals by increasing community awareness about the free clinic and partnering with other Madison County non-profits.
"There are still people in our community that don't realize we are here to help," said Jackson. "We are partnering with DSS [Department of Social Services] to provide Medicaid screening for Madison County residents. If they don't have insurance and don't qualify for Medicaid they can become free clinic patients."
Jackson believes there are a large number of Madison County residents who may be eligible for Medicaid or free clinic services and thinks the collaboration will potentially reach more county residents.
With Jackson becoming the new executive director it left a vacancy in her old role as administrative assistant. Ren LeVally, a veteran of many local non-profits has stepped into the role. LeVally noted the clinic has seen a large increase in patients seeking dental care.
"I don't think I've ever had a more rewarding job," said LeVally. "There's something about helping people get care to get healed and healthy. I'm really glad to be a part of it."
The Madison Free Clinic serves the uninsured population of Madison County. Financial eligibility for service is determined by the number of household residents and income level. The clinic uses the 2021 Federal Poverty guidelines and uninsured Madison County residents that make up to 300% of the Federal Poverty Level qualify for care. A single person can earn up to $3220 monthly or $38,640 annually and for two people the cutoffs are $4355 monthly or $52,260 annually.
For more information about the Madison Free Clinic call (540) 948-3667 or visit the website www.madisonfreeclinic.org. Office hours are Tuesday from 3 p.m. - 6 p.m., Wednesdays from 9 a.m. - noon and Thursdays from 4 p.m. - 7 p.m. but at this time, staff is asking people to call before coming to the office.