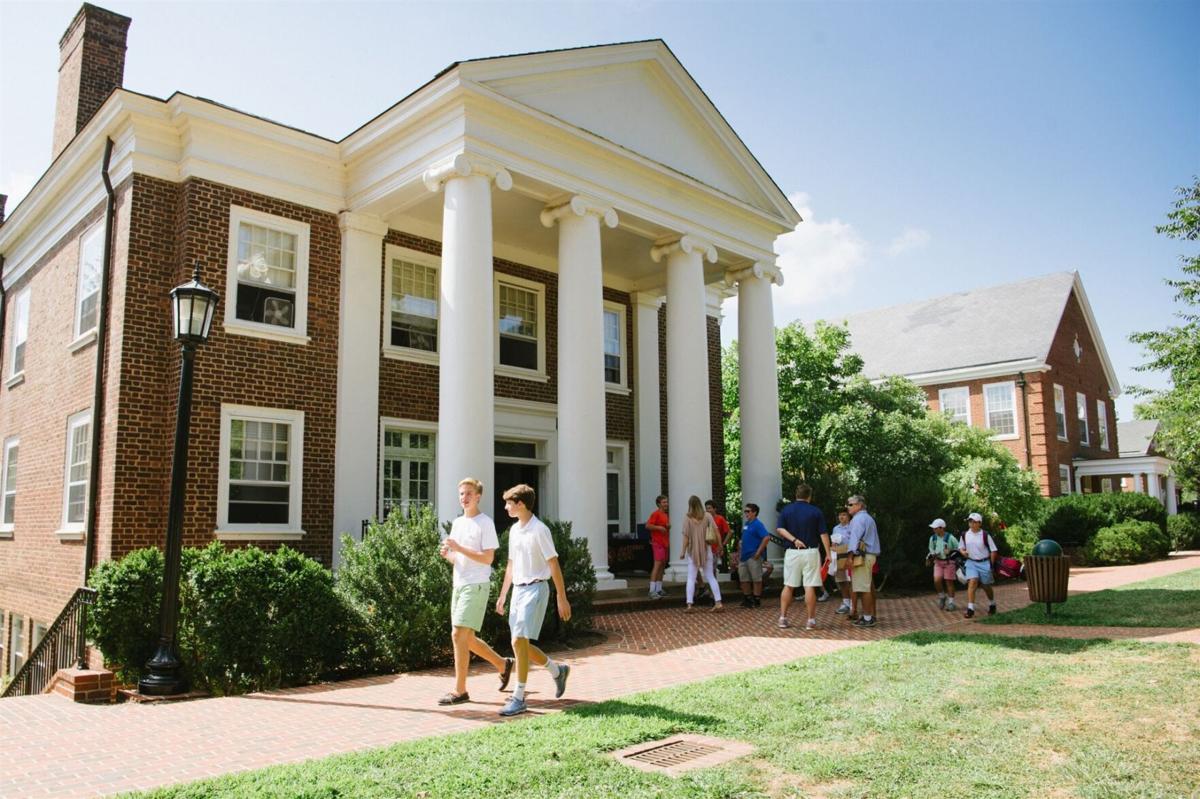 Local public schools are not the only educational institutions gearing up for opening day of the COVID-19 era. Grymes Memorial School in Orange and Woodberry Forest School in Madison County, also are making careful plans for the new school year.
Students at Grymes, a private day school for children in "junior kindergarten" through eighth grade, will begin classes on Sept. 8. Headmaster Jonathan Brand said physical distancing will be required "both in our classes and around campus." Children will wear masks on school buses and in other situations where distancing is difficult to maintain.
He said there will be an increased emphasis on basic hygiene, and the daily schedule has been adjusted to allow more time for cleaning and disinfecting school buildings.
Further, parents will be provided with a checklist so they can screen their children each day for signs of illness, and students will have their temperatures checked every day at school.
Brand said the school has been working with the local health department as it plans for its reopening and following guidelines provided by the state, the Centers for Disease Control and Prevention, the American Academy of Pediatrics and the department of social services. Like all schools across Virginia, Grymes closed in March when Gov. Ralph Northam shuttered schools across the state due to the pandemic. Students quickly shifted over to online classes.
"Unusually busy admissions season"
According to Brand, the pandemic has caused a surge in inquiries for the coming year.
"We're having an unusually busy admissions season this summer. Inquiries and visits and applications have increased dramatically, really over the last six to eight weeks. We have quite a few families at various stages of the admissions process," he said.
At Grymes, parents calling for information have expressed "a desire for their children to be in school five days a week. We have a plan in place to have students and faculty back in school," Brand stated.
The Orange County Public Schools are giving families a choice between an online education and a blended model allowing children to attend school in person for a limited time each week while studying online the rest of the week. Other public school divisions across the state are offering the same choice or opting for online classes only.
Brand said no staff members have resigned or retired in response to the pandemic, but a few families had withdrawn their children for financial reasons related to the crisis or out of a desire to limit their potential exposure to the virus.
Brand said the "number one concern" among teachers "is the health and safety measures in place for the whole community, for both our students and teachers."
He said he and his staff have been "working really hard to follow [official] guidelines and develop policies that will allow everyone to flourish as teachers and learners and, at the same time, keep everyone safe."
The day school had about 150 students last year, and Brand said enrollment for the new school year will be in the "140s" or "150s." There is a waiting list at three grade levels—what he considers an encouraging sign of interest but also a problem, since the school wants to accommodate as many families as possible.
With 40 acres surrounding the buildings, Grymes has long made use of the grounds for outdoor classes as well as sports and recess.
Brand said, "Teachers have often taken their students outside, for quiet reading, creative writing, art projects and physical education. This year, we purchased chairs and mats that students will be able to use sitting outside on the grass."
He added that Grymes is considering buying large tents to accommodate more outdoor activities.
Although students will not be competing against other schools in soccer or field hockey, he said they'll have the opportunity to practice those sports on campus, "with an emphasis on fitness and skill-building."
As for cross-country, which accommodates physical distancing, Brand said no decision has been made yet. He doesn't foresee invitational cross-country meets involving multiple schools but hasn't ruled out competitions pitting runners from Grymes against one other school.
Full enrollment expected at Woodberry
Meanwhile, at Woodberry Forest, Headmaster Dr. Byron Hulsey is expecting a full enrollment of 400 boys for the coming school year. Students are slated to begin arriving on Sunday.
"We're excited to welcome the boys back to Woodberry Forest," he said in an interview with the Review. "We're doing everything we can to provide for the health and safety for the Woodberry community and the health and safety of the Orange County and Madison communities."
Students at the boys' residential prep school are required to quarantine for a week before their arrival and get tested for COVID-19 during that week. Only students with negative test results will be allowed on campus, according to the school website, though Woodberry has a "limited ability to offer a rapid test" on the day of arrival to those unable to be tested beforehand.
Hulsey said the school has relied on "expert counsel and advice at every turn when it comes to our policies on testing [for the virus], the use of our facilities and the mitigation strategies that we think are most important.
"We've tried to look at everything from the way we operate the school on a daily and weekly basis to COVID-19 testing to wearing masks to socially distancing in our classrooms—and really everywhere we turn," Hulsey said.
He added that he and his colleagues have sought out guidance from health officials at the local and national level and consulted with leaders of other private schools similar to Woodberry in the surrounding region and across the country.
There will be some noticeable changes to school traditions, Hulsey said, to meet physical distancing guidelines.
Students will continue to attend Monday night chapel services but will be divided into cohorts rather than going all together, and family-style evening meals "are not in the cards, at least for the first portion of the school year, and I think that's a loss.
"I think it's a loss that we can absorb, but it's not an ideal way to run a school like Woodberry Forest. But we believe it's better to do that than it is to keep the boys home and learn virtually, which we did this spring," Hulsey said.
"The first two weeks of the school year will require the most restrictive expectations around safety measures like face coverings and social distancing that we anticipate using during the year," the headmaster noted in a letter to Woodberry parents posted on the school website. "If we can make our way through that period and grow more confident that there are no active cases on the campus, we can loosen restrictions and allow boys to mix more freely with each other."
For the new school year, Hulsey expects 12% of the student body will be coming from outside the U.S. International students will follow the same arrival protocols as those who live in the States, he said.
For the time being, Woodberry students won't compete in sports against other schools. Instead, Hulsey said, current plans call for "daily exercise, intramural competition among the boys here. We know that any healthy school community requires physical fitness, and that's certainly the case for us. Boys will have a lot of pent-up energy and enthusiasm, and we hope to provide them with activities to stay fit and healthy."
Key concerns as the new year begins
Asked about their thoughts as the big first day approaches, Brand and Hulsey voiced similar themes.
Hulsey said, "My biggest concerns include doing what we can to protect the health and welfare of the Woodberry community and the wider community while at the same time advancing the school's mission and commitment to values and ideals that have shaped us from the beginning."
At Grymes, Brand said, "My hope is that we can all get back on campus and be safe and continue to learn, and I think it will be challenging for everyone, students and faculty alike, after being away for so many weeks in the spring."
The new safety protocols will take some getting used to, but he said, "My hope is that we can live with all of these new safety measures that still allow learning to flourish as it has."
Be the first to know
Get local news delivered to your inbox!