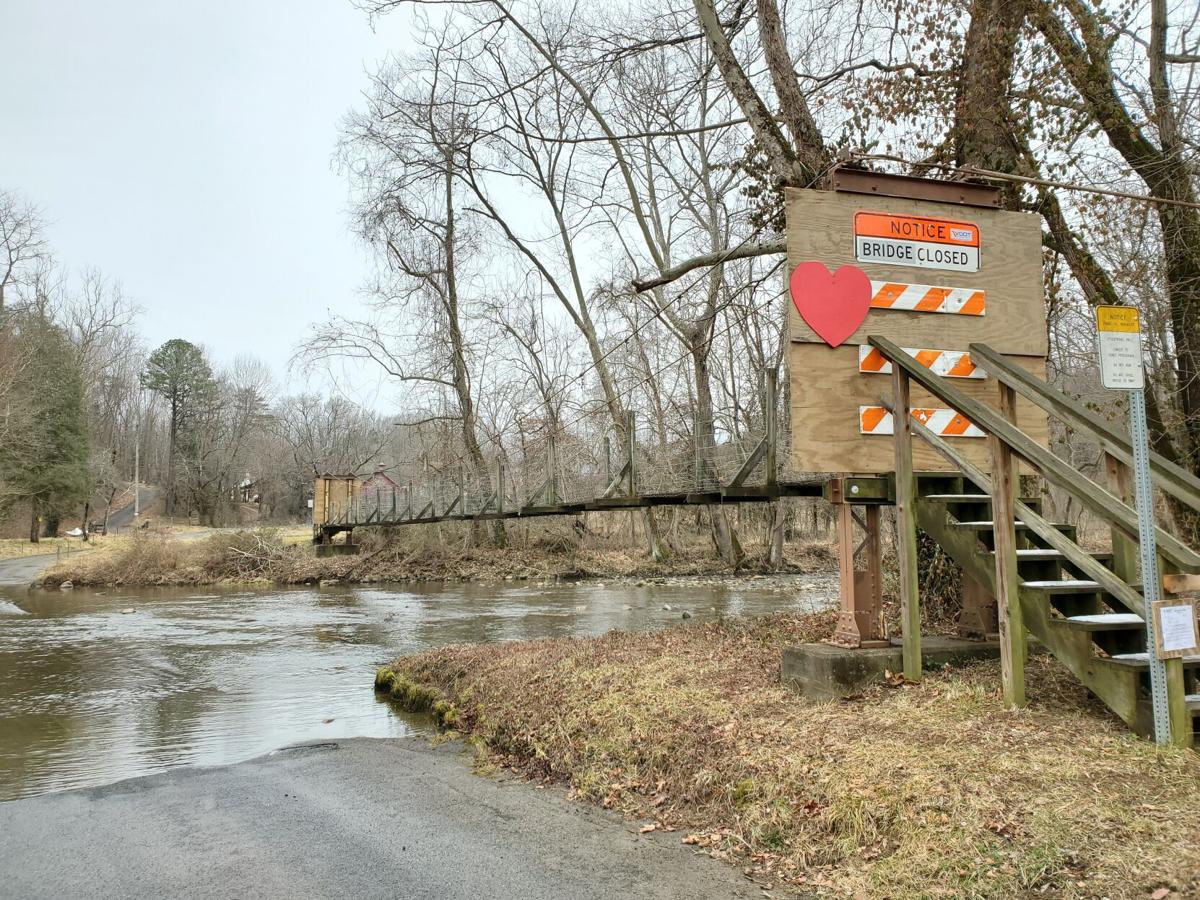 The Lindsay Lane swinging bridge remains closed, but there could be light at the end of the tunnel.
Last week, VDOT Resident Engineer Carrie Shepheard presented the Madison County Board of Supervisors with updated estimates for renovating or replacing the bridge. The structure was closed in October after a VDOT inspection revealed it to be in disrepair. The Meadows Lane bridge, further down the road, was repaired enough to remain open.
In November, Shepheard presented two options for the Lindsay Lane bridge including a new swinging bridge at a VDOT estimate of $1.5-2 million; a pre-fabricated truss at $1-1.5 million or abandonment and demolition at approximately $100,000. She said the estimates were done factoring the replacement as a VDOT engineered project and some savings could be realized if the project were done locally. Those estimates included widening the bridge to 6 or 10 feet to make it ADA compliant.
During last week's update, Shepheard presented estimates for rehabilitating or replacing the bridge with a 3 or 6 foot width, basically what is there now. Rehabbing the structure would keep the current foundation in place with the existing tower painted and all remaining elements replaced. Both options would require the right-of-way to be donated.
Rehabbing the Lindsay Lane bridge is estimated at approximately $749,000 if done by a contractor, approximately $439,000 if done by state VDOT workers. Replacing the bridge is estimated at nearly $997,000 if done by contractor, nearly $620,000 if done by state forces. Rehabbing the Meadow Lane bridge would cost approximately $735,000 if done by a contractor, $430,000 if done by state forces.
While the state forces option is clearly cheaper, Shepheard said there would likely be a significant time delay since VDOT is responsible for 1,700 bridges and structures. She said the preferred option would be using a contractor managed by VDOT.
As for funding, the options remain the same as in November—the transportation alternate funding program (TAFP) and the secondary six year plan telefees. The TAFP is an 80% federal, 20% local match and is awarded every two years via an application process. The next application deadline is Oct. 1, 2021 with funds awarded June 2022. Also a possibility is using the county's telefees via the secondary six year plan which amounts to approximately $40,000 annually and could be used for the 20% match. According to Shepheard, traditional secondary six year plan funds aren't applicable since the bridges don't carry vehicle traffic. Also not applicable are department of conservation and recreation funds which go toward recreation trails.
"However the county wishes to proceed is how [we'll go]," Shepheard said. "We'll help to make it happen."
Supervisor Carty Yowell asked once rehabilitated or replaced if VDOT would maintain the bridges to the level where they'd never have to be shut down again.
Shepheard said the bridges will have a life span, but VDOT would continue to maintain them in accordance with their procedures.
Another question is if the bridges can even be replaced with something that isn't ADA compliant. Shepheard and a fellow engineer said a design exception would have to approved by the state, but it's likely that would be given.
Meanwhile, several local residents have come up with a plan of their own to solve the bridge issue. The plan wasn't discussed in detail during the board meeting, but the supervisors said there were aware of it and it could create a "win-win" and would be a solution funded by the private sector.
Shepheard was asked to coordinate with the citizens developing the plan and report back at next week's board meeting.