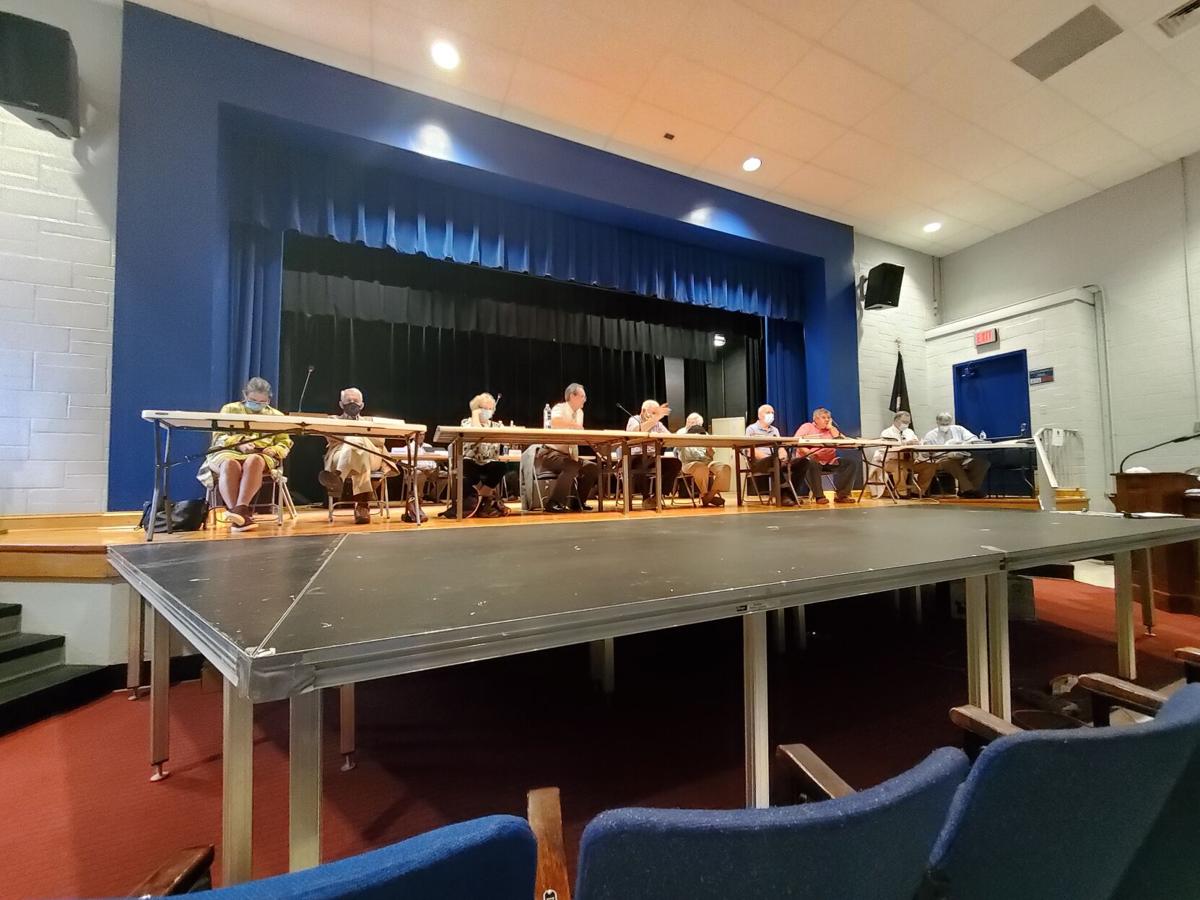 Outside, thunder rolled and rain pelted off the auditorium's roof, but inside the conditions were just as stormy as the joint public hearing regarding a special use permit for Crescere Agri-Resort lasted into the wee hours, with supervisors ultimately approving it just shy of 2 a.m.
In mid-May, Orange County resident Barbara Miller submitted an application for a special use permit which would allow the creation of a rural resort or event venue on a 762 acre property off Rt. 231 near Uno. The property was formerly known as Ken-Walt Farm and has since been renamed Crescere. It consists of several lots and is owned by Crystallis, LLC. Miller's SUP covers seven parcels with a total of approximately 749.3 acres and consists of a variety of buildings including a spa, welcome center, restaurant and cottages, plus glamping and camping sites.
Miller's application quickly became a hot topic in the county and surrounding area. A previous public hearing scheduled for July 1 was postponed after Piedmont Environmental Council (PEC) Field Representative Chris Hawk alerted the county that although it had followed procedure in notifying adjacent landowners, including those in other counties, it hadn't notified the Orange County administrator, something the code also requires. However, it's unlikely the project would have been voted on that night since county planner Ligon Webb's recommendation was to table it to allow more discussion on conditions volunteered by Miller. Several people spoke during the meeting and again at a work session in mid-July. Even more people submitted letters and emails regarding the project. More than 80 area residents—60 from Madison County—submitted letters and emails regarding the project with seven supporting it. Twenty-six people signed a petition in opposition of it.
Those letters and the names of those who signed the petition made up the bulk of last week's joint public hearing with county attorney Sean Gregg and county administrator Jack Hobbs trading off reading 140 pages of comments into the record. The reading began at 8:10 p.m. and finished at 12:28 a.m. The letters voiced concerns regarding noise, lighting, traffic, impact on the environment and the number of proposed annual events.
At the start of the meeting, county planner Ligon Webb addressed the main overarching issues from the letters. He said the comments received have and will improve the SUP as he explained that according to VDOT, traffic is already well below what one would expect on a road the size of Rt. 231. He also said environmental impacts will be addressed as the project moves through the building and zoning office with approvals required from the health department, VDOT and the Department of Environmental Quality. As for transferability, Webb said generally speaking, SUPs run with the land and any new owner has to follow the same conditions the previous owner had. He said he had been meeting with Crescere owner Barbara Miller and her team continuously to work on conditions for the permit, taking into account citizen concerns and advice from Hawk and Madison Matters' Jane Hammond. He said imposing conditions on the permit consists of striking a balance, one that allows the property owner to utilize their land, but also protects the community.
Webb introduced new conditions at the meeting, an update to the draft written July 23 and revised July 31. The changes between the documents mainly focused on the type and frequency of events.
As previously written, events will be categorized by three types—private, minor public events and major public events.
Private events include no outside or public promotion with attendees on site for a common purpose or celebration such as a wedding, reunion or corporate retreat. There will be no restriction as to the size and number of attendees except what is limited by occupancy of structures per the Virginia Uniform Building Code.
Minor public events include minimal outside promotion, with a combination of on-site, or overnight, guests and off-site guests. Guest counts can be from 25-750 total off-site guests and include small scale music events, group hikes, pick your own harvest, corn mazes and other similar events. There is no limit on the number of events, but the majority will take place April to November.
Major public events are those with significant promotion with more than 750 off-site guests expected. A month prior to each event, a representative from Crescere will meet with representatives from the sheriff's office and building and zoning office to discuss details and traffic management plans. Major events are capped at six per calendar year with any additional events requiring board of supervisors' approval. Events anticipated to draw more than 2,000 guests would also require approval by supervisors. A multiple day event, not to exceed three consecutive days, shall be considered a single event.
However, Webb offered changes to these, which would specify that private events could include on-site, or overnight, and off-site guests. In the changes, minor events would be decreased from 25-750 total off-site guests to 600 total off-site guests with on-site guests not counted toward the limit. Events with more than 600 off-site guests would be considered major public events. The previous draft had major events as those with more than 750 off-site guests or 1,000 when counting the maximum number allowed on-site via lodging. These types of events would still be limited to six, with additional events requiring board of supervisors' approval. Multi-day events, up to three consecutive days, would be considered one event. Agriculturally exempt events can have an excess of 600 guests per state code. The changes also expressly mentioned the submitted materials as being the application for the SUP and the concept and master plan.
"I think the document is in a better place," he said. "It's robust enough to really regulate events and [to where hopefully] Barbara Miller feels she can operate a successful business."
Co-founder and EVP of business development Sue Miller said she hadn't previously seen the changes Webb suggested. She said lowering the number of attendees from 1,000 to 600 for major events, thus further limiting the number of major events, would not be economically feasible. She asked that the board approve the July 31 draft of the conditions instead of Webb's changes.
"This says anything over 600 [guests], we can have six," she said. "That needs to change to have an economically feasible business."
Miller said she expects there to be 12-15 minor events per year and then six major events above those. She said events will already be limited since it's not possible to run events 365 days per year.
Innovative Audio and Sound's Brian Thompson spoke about the impact limiting the number of attendees could have. He said a small event, such as one for a semi-regional band, costs approximately $28,500. With 1,000 tickets sold, that's $28.50 at cost with no profit. Limiting the number of tickets increases the price of them, up to $114 per attendee with 250 sold. He said that would be unaffordable. A large event would cost approximately $90,500 with the price of 1,000 tickets at $90.50 each at-cost, decreasing down to $36.20 with 2,500 sold.
The remainder of the July 31 conditions included the maximum sizes for each structure, as represented in the master plan: a welcome center and restaurant not exceeding 7,000 sq. ft. in area; an event center not exceeding 12,000 sq. ft. in area; eight four season cottages not to exceed 2,000 sq. ft. in area per unit or eight glamping sites, but not both; a spa building not to exceed 3,000 sq. ft. in area; an open air pavilion with the size to be proposed at the site plan submittal stage; a dam bar not to exceed 2,000 sq. ft. in area; a lodge building not to exceed 3,000 sq. ft. in area; 14 hilltop glamping sites with two to six guests per unit; 12 river view glamping sites with two to six guests per unit; and eight family campsites with two to six guests per unit. The existing pavilions will be upgraded and a farm center will also be constructed, which is an agriculturally exempt building. Employee lodging units, which aren't part of the submitted master plan, will not exceed five units. The location, size and total occupancy of the units will be proposed in future site plan submittals. There shall not be any more than 42 total permanent overnight lodging units including glamping and camping sites.
Total overnight occupancy shall not exceed 230 total guests or the number of cumulative guests allowed per the established occupancy of each lodging unit, whichever number is lower. Each unit, including glamping sites, will be assigned a maximum occupancy by the county building official.
Seventy percent of the site shall remain undeveloped and in open space. Trails and agriculturally exempt buildings are not considered developed areas. There will be no development in areas identified in the 100 year floodplain, unless a dock or pier which is limited to two.
The project has to adhere to Virginia Department of Transportation (VDOT) recommendations and obtain Virginia Department of Health (VDH) approval for all septic and well systems.
All site lighting over 3,000 lumens shall be full cutoff fixtures with a 30-foot maximum height for any light pole. A lighting plan must be submitted with each site plan.
Fireworks will be allowed on July 4 and New Year's Eve and will require submittal and approval of the Madison County Fireworks Authorization Form. Any additional firework displays must be approved by the board of supervisors.
Noise, a topic that has been a major concern for neighboring residents, is also addressed in the updated conditions. All outdoor electronic amplification of sound shall cease at 11 p.m. Thursday through Saturday and 10 p.m. Sunday through Wednesday. An exception will be made for state and national holidays falling on a Sunday through Wednesday in which case music would cease at 11 p.m. Annually, three public events may have electronic amplified sound until 12 a.m.
The SUP is transferable and assignable, but the transferee or assignee has to follow all of the conditions and requirements within the SUP. Any significant deviation would require a public hearing.
The uncertainty regarding the conditions led many at the meeting to request the matter be continued to a later date. Jane Hammond of Madison Matters encouraged board members to listen to the public and the wisdom and perspective that have been offered.
"This needs more work," she said. "Don't approve it in its current form."
Chip Queitzsch, Jr. said he'd like to see the application delayed until the first week of September. John Chebuske agreed, encouraging officials to postpone it and come up with a viable plan.
Hawk agreed. He requested a vote be delayed until a "complete application" was received.
"It sounds like the SUP is still under negotiation," Rochelle resident Brad Bennett said.
In addition, Mother Andrea Superior encouraged board members to remember to protect the land with which God has entrusted them. She said to mitigate negative impacts and protect against uncontrolled expansion, stating the SUP is wholly inconsistent with the rural scenic character or the area.
Doug Hill, who owns a farm adjacent to the land owner by Miller, said he was blown away by the opposition voiced in the letters and comments. He said it should give pause and encouraged the board members to listen to their citizens.
"People are not happy with this," he said. "I don't see how you can approve this with this much opposition."
Hill's wife, Amy Neale, said the project isn't going to create a "Graves Mountain Lodge South," and that Miller "seems ready to hoodwink us all." Neale said the application for the permit was vague, open ended and poorly written.
"[It's] a developer's dream and a resident's nightmare," she said.
Nathaniel Kipps said he was in favor of the project overall and thinks it could be done well, but has concerns about traffic, light pollution and septic and water issues. He questioned Thompson's explanation of ticket prices and how that billed the resort as a music venue instead of an agritourism resort.
"It's one thing to have an agritourism venue that occasionally hosts weddings with music and another to have a music venue that hosts agritourism events," Kipps said.
Brenden Pixton however spoke in favor of the SUP saying it would encourage future generation to be interested in agriculture.
Planning commissioner Pete Elliott said the draft conditions revised July 31 were said to be the final analysis, so to come in with new changes was unfair.
Webb said he was trying to improve it.
The planning commission decided to stick with the July 31 conditions.
Commissioner Peter Work said he was still concerned about the conditions letter and suggested limiting the days music could be amplified or cutting it off at an earlier hour. The conditions contain an 11 p.m. end for amplified sound Thursday through Saturday and a 10 p.m. end Sunday through Wednesday. He also questioned having the SUP attach to the property instead of the applicant.
Commissioner Nan Coppedge suggested a 9 p.m. cutoff for music Sunday through Wednesday and a 10 p.m. cutoff Thursday through Saturday.
Sue Miller said because part of the business model is hosting weddings, brides wouldn't choose Crescere as their venue if they want a traditional 7-11 p.m. weekend reception.
Barbara Miller said there won't be "crazy amplified music."
Elliott made a motion to recommend approval of the SUP based on the July 31 conditions. It was seconded by commissioner Steve Carpenter.
Commissioner Francoise Seillier-Moisewitsch said there were still details to be ironed out and suggested letting Webb deal with them.
"It seems unfair he's trying to improve the SUP and we're cutting the lawn under his feet," she said. "Transferability and noise need to be negotiated before we can send this to the board."
Work agreed, saying a recommendation would be premature.
"The conditions letter has to be finalized before we can recommend or not recommend," he said.
Seillier-Moisewitsch suggested taking up the issue at the commission's next meeting in mid-August.
Webb, however, suggested taking a vote which would send the application to the board of supervisors which could then take up the issues.
Elliott's motion failed 3-3 with Work, Seillier-Moisewitsch and Coppedge casting the dissenting votes. Commissioners Mike Fisher and Daniel Crigler recused themselves at the very beginning of the meeting due to potential conflicts of interest.
Work made a motion to let the process with Webb and the conditions letter play out until the commission's next meeting. Sellier-Moisewitsch seconded the motion, which failed 2-4 with commissioner Mike Mosko, Carpenter, Elliott and Coppedge casting the dissenting votes.
Commissioner Fay Utz, who was not at the meeting in-person due to a recent surgery, commented via the Vimeo live stream to say she had voted for the previous motion to send the application to the supervisors, thus casting the deciding vote and passing the motion. It was confirmed she had been attending via the live stream since 8:10 p.m., but was slow to type due to her surgery.
With the matter in front of the supervisors, Webb suggested it be tabled given the late hour.
"Preferably we can work through some things tonight to make it better, but given the hour, table until the next meeting," he said.
Board of supervisors chairman Clay Jackson suggested ending music by 9 p.m. Sunday through Wednesday and 11 p.m. Thursday through Saturday.
"We've done a lot of work with Ligon and I thought we had reached an agreement on Friday," Barbara Miller said. "What he presented tonight was a surprise to us."
Hawk suggested that given the back and forth and lack of a complete application, another public hearing be held. Queitzsch, Kipps and Neale agreed as did Tom Windermoot.
"It's still not clear as to what's going on here," he said. "Delay until there's a finalized document."
Supervisor Carty Yowell said his earlier suggested conditions, given during comment at the mid-July meeting, had come straight from the comments of residents. He said he looked over and over the letters and emails.
"I believe the conditions we have in this document satisfy those concerns and provide Barbara Miller the ability to operate a viable business," he said. "I'm not going to tell someone they can open a grocery store, but can't sell bread of milk."
Supervisor Charlotte Hoffman said she has read every letter, Facebook post and email. She said she had heard some interesting things about the project, not all of them factual, even noting someone suggested it would bring prostitution to the area.
"We understand the concerns, we've all worked on it, we don't take it lightly," she said. "I think what Barbara Miller wants to do is a nice plan."
Jackson said he too has heard the concerns and thinks the conditions offer some protection. He noted that sound travels in the country and living 3.5 miles from Bald Top, he can hear their music. He said the depiction that the project would add 1,000 cars to the roads everyday was impossible and noted the project will have multiple additional opportunities for critiquing.
"I understand this is in everyone's backyard and I sympathize," he said. "Madison County has missed out several times. Citizens say we need to diversify the tax base. I'm sorry it affects people [but] once it gets going, I think you won't know it's there."
Yowell made a motion to approve the SUP application including the July 31 conditions with the amendments regarding the music cutoff and the addition of Webb's suggestion to specifically state the submitted materials. The motion was seconded by Hoffman and approved 5-0 at 1:56 a.m.
Be the first to know
Get local news delivered to your inbox!