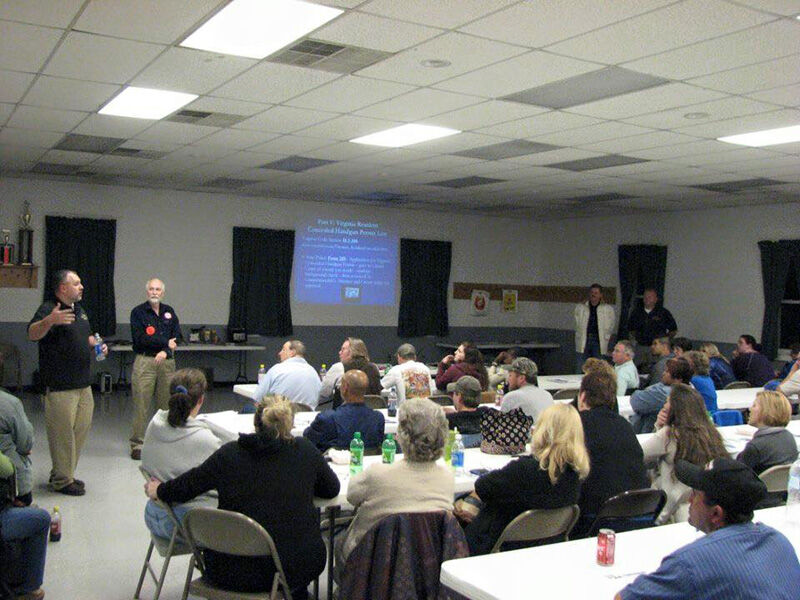 Concealed handgun permits are on the rise both locally and throughout the state.
According to court data, the Madison County Circuit Court processed 540 concealed handgun permits in 2020, a 40% increase over 2019's 386 permits. In Orange County, 1,128 permits were processed last year, a 60% increase over the 837 issued in 2019. In Greene County, 809 permits were processed in 2020, a 56% increase over the 520 processed in 2019. Statewide, concealed handgun permits processed increased 63% from 102,990 in 2019 to 167,538 in 2020.
The continuing debate over Second Amendment rights and the push for stricter gun-control laws might account for the increase. It may also be due to a recent change in the law.
Those wishing to obtain a concealed handgun permit must now take an in-person class. Those applying for a concealed handgun permit must provide documentation of proof of handgun competency. Previously, electronic, video or online training or safety courses met that requirement. However, last year, the General Assembly approved and Governor Ralph Northam signed into law senate bill 263 and house bill 264, requiring those courses to be taken in-person. The change went into effect Jan. 1.
Madison County Commonwealth's Attorney Clarissa Berry said the last quarter of the year, there were more applications for concealed handgun permits than normal, but she expects a continued uptick in applications even with the change to in-person courses. There are a lot of benefits to taking an in-person class over an online certification, she said.
"We're still a rural community and we value face-to-face education," she said. "I always think in-person [is better.] There's an opportunity to ask questions and learn about the weapon. A lot of in-person classes [also] have the option for the students to fire their weapon as well which is an added bonus."
Ruckersville-based instructor Steven Keene agreed. Keene is the director of Virginia Justice and Safety Associates. He began his business approximately 12 years ago, but has a long history in law enforcement. He began working in loss prevention and security with Pinkerton Security Agency before conducting crisis management with community service boards, later joining the Virginia State Police where he served on the Bureau of Field Operation's Tactical Field Force Team. While there he completed the Department of Criminal Justice Services Law Enforcement Instructor School as well as numerous graduate courses at the FBI Headquarters in Quantico. He's also served on several boards, working with FEMA, the FDA and the EPA, along with being promoted to an investigator for the state in 2008.
Keene is also a life member of the NRA, something his father was as well, and a member of the Virginia Citizens Defense League. He said both organizations offer education, training and other resources that have helped lead to increased firearm ownership and decreased accident rates. His business offers various safety courses along with criminal justice services in a variety of areas. His basic handgun safety and concealed carry permit class has been popular with those applying for their concealed handgun permit. He said more than 8,000 Virginians have taken the course.
The three-hour long course covers safe handling; parts/operation; shooting fundamentals; ammunition; proper selection; cleaning; safe storage; legal transport; an overview of legal principles associated with open and concealed-carry; self-defense case laws and the concealed permit process. Students are provided with a concealed handgun permit application and a certification of completion to submit to the circuit court as part of the application. The courses are held throughout the state as citizens are interested and are sometimes hosted by groups, businesses and organizations. They're often held at hotels, fire and rescue facilities and community centers, but Keene said classes have been given at hair salons, athletic center, repair shops and in homes. Five or six students are enough to form a class and they fill up quickly.
Keene said many of those taking the class have no previous experience or knowledge, which is partly why the basic class is the most popular.
"We incorporate information from our other courses such as how to start becoming more aware, more prepared and to continue training beyond the basics, and most of all, think about safety more so than becoming a victim of crime," he said. "We teach preparedness, not paranoid. While accidents are low in occurrence, the impact is high. Safety must be 100% achieved at all times. The firearm is a tool or device, like many devices around the home or workplace it is safe, useful and effective if you are knowledgeable and safety conscious."
Both Keene and Berry pointed out that the permit is a concealed handgun permit, not a concealed weapons permit. The permit does not grant the holder the ability to carry other weapons. There are also places a handgun can't be carried, even with the permit, including private property where prohibited by the owner or posted as such; a place of worship without a good and sufficient reason; a courthouse; school property; and in an air carrier airport terminal. You also can't carry while being under the influence of alcohol or illegal drugs and you can't consume alcohol if carrying into a restaurant or club.
All permits are evaluated by both the commonwealth attorney and the judge to ensure the application does not meet any of the 20 disqualification reasons as laid out by Virginia State Code. Berry said denials are rare, but it occasionally happens. She said there's also a provision in the law that allows a commonwealth's attorney or sheriff to submit a written letter to the court as to why a person shouldn't have a concealed handgun permit. A hearing is then held to determine the outcome of the application. Permits must be signed by the judge within 45 days of application and be renewed with the court every five years.
Keene said students benefit from any steps they take in educating themselves as to proper handgun use, especially in-person and progressing to shooting range practice and advanced courses.
"We immediately recommend that students begin to soak up as much education as possible and consider various instructors to gain a different perspective," he said. "For example, an NRA instructor, police officer and military veteran will have different training styles and various perspectives from techniques, legal aspects and tactical methods."
Keene said he feels that an in-person experience is more beneficial than online class options because it allows the students to physically handle the firearms and ask questions.
"Some of our students choose to participate in online training before attending our classes, just as they take additional steps in live shooting range practice and advanced courses after the basic class. Citizens should accomplish the safety aspects of firearm ownership, possession and use prior to taking additional steps and concealed-carry. At 18 someone may possess, open-carry and transport in plain view a handgun, but you must be 21 to conceal carry."
Keene said course students vary, with some being beginners, while others are more experienced and choose to attend for the legal update, self-defense law section and as a refresher course.
"For example, many have shot guns a lot, but have never learned how to determine their dominant eye, the importance of 'indexing' for both safety and tactical reasons and 'point shooting,' as most self-defense situations are in close proximity, quick and in darkness," he said. "Most violent predators are statistically using drugs, which further motivates them to commit violent acts and strengthens their body, making them more difficult to stop; therefore, we discuss measures to combat these."
Classes are held through the state with options for public and private classes. Keene's next basic handgun /concealed carry permit class is being offered later this month at the Round Hill Inn in Orange on Jan. 23-24, with a morning session 9 a.m. to noon and afternoon session 1-4 p.m. each day. For more information, visit https://www.vajusticeandsafety.com, email vajusticeandsafety@gmail.com or call (434) 566-8774.