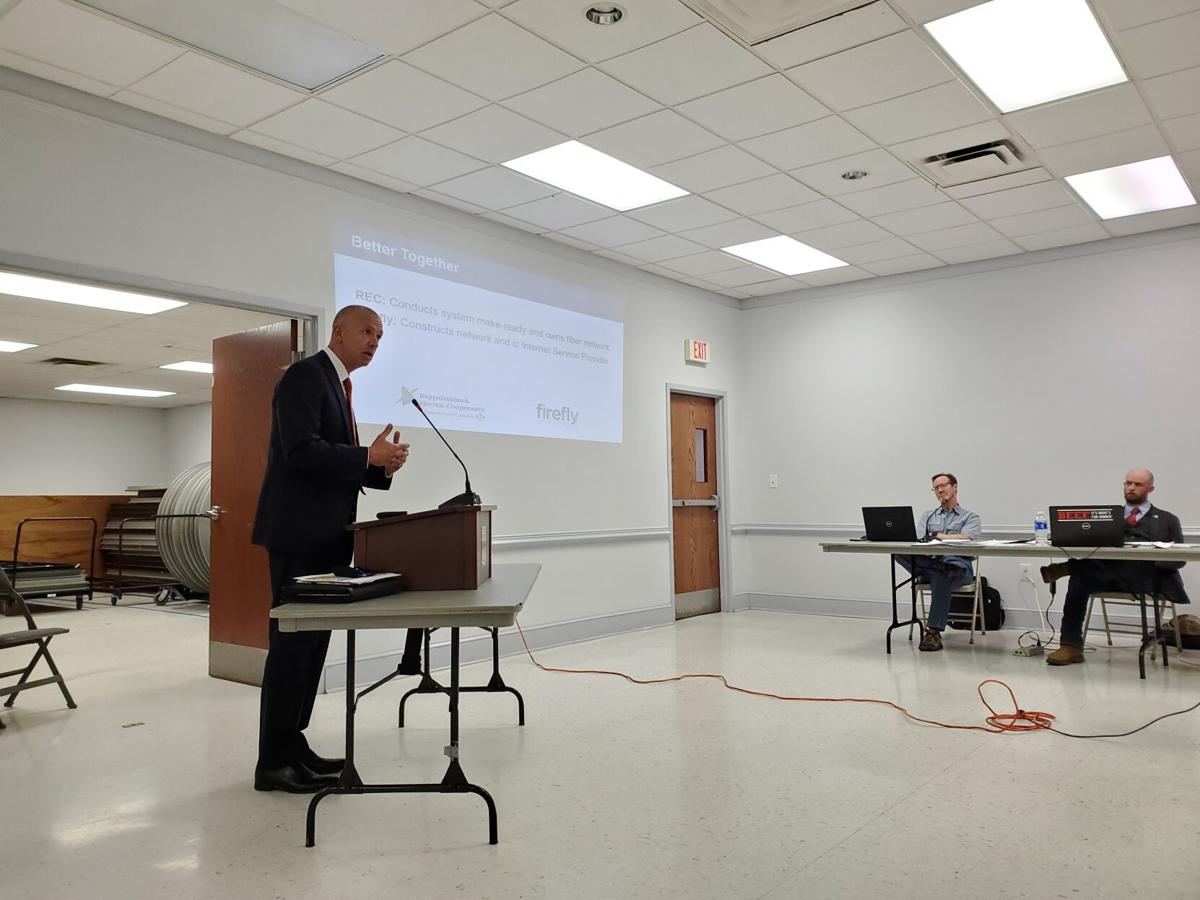 Last week, officials from Rappahannock Electric Cooperative (REC) and Firefly Fiber Internet presented information to Madison County leaders regarding a possible broadband solution.
REC President and CEO John Hewa said there are approximately 47,000 underserved broadband locations within the cooperative's territory, with that number likely even higher due to how the FCC defines an underserved area. He said member feedback is that people want broadband access. He also said having that connectivity would offer modernization to the electrical grid. REC is already working on an 825-mile fiber backbone throughout its territory. However, the utility wants to be a broadband supporter, not a broadband supplier. Hewa said the idea would be for REC to own the fiber optic system which would be installed on its poles, but another entity would supply the actual service. That's where a company like Firefly comes in.
Firefly Fiber Internet was created by Central Virginia Electrical Cooperative (CVEC) as a separate entity to provide high-speed internet service to its members. CVEC President and CEO Gary Wood said the company already has 16,000 passings of its fiber with 8,000 customers connected. He said CVEC's area is expected to be finished in 2022, leaving an opportunity for the company to partner with other cooperatives like REC. The company has already partnered with Dominion to bring service to Louisa County residents.
With Madison County, Wood said they would be looking at a regional project, combining Madison with Greene and Culpeper counties to provide service to all unserved areas. Part of the problem is determining exactly what those areas are, something Wood said Firefly would tackle this summer through a survey. There's also the issue of funding. Wood said any area that was already awarded funding under a radio or fiber provider via the FCC's Rural Digital Opportunity Fund Phase I Auction is not eligible for state funding. In Madison, that includes some fairly large areas. Wood said those areas could be included in the overall plan, but would have to be funded in a way that doesn't include state grants.
A portion of the cost of the project would be offset through revenues created through subscribers and the county would need to put up a currently undetermined local match. Wood said generally, fiber is placed for $50,000 per mile. The company typically looks for less than a 50% local match.
Should Madison leaders decide to go in this direction, buildout would move fairly quickly. The grant applications for state funding are due in mid-September with awards announced in December. The project itself could be built between 2022-24. Wood said Firefly currently has relationships with 12 counties.
Meanwhile, Hewa said REC is also talking to other internet service providers.
"We believe in cooperating together to leverage our assets to provide services," he said.
Hewa said its possible REC would support Firefly in the grant application, along with another service provider.
County administration Jack Hobbs said out of the box, the idea of working with REC and Firefly is the best thing the county has seen in getting internet to local areas.
Hewa said he'd like to come back and speak more with supervisors and planning commissioners about REC in general. County leaders welcomed that discussion. Nothing has been determined regarding a partnership with REC and Firefly.