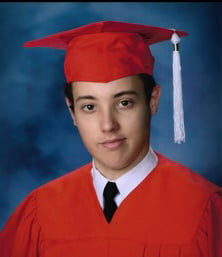 A multi-day search for a missing person was suspended Monday afternoon following the discovery of a body.
Crews began searching Friday for missing teen Ty Sauer. Sauer, 18, is believed to have left his home in New Jersey Thursday after experiencing mental side effects from the acne reducing prescription medication Accutane. According to information posted online by his parents, Sauer drove to Skyline Drive was seen at mile marker 35 before crashing his vehicle and fleeing on foot.
Numerous search and rescue personnel, Shenandoah National Park Support Staff, dog teams and helicopters canvassed the central portion of the park attempting to locate Sauer. Several trails were closed during the search.
On Monday, park officials stated that a male body believed to be that of Sauer was located at 2:55 p.m. by searchers. The remains were found in the park approximately 2.5 miles from the boundary in Rappahannock County and approximately 2 miles from where Sauer was last seen. The body was transported to the Office of the Medical Examiner in Manassas for positive identification and a determination of the cause of death.
The park and Virginia Department of Emergency Management thanked all those who assisted in the search including DOGS-East; Christian Aid Ministries Search and Rescue; Virginia Search and Rescue Dog Association; Blue Ridge Mountain Rescue Group; Rockingham-Augusta Search and Rescue; Old Rag Mountain Stewards; Shenandoah Mountain Rescue Group; Potomac Appalachian Trail Club; Trot Search and Rescue; Blue and Gray Search and Rescue Dogs; Search and Rescue Tracking Institute; Piedmont Search and Rescue; K-9 Alert; Virginia State Police; Louisa County Sheriff's Department; Shenandoah Nordic/Backcountry Ski Patrol; Mid-Atlantic D.O.G.S.; Greene County; Rockingham Fire; Virginia Department of Wildlife Resources; Warren County Sheriff's Office; Frederick County Sheriff's Office; and the Luray Police Department.