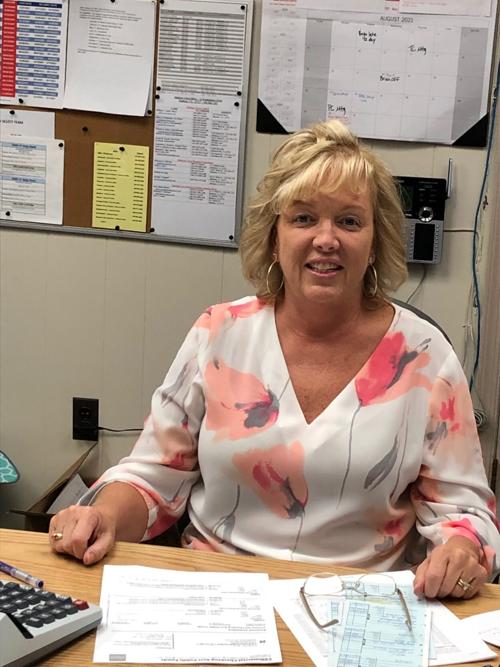 Visitors to the Madison town offices will notice a new face.
The Town of Madison has hired Rochelle resident Cheryl Yowell to be the town clerk. Since the end of July, she has taken on the job of day-to-day management of the town's business.
Yowell takes the reins from Cassie Goodwin who filled the role following the January 2020 retirement of long-time town clerk Barbara Roach. Since the hire of Yowell, Goodwin has moved back to her old role as DMV supervisor and part-time assistant clerk.
According to Madison Mayor Willie Lamar and town attorney Maynard Sipe, Yowell has hit the ground running.
"Cheryl is a good addition to the town staff and has already made recommendations for improved efficiency," said Lamar.
"Barbara made this look so easy for so long and did so much on her own," said Sipe. "The job is demanding and with COVID and the increased demands on the Madison DMV the past year has been difficult. Cheryl is a great addition."
Yowell, a lifelong Madison County resident brings a great deal of experience to the table- everything from working at the University of Virginia to owning and managing the Mountaineer Cafe.
It was her varied experience and familiarity with the town that inspired her to apply for the position.
"When I saw the job posting and the desired skill set I thought 'hmm that really looks like a good fit'," said Yowell. "It just seemed right. I have experience running a business so coordinating the day-to-day operations of the town, managing money, working with the public and keeping records are things I have a lot of practice with. And, I have lived here in Madison County my whole life. I grew up here and I raised my family here. Madison County is and always has been home."
Yowell has spent the last month learning the workings of the office from Goodwin and Goodwin is confident that the new hire will make the town office run more smoothly.
"It is a huge help to have two of us here that can work in this position," said Goodwin. "It means that the town's business isn't interrupted if one of us has a sick day or wants to take a vacation. This also gives me a chance to manage the DMV more efficiently- especially since we have had extra business and extra responsibilities for keeping the office open."
For Yowell, the new job's appeal is enhanced by her quick and nearly traffic free commute.
"It's really nice not to have as long a commute too, said Yowell. "The office is only about ten minutes from home and a really easy drive."