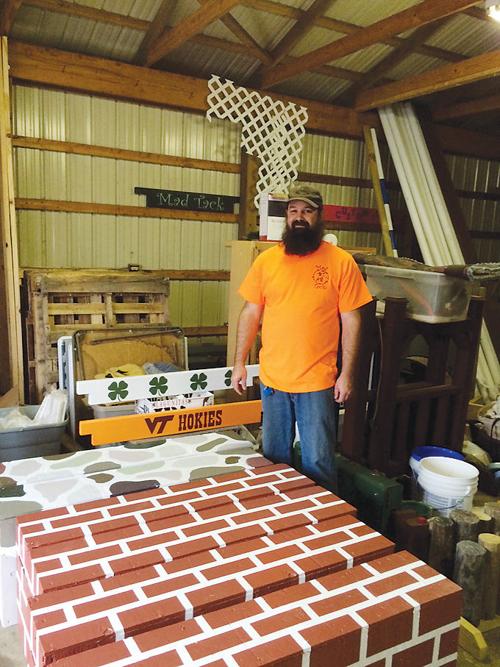 Since 2014, Mad Tack has been a fixture on S. Main St. in the Town of Madison. Now, the equine supply business owned by Dan and Samantha Martynowski is expanding to a second location. In September 2020, a store in Louisa County will join the couple's flagship store in Madison.
The Martynowskis have considered expanding the business for some time and when a space in Loudin Village in Louisa became available they jumped on it. The second location is more convenient for customers from southern Orange, Louisa and Fluvanna counties and the Richmond area. Samantha Martynowski said that she and Dan had been thinking about a second location for a couple years and the right space came along at the right time.
The couple had noticed that sales for their mobile unit were particularly strong when they were set up at shows that were on the edge of the Richmond suburbs.
"The mobile unit always did really well in the Louisa, Fluvanna and Goochland areas. There really aren't any tack shops out that way and there are a lot of horses and riders," she said.
"We had been thinking about a second store for a while but I was working full-time for Culpeper County," said Martynowski. "When that ended, Dan and I started to search more aggressively and the right space became available for the right price. Since the beginning of the pandemic our sales have been hitting record highs so we decided to go for it!"
For current customers Lisa-Marie Beckwith and Rachel Jones the new location is advantageous.
"The new store is much closer to our home base," said Beckwith.
Jones agreed, citing the convenience of having a tack shop closer to her Zions Crossroads home.
"The convenience is a plus," said Jones. "As a busy mom of two teens, one which is active in Pony Club and the 4-H state horse program, and being a lifelong horse person myself, having a local tack store is a huge help. With so many businesses closing locally the fact that Mad Tack has chosen to open their second store in Louisa supporting our local economy means a lot to me as a community member."
Dan Martynowski noted that the couple has been trying to dispel rumors that the couple is moving out of the county or closing the Madison store.
"Starting in September we will have two locations, he said. " We're not leaving Madison or moving away, just opening a second store."
The couple plans to keep the jump construction at the Madison location and expects the second location to be more focused on apparel and general supplies.
The couple has been working to renovate the space and have planned a grand opening for the new location on Sept. 5.
Be the first to know
Get local news delivered to your inbox!