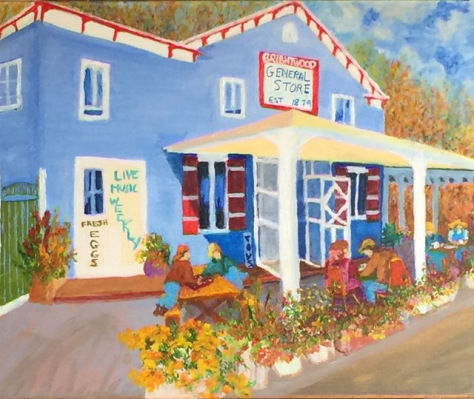 After a couple of years of showcasing area authors in "Book World Meets Wine World," Revalation Vineyards in the Hebron Valley of Madison County is now giving local artists and craftspeople their turn. Visitors to the winery have something to enjoy looking at besides the lovely mountain views.
The current artist whose work is hanging at Revalation is Dr. Stephanie Mendlow, who spent years as a practicing cardiologist in Culpeper. Many of Mendlow's subjects are immediately recognizable as local, from Davis Street in Culpeper in the golden light of a setting sun to the one-time Brightwood General Store.
Next in the series will be Bertha Scholten, who worked as a Licensed Professional Counselor for 33 years, and now paints what she describes as "western views of the beautiful east side of the Blue Ridge." A craftswoman who will follow them is Christina Boy, who designs and builds fine, unique furniture using Virginia hardwoods.
While Boy is still in the earlier stages of her career, and pursued education and apprenticeships in her craft, the two artists are older, and real concentration on their art had to await retirement from their careers. And for both, art was an integral part of them, something needed to balance out stressful jobs.
"I guess I started painting when I was 3 years old," Mendlow says, and she tended to be secretive about what she was doing. Her parents were a product of the Great Depression, and would not have encouraged a career in the arts which might not have meant a good income. Not that the retired cardiologist regrets her career – "I loved being a physician and I loved my patients" – but she felt a part of her was always missing. She started painting again about 20 years ago, as a counterbalance to being always on call for the needs of very sick people. "It became a passion."
Living on Blakey Ridge near Criglersville in Madison, she routinely drove into work through beautiful scenery, including what she saw crossing a ford and winding down the Hoover Road as each season changed the landscape. It would have been hard not to paint those scenes once she returned to art.
After a time, she brought a few paintings into her office, and both she and her patients found that the work, which she describes as contemporary impressionism focused on color, had a tendency to warm their surroundings and make them feel more at home. Mostly self-taught, she has taken workshops and enjoys the support and camaraderie of the Firnew Farm Artists' Circle of mostly Madison artists.
Bertha Scholten is also a mainstay of the Firnew group. She's been painting for 60 years, more or less without stopping. With her only training consisting of a few short courses here and there, she began working in oils and switched to water color while she was the most busy with work and family. After retirement, she returned to oils, producing soft and lovely views of mountains and barns, the east side of the Blue Ridge. Her plans are simple: "I intend to continue painting for as long as I can hold a brush." An addendum is her hope that someday she will become known as Grandmas Scholten and a painting someone buys for $2 at a yard sale will be valued at $75,000 on Antiques Roadshow.
These two artists worked painting into their lives despite doing other things along the way. The more deliberate path was chosen by Boy included the crafts and materials program at Virginia Commonwealth University and a fellowship at the Penland School of Craft near Asheville, N.C. But her surroundings are also an integral part of what she does. She uses locally sourced hardwoods, and says that the colors she uses are those that are all around her. "They speak to me," she says.
A German native, she grew up with the simplicity of Scandinavian design, and has kept the simplicity. Her work is clean-lined and professional, and may be the product of drawing and redrawing 20 times before she cuts the first piece of wood.
Mendlow's work is up until the end of the month, to be followed by Scholten's. Boy will exhibit from Nov. 1 to Dec. 31.