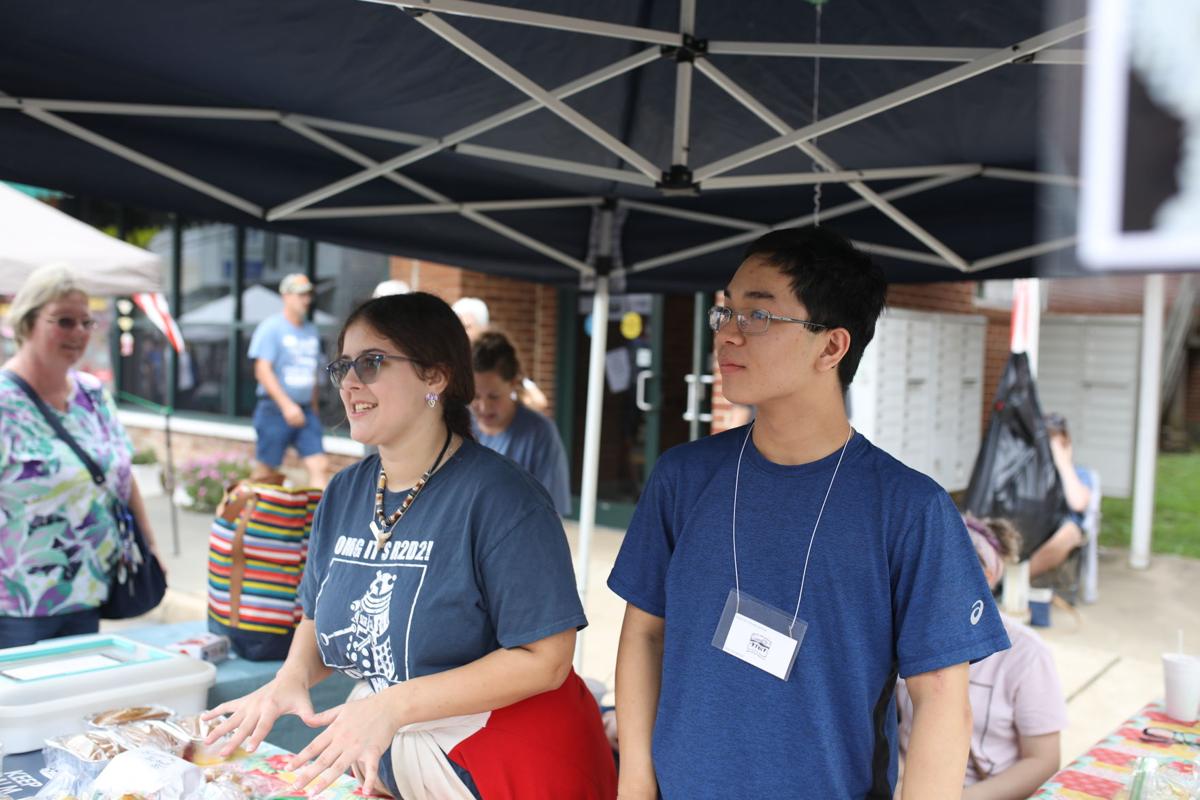 Taste the Mountains Saturday during the 27th annual street festival.
The family-friendly event, organized and sponsored by the Madison County Chamber of Commerce, is a celebration of the region's artistic, culinary and musical traditions and will be held Saturday, Aug. 31, 9 a.m. to 4 p.m. on Main Street in the Town of Madison.
The festival offers something for everyone, Madison County Director of Economic Development and Chamber Director Tracey Gardner said. There will be a variety of activities including pony rides and magic shows, living history demonstrations and more, plus local beer and wine tastings and numerous food options. Vendors will offer everything from photographs to hand-painted signs and toys.
"This year, we have crafters coming from all over including New Jersey, Maryland, Florida, North Carolina, South Carolina and Tennessee," Gardner said. "Also new this year, the historical society will occupy the circle at the Kemper Residence and Clyde Jenkins will be making and selling baskets on site. The Kemper Residence will also be open."
Next door to the Kemper Residence will be the LOVEWorks sign and beer and wine tasting tent on the library lawn. The LOVEWorks sign went up last week to allow people plenty of time to stop by and take photos. Those with original "Virginia is for Lovers" shirts are encouraged to take a photo with the sign and share it on Facebook at www.facebook.com/Virginiaisforlovers or on Twitter and Instagram using the hashtags #LOVEVA and #LOVEVAFoothills.
This year's tasting tent will feature Bald Top Brewing Company, DuCard Vineyards, Early Mountain Vineyards, Prince Michel Vineyards and Revalation Vineyards. The cost is $15 to enter and participants will receive a commemorative glass.
However, there is a discount to be had. Stop by the Madison, Greene or Orange County Visitor's Centers and pick up a wine or beer glass and a key fob. The items are part of a special promotion celebrating "50 Ways to FALL in LOVE with the Foothills." The grant funded promotion is part of the state's 50 Days of Love celebration. The glasses and key fobs unlock special discounts on tastings, dining, shopping and more including tastings at 16 festivals, 12 wineries, breweries and more. Bring the glass to the tasting tent at Taste of the Mountains and enter for $7.50. For more information, visit www.lovevafoothills.com.
There will also be lots of options for foodies visiting the festival. Local restaurants will be open and some will also be in the festival including the Bavarian Chef Food Truck, Catch the Chef Food Truck, Pig 'N Steak, Miranda's, Mad Local, Jenny Lynd's Pizza and more.
"Stroll through the street, check out the arts and crafts, organizations, games, magic shows, pony rides, music and even the unexpected," Gardner said. "Get a massage in Beasley Park or find a new furry family member from the animal shelter. The Senior Center will be raffling off a quilt in Beasley Park as well."
Also offering a raffle will be the American Legion Riders which will be selling tickets for their travel trailer raffle. Only 2,500 tickets will be sold.
"There will be lots of food, lots of fun and lots of memories," she added. "You don't want to miss it."
Taste of the Mountains is a rain or shine event. There is no admission charge and free parking will be offered at the high school and the fairgrounds with free shuttle service. For more information, call the Madison Chamber of Commerce at 948-4455, visit www.madisonva.com or email tourism@madison-va.com.
Stay up-to-date on what's happening
Receive the latest in local entertainment news in your inbox weekly!