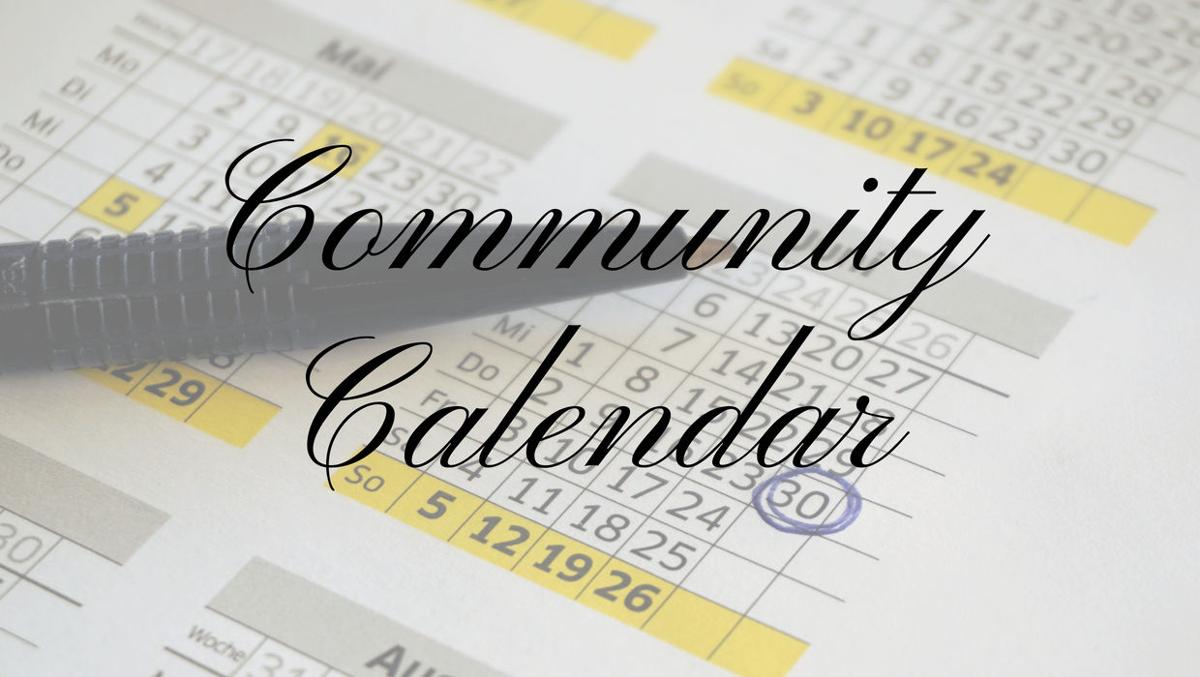 Guidelines: The deadline for submitting community calendar items is 3:30 p.m. Monday for that week's paper. (The deadline moves up to Friday before all major holiday weeks.) Items are subject to editing and may be sent via email to news@madison-news.com. They may also be sent by U.S. Mail to Editor, Madison County Eagle, P.O. Box 325, Madison, VA 22727. Please include a contact person's name and phone number. Due to the volume of items received, The Eagle cannot always run announcements from out-of-county organizations.
Spring registration is open for youth baseball. Register online at www.hooverridge.com. The deadline to register is Feb. 28, earlier this year. Evaluation day is March 7. If interested in coaching or for answers to questions, contact Becky Hurt at (540) 219-4942 or rexnbecky4@yahoo.com.
CHICKEN AND CHITTLIN' DINNER
The Madison Rescue Squad will host the chicken and chittlin' dinner Feb. 29, 4-7 p.m. The menu will include chittlins (boiled or fried) for $18 with an option to add extra chittlins for $10; a fried chicken dinner for $10 or a combo chittlin and chicken dinner for $25. Dinners will be served with mashed potatoes, gravy, green beans, roll, beverage and dessert. Take-outs available.
The Complete Count Census Committee will meet March 3 at 10 a.m. in the upstairs conference room at the Visitor Center. Feel free to join the meeting and help spread the word through church, clubs or organizations regarding the 2020 Census. April 1 is Census Day and jobs are still available in the Madison area for $15 per hour. For more information, visit 2020census.gov.
The disAbility Resource Center has joined forces with the Alzheimer's Association to sponsor a free series of workshops. Workshop topics include I Have a Disability, Now What?, March 4; Healthy Mind, Healthy Body, April 1; Medicaid Waivers and Long-Term Care Services, May 6; and the 10 Warning Signs of Dementia, June 3. Presenters are Lori Myers, regional director of the Alzheimer's Association, lmyers@alz.org, and Tennie Gratz, a trained Medicaid Long Term Care Specialist with the dRC, tgatz@cildrc.org. Sessions are the first Wednesday of the month from 10:30 a.m. to 12:30 p.m. at the dRC, 409 Progress St., Fredericksburg. Register at https://qualityconnectionsdrc.eventbrite.com.
Montpelier Chapter of the Daughters of the American Revolution will meet March 5 at 11 a.m. at Stanardsville Methodist Church, 25 Court Street, Stanardsville. Luncheon cost is $18. Please make checks payable to Montpelier Chapter NSDAR and send to treasurer Karen Lohr at 1136 Lost Mountain Road, Aroda, VA 22709.
Madison County Public Schools will host its annual federal program meeting March 6 at 2 p.m. at the school board office, 60 School Board Court, Madison. Contact Tina Weaver, director of administration, with questions at 948-3780.
BRIGHTWOOD RURITAN BREAKFAST
The Brightwood Ruritan Club will host its big country breakfast March 7, 7-11 a.m. at the clubhouse located at US 29 and Rt. 607. The menu will include pancakes, scrambled eggs, biscuits, sausage, sausage gravy, hot spiced apples and more. The cost is $8 for adults and free for children 12 and under. For more information, call 948-5108.
Rappahannock Rapidan Community Services will hold its regularly scheduled board meeting March 10 at 1 p.m. at 15361 Bradford Road, Culpeper. Individuals with disabilities who require special assistance to attend should contact Jeanette Nord at 825-3100, ext. 3146. RRCS is an equal access and opportunity organization.
The American Red Cross Blood Drive sponsored by the Woman's Club of Madison will be held at the Madison Fire Hall March 10, 1:30-7 p.m. To make an appointment and avoid a wait, call 1-800-RED-CROSS (1-800-733-2767) or visit redcrossblood.org. Save time by completing the Rapid Pass online. Come, donate, save lives and enjoy home-baked cookies.
The Madison Special Education Advisory Committee of the school board will meet March 11 at 6 p.m. at the school board building. The final meeting will be held April 15. For more information, contact Jeanette Alexander, supervisor of student services and the committee's consultant, at 948-3780.
A free smartphone workshop will be held March 12 at 5:30 p.m. at the Literacy Center, 110 N. Main Street, Suite A, Madison. Pre-registration is requested as space is limited. Call 948-4415 or email literacy22727@verizon.net to register. Learn how to use a smartphone and make life easier.
The next in a monthly open mic night will be held March 12 at 5:30 p.m. at Bound2Plz Books in Orange.
Applications are being accepted for the George James Community Center, Inc. Educational Scholarship for high school seniors. Students who plan to continue their education by attending college or a trade school are encouraged to apply. Completed applications must be sent by mail or email, gjcc1215@hotmail.com. Mail must be postmarked by March 13. The application can be picked up from the school guidance office.
The Madison County Woman's Club will deliver its fried chicken box lunches to area businesses March 13. Individuals are also invited to place orders for self pick-up. Proceeds from the $9 lunches provide for the club's outrach projects including scholarships and donations to area food banks. To place an order, or for more information, contact Katie at (540) 718-3512, Monday through Friday, 9 a.m. to 5 p.m. by March 9.
A VHDA homeownership education class will be held March 14, 10 a.m. to 4 p.m. at the Jefferson Madison Regional Library, 201 E. Market Street, Charlottesville. For more information, call Yolanda Williams, Anderson Realty Referrals, at (540) 479-3226 or register at vhda.com/freeclass.
The Blue Ridge Chorale will present the third annual Shamrock Shuffle March 14 at 9 a.m. at Verdun Adventure Bound, 17044 Adventure Bound Trail, Rixeyville. Register online at www.brcsings.com. The cost is $30 through March 13 and $35 the day of (cash only). Registration and check-in will begin at 8 a.m.
The Nature Exploration Series will continue March 14, 10 a.m. to noon, with "Magnificent Trees of Montpelier." This walking tour will take us around the property to visit many of these old giants. Attendees will learn how to determine the height and width of these specimens. Register online at www.montpelier.org. The cost is $10 per person. For inclement weather information, call 672-2728.
A spaghetti dinner fundraiser will be held March 14, 5-8 p.m. at the Madison American Legion Post 157, 310 Thrift Road, Madison to benefit the Madison Marksmen Youth Shooting Sports. The meal will include spaghetti, salad, bread, dessert and drink. The cost is $8 for adults and $6 for children 12 and under.
LEGION ST. PATRICK's DAY CELEBRATION
The American Legion St. Patrick's Day Celebration will be held March 17 at 6:30 p.m. Members, prospective members and their guests (all ages) are encouraged to attend. A traditional St. Patrick's Day meal will be served; donations accepted. RSVP by March 11 to (540) 547-6160 or info@vaalpost157.org with your name, contact number and number of attendees.
Nominations are being accepted for the 2020 Madison Award. The Lions Club established the award to honor the person deemed most worthy of recognition each year for voluntary, unpaid community service in Madison County over a sustained period of time. Previous winners and Lions Club members are not eligible. Nominations of persons previously considered for the award, along with others, are encouraged. Letters of nomination should set forth the name and address of the nominee and describe the services to the community for which the person is being nominated. They should be sent to Lion Bud Kreh, chair of the award committee, P.O. Box 925, Madison, VA 22727 or budkreh@realtor.com. March 20 is the deadline for receiving nominations. For more information, contact Bud Kreh at 948-6655.
The Madison Friends of the Library will present "Tunes and Tales," a benefit chili dinner with entertainment March 20 at 5:30 p.m. at Madison Presbyterian Church. Performances will include Mercy Trail Music and the Madison County High School Jazz Band. Tickets are $20 for adults and $8 for children ages 12 and under and can be purchased in advance at the Madison County Library. Tickets may be available at the event as space permits.
Hope's Legacy Equine Rescue's free family fun day March 21, 10 a.m. to noon. The rescue will be open to visitors who have rsvp'd. Meet horses and donkeys while learning about equine rescue. Open to all ages; donations accepted. RSVP online at www.hopeslegacy.com/events.
A personal care aide class will be held March 23 – April 3 at Fox Tail in Orange. The cost is $225 with books and a set of scrubs included. Students must have a background check. This is a 40 hour class Monday – Friday for two weeks from 5-9 p.m. Classes are limited to 10 students. For more information, call the Adult Education Center at 672-1155, ext. 8141.
The Madison Retired Educational Personnel Association offers a $1,000 scholarship to a graduating senior in the Madison County High School Class of 2020 who will attend college for an educational degree. Applications, transcripts and letters of reference are to be returned to the guidance department by March 27. For more information, contact Jane Lamar at jdlamar@yahoo.com or (540) 718-6984.
EFFECTIVE BRANDING WORKSHOP
The Madison County Economic Development and Tourism Department, along with the Madison Chamber of Commerce, will offer a "Your Guide to Effective Branding" workshop April 1 to the first 15 to RSVP. The workshop will cover all things branding from 12-1:30 p.m. and Liz Johnson, president of Mountain View Marketing, will host one-on-one consulting sessions after the presentation from 1:30-3:30 p.m. for those who sign up ahead of time. Lunch is sponsored by the Madison Chamber of Commerce and Subway of Madison. RSVP to tgardner@madisonco.virginia.gov or call 948-7560.
WOLFTOWN RURITAN SCHOLARSHIP
Applications are being accepted for the Wolftown Ruritan Club Educational Scholarship for high school seniors. Students who plan to continue their education by attending college or trade school are encouraged to apply. The application can be picked up from the school guidance office. When the application is completed, return it to the school guidance office by April 1.
The Piedmont Dementia Education Committee will present Teepa Snow in a live webinar April 3, 9 a.m. to 1 p.m. Snow is a national leading trainer and consultant in providing support and care for the person living with dementia. Join in the group viewing event at Culpeper Baptist Church or participate remotely at your own location. The cost is $15 for remote attendance and $25 for group viewing. The latter includes a box lunch and post-session expert panel discussion. For more information and to register, visit www.agingtogether.org. Advance registration is required.
The Madison American Legion Post, Auxiliary and Sons of the American Legion will hold the spring catfish supper April 11, 5-8 p.m. at the post home, 310 Thrift Road, Madison. The menu will include large fried filet of U.S. farm-raised catfish, hushpuppies or cornbread muffins, red potatoes, black-eyed peas or green beans, cole slaw, applesauce, homemade pies, cakes, cookies and other desserts, coffee, iced tea and lemonade. Dinner is $15 for adults and $8 for children 12 and under. Advance reservations not accepted. There will be a live band providing music. Memberships into the Legion groups will be accepted. Proceeds will benefit the post's youth programs including American Legion Boys State, American Legion Auxiliary Girls State, the American Legion Law Cadet program, the junior shooting sports program, the oratorical contest and the scholarship program. For more information, call Dottie Stephenson, auxiliary president, at 948-5019.
An EMT class will be held May 5 through Aug. 27, 6-9:30 p.m. at Madison County Rescue Squad and Blue Ridge Community College. The cost is $400; Madison County Rescue Squad members are free. The instructor will be Garrett Taylor. For information, contact Lt. Diane Dodson at (540) 717-2349. The deadline to register is April 17.
Rapidan Volunteer Fire Department will host its spring pork tenderloin dinner April 17, 5-8 p.m. at 9729 Locust Dale Road. The menu will include pork tenderloin, baked apples, green beans, mashed potatoes, rolls, beverages and desserts. The cost is $12 for adults and $6 for children 12 and under. Takeouts available. For more information, call 672-5744. Proceeds will benefit the building fund for Light/Air 10.
Ales for Animals will be held April 18, 12-5 p.m. at Blue Mountain Barrel House, 495 Cooperative Way, Arrington. Tickets are $5 in advance for adults; kids 12 and under are free. The event will raise funds for Almost Home Pet Adoption Center, Hope's Legacy Equine Rescue and the Rockfish Wildlife Sanctuary. To purchase tickets, visit www.alesforanimals.eventbrite.com.
SPRING PLANT AND TREE SALE
The Piedmont Master Gardeners and the Charlottesville Area Tree Stewards will host a spring plant and tree sale May 2, 10 a.m. to 2 p.m. on the lawn at the Shops at Stonefield, 2100 Hydraulic Road, Charlottesville. During the sale, Master Gardeners will staff a horticulture help desk to answer gardening questions and offer advice to shoppers on their purchases. The group will also provide 10 minute tutorials on "Planting and Caring for Tomatoes," at 10:30 a.m., "Why Plant Natives" at 11:30 a.m. and "Deer-Resistant Plants" at noon. A tool and knife sharpener will be on hand as well. For more information, email jdesigner07@comcast.net or (434) 872-4581. To learn more about Piedmont Master Gardeners, visit piedmontmastergardeners.org.
The second annual Madison Day will be held May 2. Madison Day is a day of helping Madison citizens. Teams of volunteers will work on small home repairs and yard work. Visit the Madison Day Facebook page for more information and forms, email madisondayinfo@gmail.com or call 672-8757. Everyone is welcome no matter their skill or talent level.
Beginning Feb. 3, AARP will provide free tax preparation in Madison. The Madison AARP site will operation 9 a.m. to 2 p.m. every Monday Feb. 3 through April 13 at the Madison County Extension Office, second floor of the War Memorial Building, 2 South Main Street, Madison. Appointments can be made at 948-6881. Those with appointments will receive preference, but walk-ins may be accommodated if time permits.
The Madison Choral Society has begun rehearsals for the spring concert. Under the direction of Rafael Scarfullery, the society will perform parts two and three, the Passion and Resurrection sections of Handel's Messiah. Area soloists, organ and small orchestra will accompany the singers. Concerts will be held May 15 at 7 p.m. at Orange Baptist Church and May 17 at 4:30 p.m. at Mt. Carmel Church. Singers of all voice parts are invited to join rehearsals at Madison United Methodist Church, 505 S. Main Street, Madison on Monday evenings, 7-9 p.m. Come and bring a friend.
JOIN THE LITERACY COUNCIL
Become a member of the Literacy Council of Madison County. Dues are $25 and may be paid at the council office, 110 N. Main Street, Suite A. Payment may also be mailed to PO Box 575, Madison, VA 22727. Members are entitled to a vote at general membership meetings and also support the only organization in Madison County that offers education services to adult residents of the county.
Become a volunteer driver to assist people in the community who are over 60 or disabled and who depend on transportation support to get to the doctor, grocery store or pharmacy. Volunteer driving is a simple, low cost, but high impact way of giving back to the community. Getting started is easy. Call 829-5300 or visit www.fams.org to ask questions or complete a short application. Drive when and where you want.
MESA's ThriftShop sells used goods, clothing, books, household items and furniture donated by members of the public. Proceeds benefit MESA's emergency fund which helps support and empower families in crisis. Visit www.mesamadisonva.org or call (540) 948-4427 for more information. The ThriftShop is open 9 a.m. to 5 p.m. Tuesday-Thursday and 9 a.m. to 2 p.m. the second and fourth Saturday of each month.
Stay up-to-date on what's happening
Receive the latest in local entertainment news in your inbox weekly!