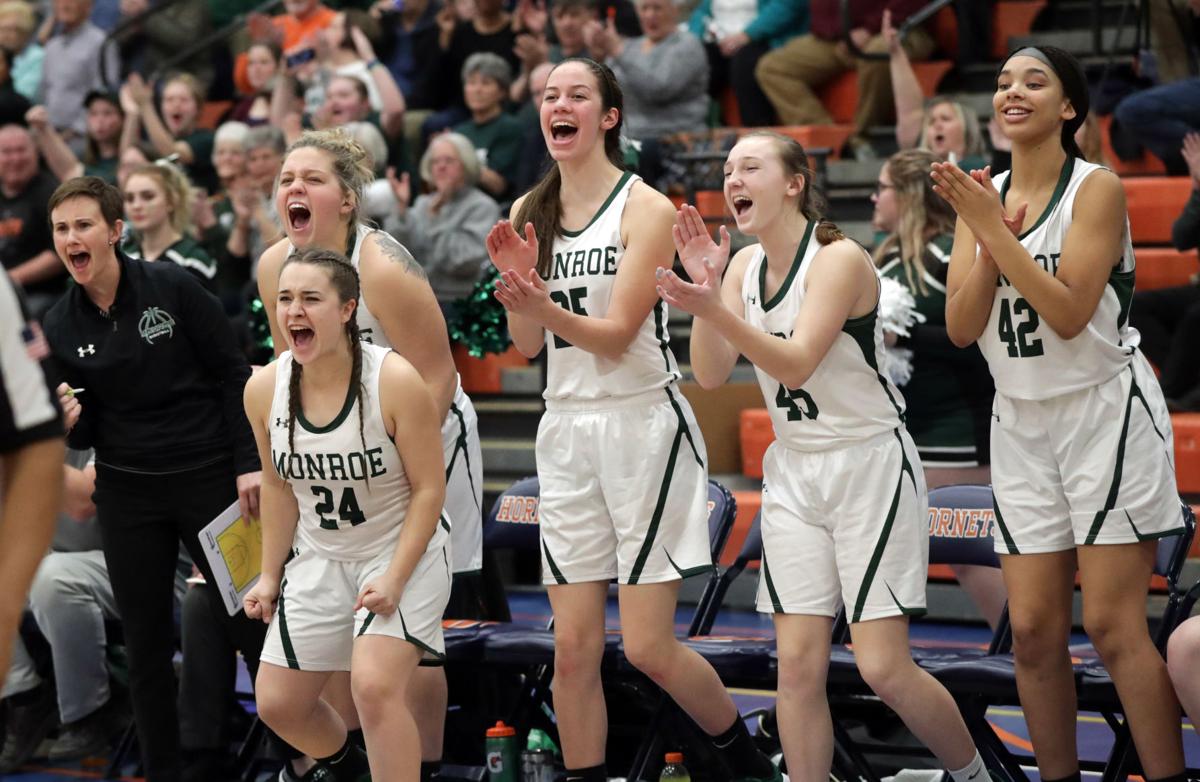 In 2018, Carrie Woods left a lasting impression on Jess Peregoy while interviewing for the junior varsity girls basketball coaching job at William Monroe High School.
"I left the interview saying, 'Basketball aside, I know I'm going to be a better person just by being around her,'" Peregoy said. "We share so many of the same principles and philosophies when it comes to responsibilities of coaching high school athletics."
Three years later, Woods' effect on the program will expand. She will take over for Peregoy as the Dragons' varsity head coach this winter.
"I am thrilled for this opportunity to be taking over the program," Woods said. "Three years ago, when I was hired as the JV coach, I was most excited to be working under a coach who was as committed as I was to coaching more than just the 'Xs' and 'Os' of the game. Over the past three years, I have been able to watch and learn from a coach who has excelled in teaching the game and teaching life lessons through the game."
Peregoy stepped down to take over as the Career and Technical Education Director and principal of Greene County's Technical Education Center.
"When the position opened up, I knew it was time to throw my hat into the ring, to try a new form of leadership," Peregoy said. "It breaks my heart to walk away from a game and a program that I love dearly; that has given me so much and helped mold me into who I am today."
Peregoy coached at William Monroe for 11 years, including the past seven years at the varsity level. During her tenure, the Dragons posted a 122-35 record and won three Northwestern District championships and a Region 3B crown and made two trips to the state tournament.
Peregoy said all of those victories and accolades paled in comparison to the overall growth of her players as human beings.
"Most importantly, I had the opportunity to coach and impact 125 young women," Peregoy said. "That is the number that I am most proud of. The impact that we are blessed to have on our kids as coach is immeasurable. Ninety-nine percent of high school athletes never touch a ball again once they graduate. What we teach our players and how we impact them beyond basketball is so much more important."
After more than a decade in high school basketball, Peregoy admitted the decision to hang up her whistle was not easy.
"To say this was an incredibly difficult decision would be a massive understatement," she said. "Letting go of coaching basketball has not been an easy journey for me, and it's something that I know will always hold a piece of my heart, and I will never truly be too far away from the game or my love for this program and these kids."
"My fondest memories are not just of cutting down nets, state tournament runs or winning championships and accolades," Peregoy continued. "My fondest memories are connecting with kids, team-bonding activities, team meals. Laughing with the kids on the bus. I loved watching them grow more confident in themselves, find their voices, overcome adversity, learn how to serve others, be academically responsible and take pride in being a high-character person on the court and off."
After the season, Peregoy announced her decision to step away and Woods went through the application process to take over the Dragons' program.
"Jess has been very encouraging and supportive of me stepping into this role," Woods said. "She simply told me she believed in me and the work I've been doing and will do with the girls. I know her decision to step down was tough because her love for the game and this team is so strong, so having her full support means a lot."
Woods, who also served as a varsity assistant at William Monroe, has a strong familiarity with the William Monroe players and the system they have been a part of.
"The girls are excited that the program is 'staying in the family,'" she said. "I'm very fortunate to have had the opportunity to coach all of our returning players, either directly on the JV squad or assisting with varsity. We already have relationships. They have an idea of what I expect and I already know our strengths and areas where we need to work."
A players' coach by all accounts during her junior varsity stint, Woods is committed to keeping the tradition of excellence within the program.
"I am a positive and encouraging coach and I am committed to coaching the mind, body and spirits of my players," she said. "The goal is to help young women develop skills and strategies to enhance their experiences, on and off the court. I believe the skills learned through athletics are monumental in helping young women find success in all areas of life. William Monroe girls basketball will continue to be the team that sets the tone, plays with passion, plays tough and plays together."
Looking ahead, Woods said she will continue to look forward for opportunities to continue to grow the game of girls basketball in Greene County through camps, clinics and in- and out-of-season practice sessions. As players return following COVID-19, Woods said she is committed to the program's pillars as they look to find ways to serve the community in which they live.
Peregoy believes the program is in great hands moving forward.
"There is not an adequate way to accurately portray how much this program means to me," she said. "Knowing that it is being left to someone who is going to respect our pillars, continue our leadership and character-building philosophy and who is going to pour their heart and soul into it just as fervently as I did, allows me to sleep at night."