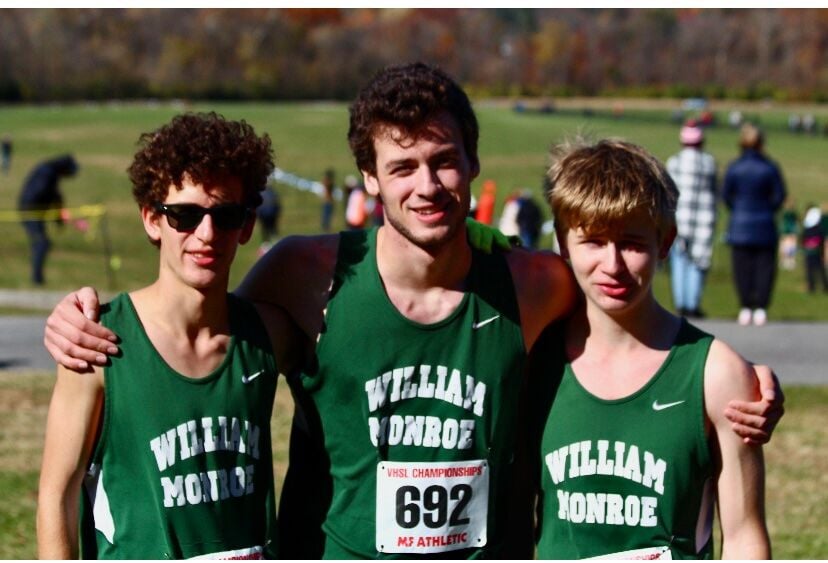 After traveling down the truck-loaded Interstate 81, the three William Monroe High School cross country state qualifiers arrived at Green Hill Park in Salem with coaches and families in tow.
Conrad Bruton led Schuyler Nitzsche, Evan Young and the coaches and families to their campsite, now nicknamed Bruton's Berm, which looked out over the course toward the colorful mountains.
The conditions were cold and blustery as the boys warmed up, watching other races in order to gain insight into the unfamiliar course. Greene's crew cheered on Ava Bordner, a regional friend from Skyline, as she ran to a state championship with an impressive race where she led from the gun to the tape at the finish line.
After warming up, our boys got on the line in box number 13 with other individuals from the region that did not come with full teams. Bruton was there alone last year as a WMHS racer with all the other lone guys. This year we had three together and as the other individuals came to give hugs and fist bumps with appreciation of being at the elite level, the anticipation escalated as they toed the line, anxious for the gun to go off.
At the booming sound the harriers sprinted off, being swallowed up in the majestic mountain view. They strung out in a swarm, fighting for position as they approached the mile at a blistering pace through whirling winds. Knowing this was the last race of the season with the best in the state, every runner was racing for honor and leaving everything on the course.
In a field of over 100 racers, Bruton crossed the finish line in 29th with a time of 17:25. Young was 35th, running 17:36, and Nitzsche rounded out the group coming in at 60th with a time of 17:56. All three boys were under 18 minutes—an honorable showing.
All three were ecstatic with their races and times while coaches and families applauded them with appreciation for their courageous racing. Young and Nitzsche will return next season with a goal to travel down I-81 to Salem individually and with a team to represent.
Bruton, who was the CBS-19 Scholar-Athlete of the Week, ran his final high school XC race in a Monroe jersey, leaving his legacy as a two-time state qualifier, three-time All-Region and All-District honoree. Most importantly, Bruton will be remembered as an admirable teammate, gutsy racer who races with heart and is a thrill to watch, who gives all he has every step of the way. His coach congratulates Bruton on a stellar cross country career.