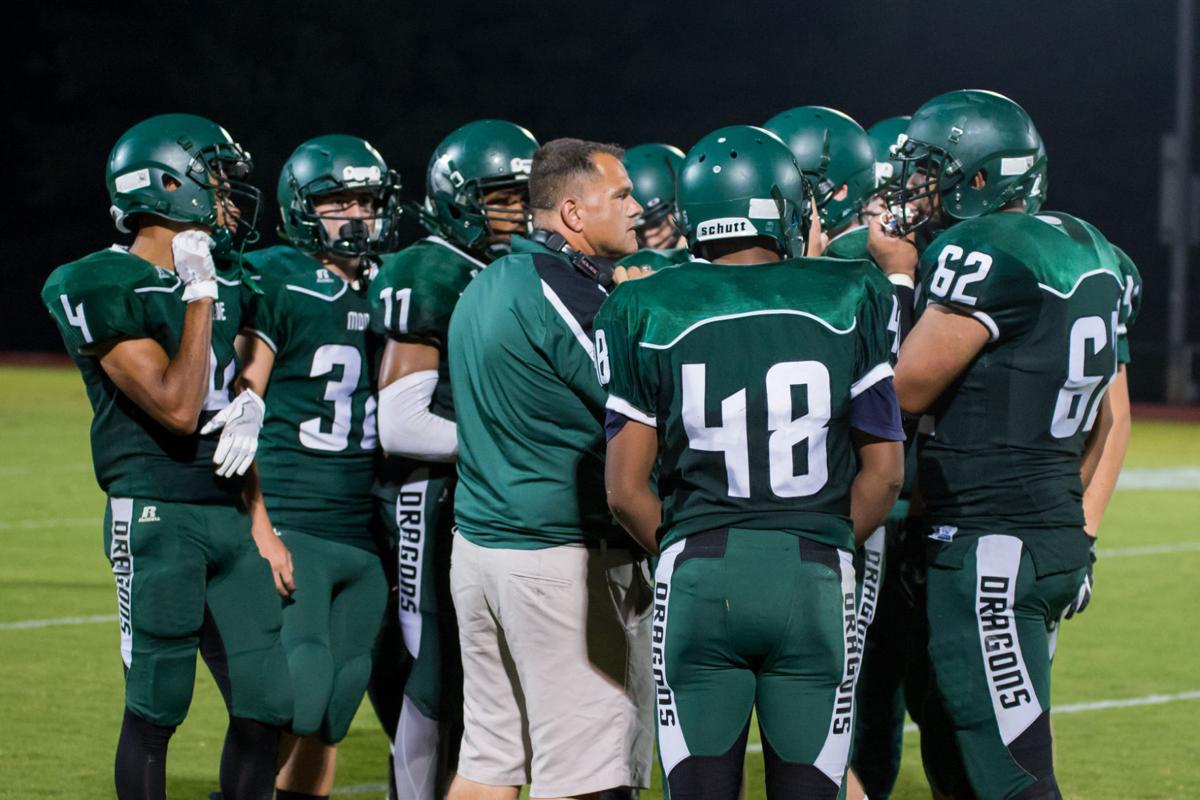 Jon Rocha has poured his heart and soul into to the William Monroe football program, both as a player and a coach.
But after being part of the Dragons' program for more than two decades, Rocha has decided to start a new chapter in his life and is stepping down from his role as the football coach at his alma mater.
"This was the hardest decision with football I ever made," Rocha said. "This was my 28th year either playing or coaching football; 24 of those have been at Monroe. From winning a state championship in 1991 to being the head coach for the last seven seasons."
Rocha played defensive tackle for legendary William Monroe coach Martin Mooney and had a key blocked punt that set up a score during the Dragons' win over Parry McCluer in the 1991 VHSL Group A state championship game.
In seven seasons as head coach, Rocha guided William Monroe to 27 victories and three playoff appearances. He ranks second only to Mooney on the school's all-time wins list.
"When I took over in 2014, there had been one winning season and two playoff appearances at William Monroe in the past 17 years," Rocha said. "In seven years, we have had three winning seasons, a .500 season and three playoff appearances. We have never lost to our arch-rival, Madison County. I am pretty happy with what me and my staff have done."
This year, William Monroe was in the hunt for a second straight Region 3B playoff berth when their season was cut short after four games because of COVID-19.
Rocha said the decision to step down was to dedicate more time to his family—especially his daughter, Riley, who just made the William Monroe varsity softball team as a freshman. She also plays travel ball for the Shenval Swarm, which competes in games all over the East Coast.
"My daughter has three years left before she goes to college and I want to see her," Rocha said. "In the past couple months, we have been from Tennessee to Pennsylvania playing softball. Her batting coach said, 'You never go back to her childhood, but you can always go back and coach.' She is our only kid and I want to be there."
The veteran coach met with his players recently and broke the news to them in person.
"I got a lot of texts that said 'Thanks for everything, Coach,' and they understood," Rocha said. "Change is hard and I told them I am still at Monroe teaching. I just can't be faced with being at a game on Friday night or being in South Carolina with my family for my daughter. That is not fair to them."
William Monroe athletic director Brian Collier said Rocha will be missed.
"He has been great to work with the past seven years as our head coach," Collier said. "His dedication to the kids was second to none. Jon is a 'glass-half-full' guy. He always sees the positives and was able to share that with the kids. Jon has lived and breathed Monroe football since he was a player here back in the early 1990s—that's a long time. He has decided to take a step back and concentrate on his family. I completely understand and support his decision. It leaves a huge hole for us to fill, but I am confident we will have some quality applicants to choose from."
The Dragons graduate a large senior class this spring, but Rocha believes the future is very bright for the program.
"We have a lot of talent returning, so the cupboard is not empty," Rocha said. "I was told I am leaving the team better than it was when I started. I think that is all any coach wants for a program when they leave."
During his tenure, Rocha and his staff have taken a lot of pride in sending kids to the next level to pursue their dreams. Two years ago, Mark Williamson was named a captain of the William & Mary football team; and this past weekend, freshman Kaiden Pritchett saw extended minutes for the University of Richmond football team in its matchup with perennial FCS powerhouse James Madison.
"I am most proud of the fact that every class that has graduated has been part of a winning season at Monroe," he said. "Whether it was their sophomore, junior or senior year they played, they had a winning season one of those years. I am also proud of the fact that we have put more kids in college football than ever before. We have kids from ODAC to the ACC coming from Monroe."
Rocha is appreciative of the opportunity to live out his dream and coach football in his hometown.
"I would like to thank all the people of Greene and the administrators at William Monroe for the opportunity to be a part of this program, as both a player and a coach," he said. "This community is awesome and I have been blessed to be part of the William Monroe family."