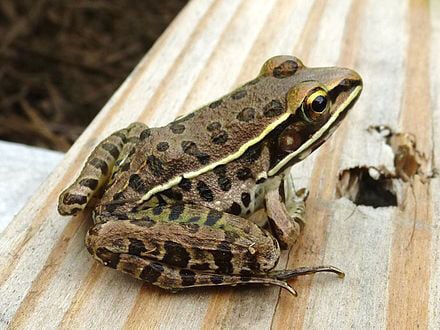 We have recently found a few snakeskins in our yard, so that meant there were snakes around.
Discarded snakeskins are the result of molting, which occurs regularly in snakes. When the old skin is outgrown, they shed. Snakes will rub against rough surfaces to shed their skin. A shed skin is much longer than the snake that shed it, as the skin covers the top and bottom of each scale. If the skin is shed intact, each scale is unwrapped on the top and bottom side of the scale which almost doubles the length of the shed skin.
But until this week, we had seen snakeskins, but no snakes.
Yesterday, I heard my wife, Nancy, shrieking outside, and that meant she had found the snakes. She wasn't afraid of the snakes per se; they were harmless garter snakes, but she feared they might get our frogs and there were now two of the slimy critters in our smaller fishpond with the frogs. A few years back, I had the misfortune of seeing a snake carry off one of our frogs and that was not a pretty sight.
I went running for a hoe (for decapitation) while she dunked a rake in the 35-gallon tank, trying to get the snakes to surface. Finally, she saw one who did and he slithered off. We then drained the tank and found no more snakes, so apparently, both had slipped away during the scuffle. It was quite an ordeal.
While Nancy was refilling the pond, I headed for Lowes for snake repellent. The stuff is lethal to fish so we were careful to keep it away from the water and just put it around the perimeter of our ponds. It smells like mothballs on steroids. I don't know why anything would ever get close to it. The smell was so strong that we are hoping it won't make our frogs pack their bags and move on. It was strong enough to chase me inside, I know that.
Speaking of frogs, a leopard frog showed up the day after it rained this week. Don't know where he came from, he just showed up on the side of the small lily pond. Then, Nancy stumbled onto another leopard frog in the front yard, a little smaller.
We have bullfrogs in our goldfish pond, but they came from the tadpoles we bought at Springdale Gardens. As far as I can tell, they are still there, hiding among the water lettuce and hyacinths. The leopard frogs are merely transients.
Unlike the green bullfrogs, southern leopard fogs are usually brownish and have splotches on their backs and sides that resemble leopards' spots and thus, their name.
Leopard frogs are aggressive predators and will eat most anything that can fit in their mouths. The snakes, also aggressive, had their eyes set on our new arrival, but he escaped the pond and scurried under some nearby rocks. We're hoping he will return while the snakes find a new yard in which to prowl.
Be the first to know
Get local news delivered to your inbox!