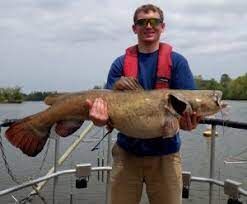 Smallmouth Guide Brian Bodine recently posted a short video on Facebook that got my attention. Bodine had caught a 20-pound flathead catfish on the James River with the tailfin of a smallmouth bass extending from its gullet. Despite mighty objections from the live catfish, Brian extracted the partially digested smallmouth. Brain measured and it was a 19-inch fish before the flathead ate it. Many smallmouth bass enthusiasts have been saying for a number of years that flathead catfish were doing a number on the James River bass. If a 20-pound flathead can eat a 4-pound smallmouth, what size and how many bass could a 50-pounder eat—and flatheads can reach 100 pounds and more.
Flathead catfish are now residents of the James, New, Staunton and Roanoke rivers as well as in Occoquan, Claytor, Flannagan, Smith Mountain and Buggs Island lakes. Currently, flathead catfish have not been listed as among the species of catfish in the Shenandoah River. That river, however, has a large number of channel catfish, which are not considered a threat to the smallmouth population. We have the Department of Wildlife Resources (DWR), to thank or to blame for the flathead catfish now firmly established in many Virginia rivers, but notably the James, arguably the finest smallmouth fishery in the state. Flatheads are native to waters west of the Appalachian Mountains, including the large rivers of the Mississippi, Missouri and Ohio basins, but DWR introduced flatheads to our rivers thinking that they would add an element of excitement for Virginia fishermen. They have, but many fishermen feel that the super-aggressive flatheads may be eating too many smallmouth bass in the process.
Flatheads are more solitary than other catfish. They feed largely at night, especially on live fish. They are found in large rivers in deep, slow stretches near strong currents, as well as in deep lakes. Flatheads are no threat in a beauty contest. Flathead catfish are generally a dirty brown in color. Their heads look like a truck drove over them and smashed them in; thus the name.
Tim Walts of Crozet is a catfish enthusiast, and has been zeroing in on these big fish with good success on the James near the Hardware River Wildlife Management Area. "You can target these fish with live sunfish or chubs, but cut bait also works great. These fish are large predators and will not pass up cut bait when feeding," he noted.
Flatheads grow large and grow quickly and they are holy terrors at the end of a rod. An exciting fish to catch to be sure, but how many smallmouth bass are sacrificed in the process? Past studies by DWR biologists revealed that the contents of the flathead stomachs they tested consisted largely of suckers and fallfish. DWR said while flatheads may eat a few smallmouth, big smallmouth also eat little smallmouth—so there. However, a 19-inch smallmouth is a trophy fish. The great majority of smallmouth fishermen would release a fish this size. In fact, they have to, since all smallmouth bass caught on the James River that measure from 14 to 22 inches must be released. I suppose the 20-pound flathead that Brian caught did not read the regulations. Just how many more of these trophy fish have been or will be eaten? That's the real question.